Earlier this week I was invited by Miu Miu and Luxottica to Los Angeles for the premiere of "MUTA," the short film directed by acclaimed Argentinian director Lucrecia Martel and the launch of their Fall 2011 Noir Sunglasses. Tuesday night was the big event at fashion photographer Michel Compte's private residence in Beverly Hills, which you may recognize from scenes of Entourage. The 1920s mansion on La Collina Drive was transformed by Oscar winning set designer Martin Childs, assisted by Klaus Hausman, into a 40's meets European Glamour set inspired by Miu Miu's AW 2011 collection. The intention of the set design was to recreate a cinematic film noir stage which has been abandoned by its actors.
Everywhere I walked I saw famous people including the face of Miu Miu Hailee Steinfeld (looking lovely), Diane Kruger, Emma Roberts, Camilla Belle, China Chow, Marilyn Mansion (can you believe it?!), Kate Mara, Jaime King, Leslie Bibb, Ashley Tisdale, and the list goes on and on. It was a chill atmosphere where everyone just did their thing and there were even a cigarette girl presenting guests with the Miu Miu Noir sunglasses collection to try on and get Polaroid. The 40s shaped shades simply looked good on everyone, slated to release in October.
The most anticipated moment of the evening was the screening of "MUTA," which was creepy but mesmerizing. The beginning of the short film totally reminded me of The Ring, scary! Throughout the film you don't see the model's faces but a turn of their heads you'll see the Noir tortoiseshell shades with their false eyelashes fluttering in morse-code of clicks and vibrations underscoring this private fantasy world of desire and spiritual escapism. And I'm obsessed with the cross-clasped purses in chestnut fur or suede, they even come to life expectantly with the vibration of cellphones inside! Watch the full short film here.
Such an amazing event, many thanks to Miu Miu and Luxottica for flying me out there for this!
Outfit: Brandy Melville Sweater Top (courtesy of BM), Zara Skirt, Balenciaga Platform Cork Sandals, Miu Miu Clutch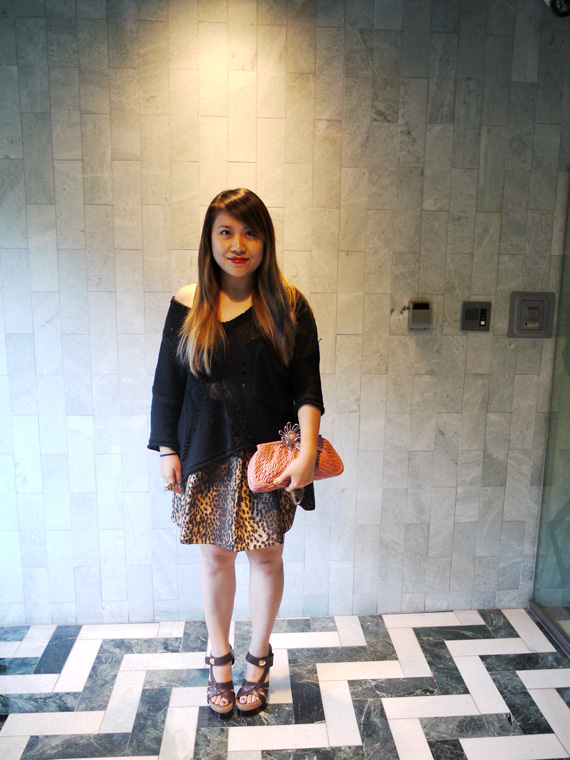 At the Chamberlain Hotel waiting for my car…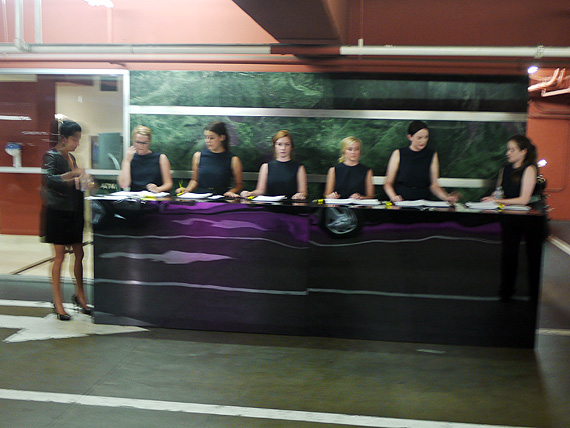 So funny that the check-in desk was inside a parking lot, private shuttles escorted guests up the hill to the mansion…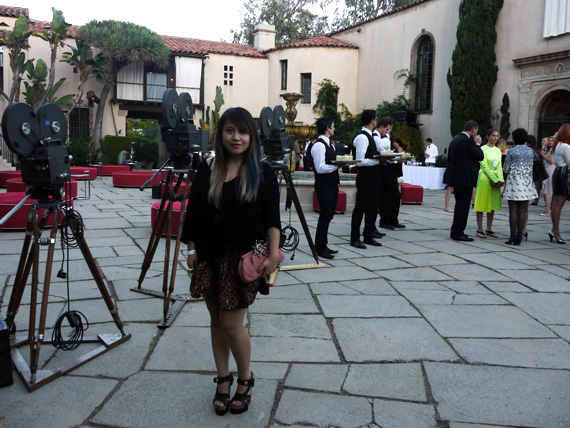 Arrival!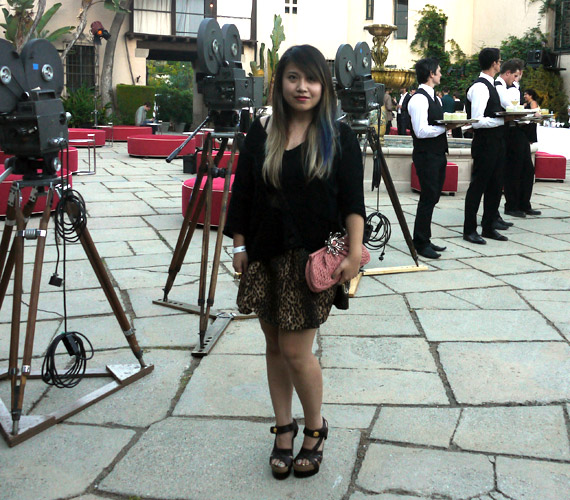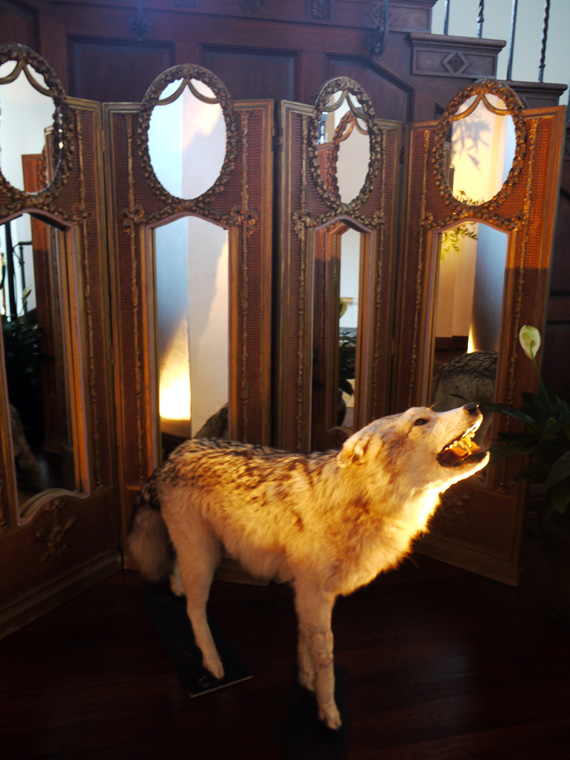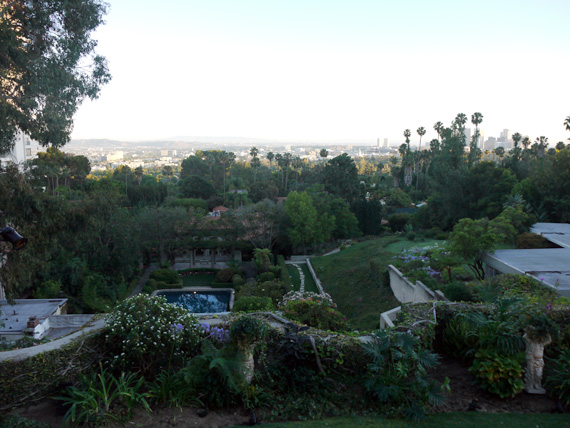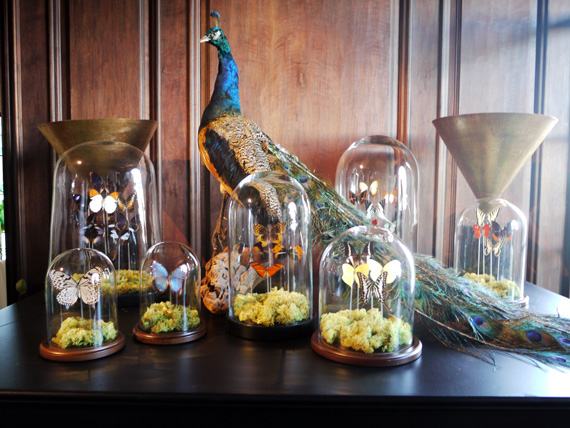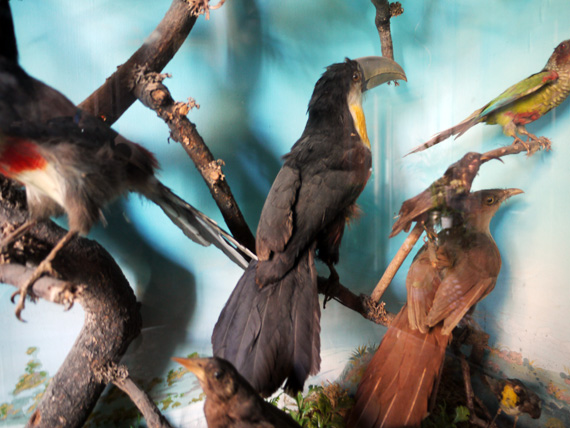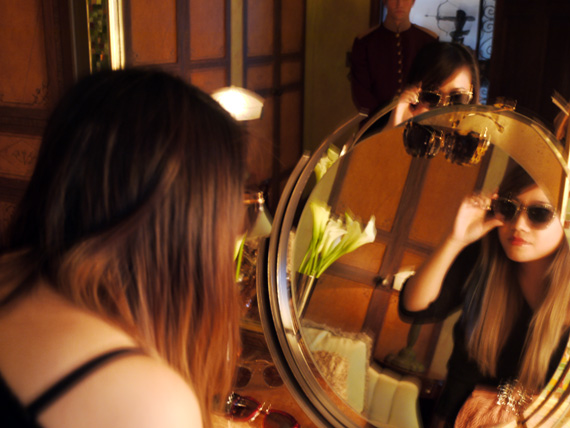 Categories: entertainment/events fashion los angeles outfits sunglasses travel
Tags: