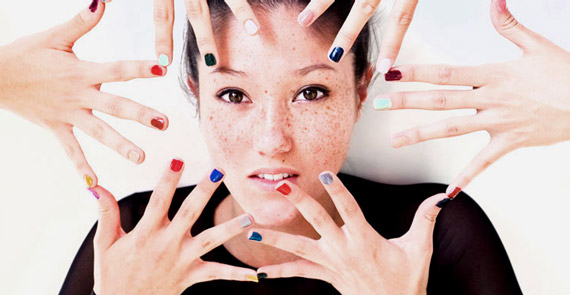 Yesterday you may have read that American Apparel's new nail polish collection may be hazardous to your health. Last night, American Apparel's PR Ryan left a comment on the post explaining the situation. So now that we know the real reason why the nail polishes were recalled was because of the bottles breaking and not the nail polish itself, you don't need to rush to discard them or wipe them off your fingers. I was actually mislead and thought the bottle had a chemical or some sort that made the nail polishes hazardous. Glad to get this straight. Also, for those that wanted to know if you can exchange the first run for the new ones, the answer is yes. Ryan says, "We will offer an exchange of two new bottles or a $10 giftcard for anyone who brings in a unit from the original run or a receipt."
The voluntary recall is just related to the bottles – we weren't totally happy with how they were handling in shipments and in the stores and pulled them all. The polish is and has always been totally safe. We just don't want 280 stores getting rid of their bottles however they see fit. We want to make sure it gets down properly and appropriately.

Here was our response this morning, I don't mean to be too forward, but I feel that your readers deserve a correction. And yes, you can trade your bottle (opened or unopened) in for two new bottles as soon as they're back in stores.

After receiving a few reports of bottles breaking, we made the internal decision to do a voluntary recall of the bottles on both a retail and public level.

We chose this small US manufacturer to produce our nail polish because we support their business model and have a fondness for family who runs it. However, one of the realities of all manufacturing is first-run glitches. We worked all last week with the manufacturer to make the improvements necessary for the second run. Another reason we sought out a US-based company is so we would be able make changes and now, we can investigate what went wrong as quickly as possible. We still believe in the factory we're working with and the new polish will be in stores within the next two weeks.

On another note, one thing we're taking very seriously is the disposal of the bottles we had in the stores. Even though our polish was DBP, toluene, and formaldehyde-free, we don't want our stores just tossing it in the trash. We're using our internal shipping and distribution line to arrange a pickup and removal of the polish to make sure it gets done right.
Categories: beauty
Tags: