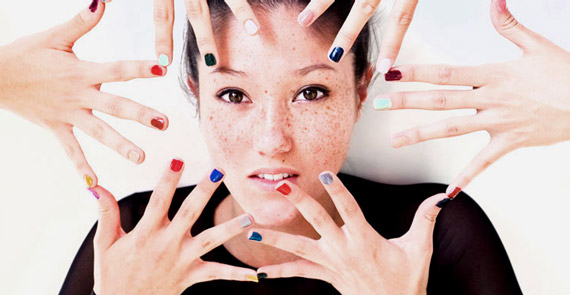 How many of you guys still bite your fingers when you have nail polish on? I'm one of them. Jezebel (via Racked) reported that American Apparel's newly launched nail polish collection may be hazardous to your health and has been quietly pulled off the shelves. Once it hits the blogs, its not so "quiet" anymore…oh boy! Apparently employees were told there were "quality issues with the glassware," but adding that it's now considered "hazardous material" and can no longer be shipped. I wonder if I can get a refund for the bottle I bought, it's still unopened (thank God).
Hello,

Due to some quality issues with the glassware used in the American Apparel nail polish we are requesting all bottles be taken off the sales floor immediately. We are working closely with our vendor to improve the product, and will be shipping an improved polish within 5-10 days. Please remove the nail polish from the floor and store it in the back. We will let you know how to dispose of it on the Monday back stock conference call.

THE ABOVE IS CONFIDENTIAL INFORMATION FOR EMPLOYEES OF THE COMPANY ONLY. If customers inquire about the nail polish, please inform them that we are preparing our new stock and that they should check back soon. Also, let them know that we are launching 6 new colors for Spring! Give them a card to the store and encourage them to call and check if we've received our new shipment.

Your compliance is appreciated. Please contact me directly with any questions.

Thank you,

[Redacted]
Wow some responsible employee of AA leaked this info out. Let's see how AA will react after reading it off the blogs! I'm sure they're getting a ton of emails from concerned consumers right now.
UPDATE 01.27.2010: Read up on the updated post regarding AA Nail Polish, read here.
$27.99 BUY IT NOW 0hr 7mins

$27.99 BUY IT NOW 0hr 7mins

$24.99 BUY IT NOW 0hr 7mins
disclaimer
Categories: beauty
Tags: