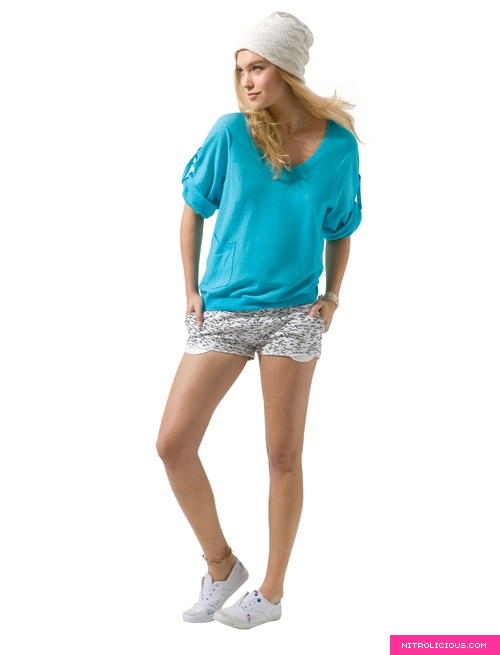 Roll-Up Sleeve Sweater in Aqua $29.99 [Also available in White] & Pelican-Print Shorts in White/Black $26.99
Target is teaming up again with CFDA award winning designer Rogan Gregory and Scott Mackinlay Hahn to launch Loomstate for Target, a care-free, timeless yet affordable eco-friendly fashion line for men and women. You've got the first look of the collection back in December, now here's the full collection preview featuring 20 looks. The looks definitely looks quite similar to the Rogan for Target collection but there are a few pieces I'll be picking up from this range.
With a relaxed design sensibility and a devotion to environmentally sensitive materials, all of the cotton used in the collection is 100% certified organic. Featured prominently throughout the line, the signature Loomstate pelican logo and aqua shade serve as a reminder of the Loomstate desire to always tread lightly on the earth. The collection ranges in price from $14.99 to $44.99 and launches on April 19th and is in stores through May 16th (women's) and June 20th (men's only) at Target stores and target.com.
More info and pics after the jump…
FOR WOMEN:
Black and white pelican bird prints take flight on a string bikini and a cotton silk tank while a vintage Americana plaid print covers a cotton poplin tunic dress with string tie detailing at the sleeves and neck, providing the go-to option to wear alone or effortlessly over stretch cotton twill skinny pants in white. Easy and comfortable shift dresses are the epitome of casual cool and are available in a black cotton silk blend v-neck option or jersey graphic print t-shirt style. Nicely priced wardrobe staples such as relaxed vintage washed cotton and silk tanks and tees, button-up blouses and airy linen sweaters pair well with flat front poplin shorts in plaid or pelican print. Standout pieces include a silk blend ombre skirt, a cotton poplin jacket and an authentic destroyed denim miniskirt with exposed stitching.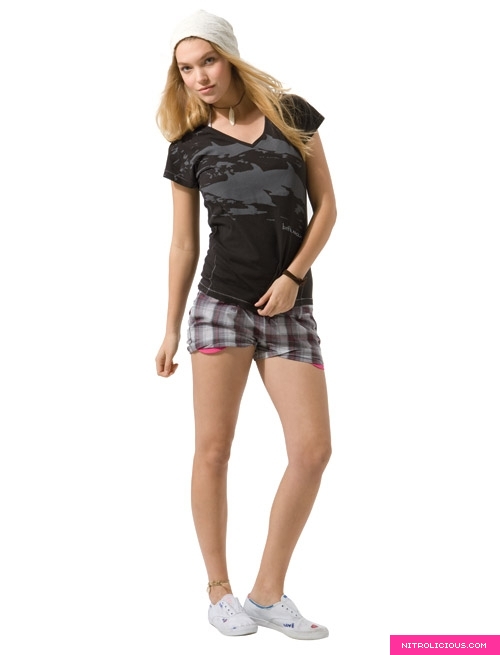 Dolphin-Print V-Neck Tee in Black $16.99 Plaid Shorts in Gray/Pink $26.99

Pieced Tank in Gray/Pink $16.99 Also available in Gray/Black Pelican-Print Triangle Bikini Top in White/Black $16.99 Pelican-Print Shorts in White/Black $26.99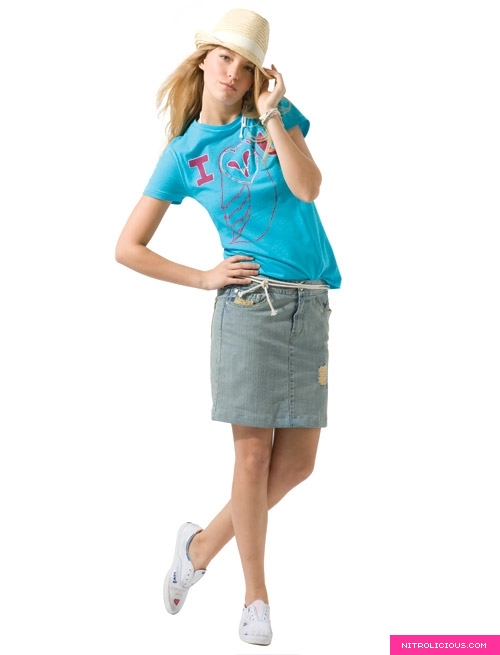 Owl-Print Tee in Blue $16.99 Denim Skirt in Light Wash $29.99

Zip-Front Jacket in Black $44.99 Pelican-Print Triangle Bikini Top in White/Black $16.99 Pelican-Print Shorts in White/Black $26.99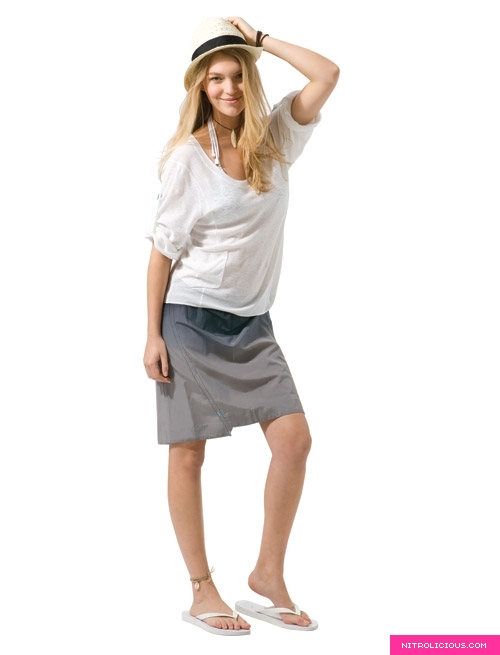 Roll-Up Sleeve Sweater in White $29.99 Also available in Aqua Pelican-Print Triangle Bikini Top in White/Black $16.99 Dip-Dye Skirt in Black/Gray $29.99

Plaid Dress in Gray/Pink $39.99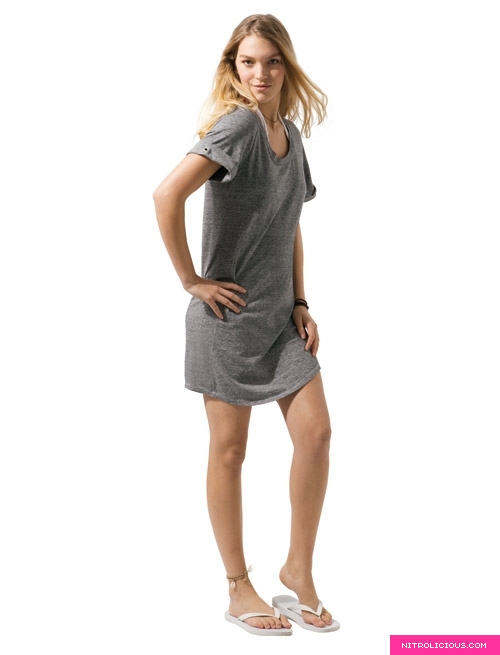 T-Shirt Dress in Black/White $29.99 Pelican-Print Triangle Bikini Top in White/Black $16.99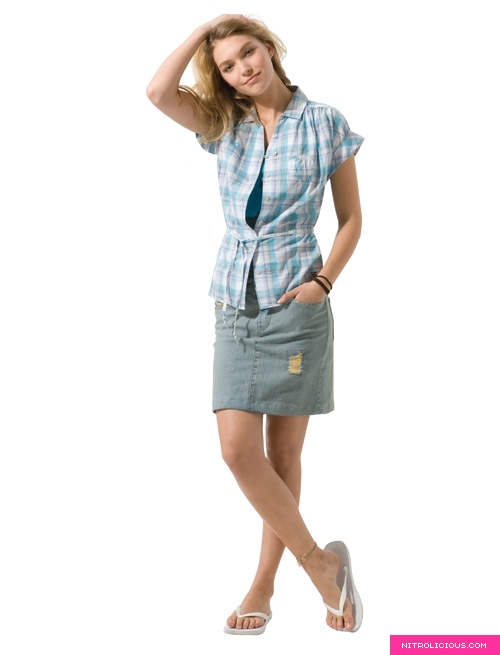 Tie-Front Plaid Shirt in Blue $27.99 Bunny Tank in Gray/Blue $14.99 Denim Skirt in Light Wash $29.99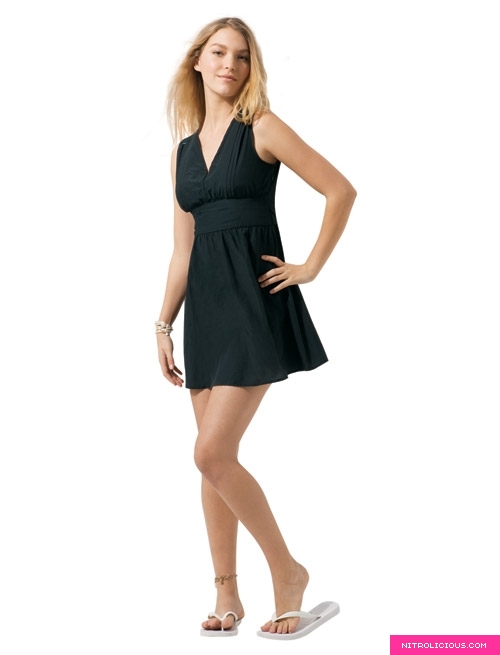 Tie-Back Cotton Dress in Black $39.99
Check out the men's collection on the next page…
Tags: