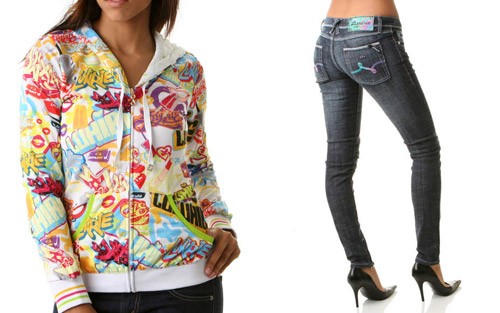 Thanks to everyone that entered the nitro:licious x Luxirie Giveaway #1, the response was great. For those that didn't win, no worries there are two more Luxirie giveaways! The second giveaway consists of the Irie Zip Up Hoodie in white (size medium) and the Color Blocking Tapered Jean (size 26).
One (1) winner will be randomly chosen from the entries below to receive the prize. One (1) entry/comment per person, please follow the guidelines below and check your entry before entering- double entries will be automatically disqualified. Please click here to read up on how to read comments and do not submit your entries by email, it will be disregarded. Good luck! Sponsored by Luxirie by LRG.
Prize: Irie Zip Up Hoodie in white (size medium) & Color Blocking Tapered Jean (size 26)
Giveaway Starts: Wednesday, August 6, 2008 – Now
Giveaway Ends: Wednesday, August 13, 2008 – 11:59pm EST – Giveaway has ended!
edit 08.18.2008:
The winner of the giveaway is Mabel White, congrats!
Peep below for the guidelines to enter giveaway…
Giveaway Guidelines (all must be completed to be considered):
Age / Location (City, St)
Answer Question: Would you rock the Irie Vandal Zip Up Hoodie and Color Blocking Tapered Jean in one outfit or would you separate the pieces and mix 'n match it with other gear in your closet? Kicks or shoes?
How to read comments:
Many people get confused and leave several comments saying their comments went under another person's name when they are just reading it wrong. Hopefully this will help a bit. Read here.
Categories: contest/giveaway streetwear
Tags: