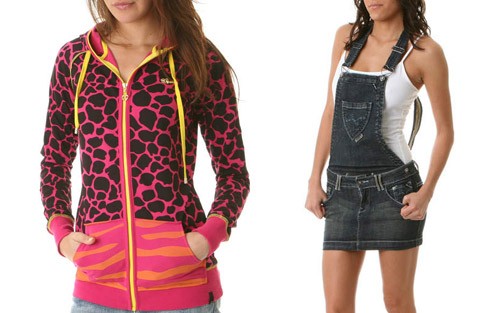 After the successful giveaways with Luxirie by LRG last year, we have teamed up again for another three giveaways! I picked out some of the key pieces from Luxirie's Spring/Summer '08 collection and the first giveaway will consist of the pink Welcome To The Jungle Zip Hoody (size large) and the Free Love Detachable Overall Skirt (size 27). A cute combination, so don't miss out on this package!
One (1) winner will be randomly chosen from the entries below to receive the prize. One (1) entry/comment per person, please follow the guidelines below and check your entry before entering- double entries will be automatically disqualified. Please click here to read up on how to read comments and do not submit your entries by email, it will be disregarded. Good luck! Sponsored by Luxirie by LRG.
Prize: Welcome To The Jungle Zip Hoody in Pink (size large) & Free Love Detachable Overall Skirt (size 27)
Giveaway Starts: Monday, July 28, 2008 – Now
Giveaway Ends: Sunday, August 3, 2008 – 11:59pm EST – giveaway had ended!
edit 08.06.2008:
Congrats to winner Tatianna from Portland, OR for winning the giveaway!
Peep below for the guidelines to enter giveaway…
Giveaway Guidelines (all must be completed to be considered):
Age / Location (City, St)
Answer Question: What is your favorite product(s) from Luxirie's spring/summer '08 collection and why? (View the lookbook on their website: Luxirie by LRG)
How to read comments:
Many people get confused and leave several comments saying their comments went under another person's name when they are just reading it wrong. Hopefully this will help a bit. Read here.
Categories: contest/giveaway streetwear
Tags: