Takashi Murakami and the Monogramouflage canvases
For the lucky individuals that are attending the Louis Vuitton x Murakami's "Brooklyn Ball" at the Brooklyn Museum tonight there's a going to be a special performance by Kanye West, it is also the unveiling of a new camouflage print called Monogramouflage. Don't get too excited yet, the Monogramouflage collection featuring luggage, handbags, small leather goods, costume jewelry and ready-to-wear will launch at the museum on June 1st and will be available at select Vuitton stores worldwide starting June 15st. I guess it's not a limited piece like the Louis Vuitton x Murakami "LV Hands" Neverful that was only available at MOCA.
Be on the lookout for street vendors outside the museum, LV is setting up 10 New York-style street vendors — not to sell fakes, but rather authentic Louis Vuitton product and special Monogramouflage canvases that Murakami has created specifically for the exhibition. It would be funny if tourists or even locals get tricked and think they're buying A+ fakes and when they get ringed up they'll be embarrassed haha!
Murakami told WWD that the collection had its origins a year or so ago, when he swung by Jacobs' SoHo studio. "Marc had a precise idea," Murakami said, although Monogramouflage isn't his first work in camouflage: In the past, he has produced prints featuring his iconic Mister DOB figure in a camouflage setting.
I'm definitely going to hit up the exhibition when I get back to NYC, prolly cop a Monogramouflage bag too (I wonder how much a bag will go for), gotta check it in person first.
edit:
Check out the full Monogramouflage collection here!
More pics after the jump…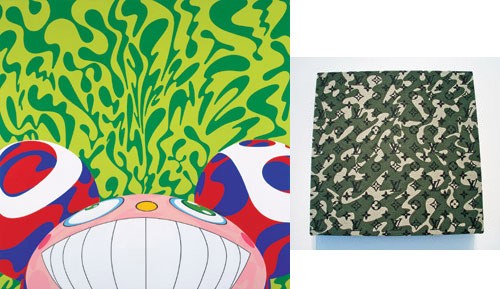 DOB Camouflage and the Monogramouflage canvas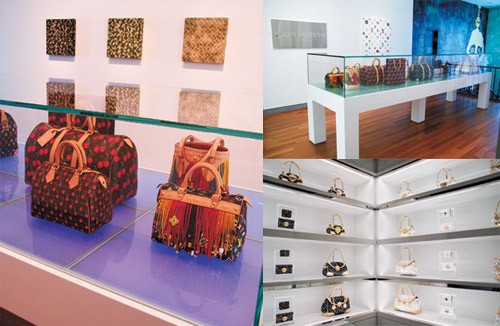 Views of the Louis Vuitton displays and store at the Brooklyn Museum
—
Photo credit: MUSEUM PHOTOS BY KYLE ERICKSEN; MURAKAMI BY JOHN AQUINO; DOB CAMOUFLAGE COURTESY OF GALERIE EMMANUEL PERROTIN, PARIS & MIAMI, © 2000 TAKASHI MURAKAMI/KAIKAI KIKI CO. LTD.
Categories: entertainment/events handbags shopping
Tags: