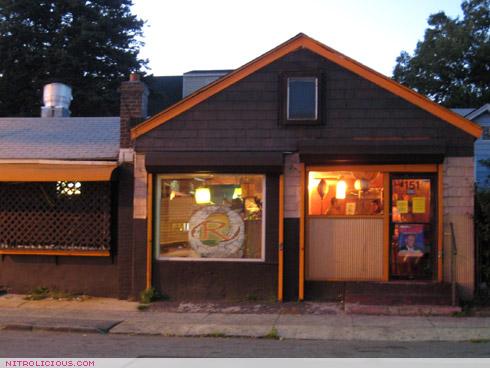 Ripe Kitchen & Bar
151 West Sandford Boulevard
Mount Vernon, NY 10550
914.665.7689
The Scene
A former community theater has been transformed into a casual Caribbean-themed bar and restaurant. Locals pack the little bar up front; couples go for its Jamaican fare and tropical drinks in the back. Some tables are communal, so on crowded nights you might be seated with strangers. Large covered patio in warm weather. – The New York Times
I am quite addicted to Jamaican food ever since I've visited Jamaica last year (well my first time there but B's many times), B took me there for vacation, he has a few good friends there. I can say I LOVE JAMAICAN CUISINE, its so good, at first when I tasted it the spices were a bit spicy but I grew to like it and for a person that can't take too much spice I actually still eat it even though its too spicy (yup that's how good it is). Besides Negril this is the second spot where I can find authentic Jamaican food (anyone have other suggestions?) that's good, B found out about this spot from watching Throwdown with Bobby Flay and the chef, Nigel Spence, beat Bobby Flay for the best jerk ribeye steak. It is absolutely fantastic! B took me there for our anniversary, it looks ghetto and old but the food is damn worth the trip and celebrating doesn't always need to be at a fancy expensive restaurant. I was far more content with the food at Ripe then I was at Bar Americain! I am looking forward to going back soon, everything I ordered was superb and delicious, highly recommended! Peep the pics after the jump…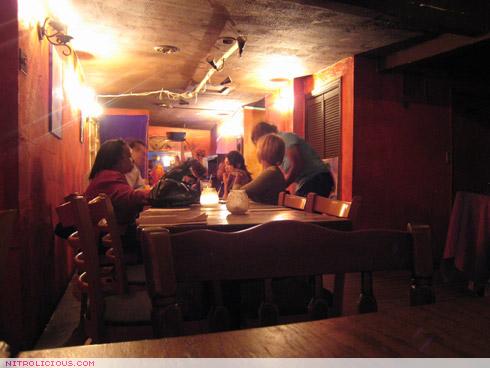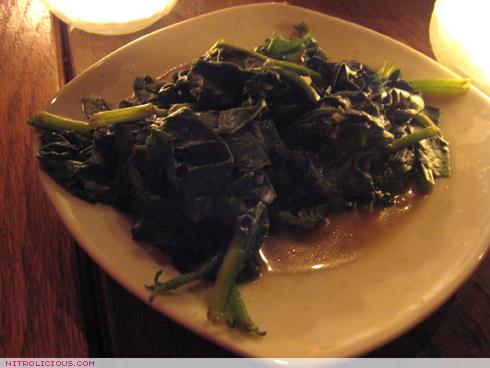 Sauteed Organic Spinach $3.50

Yard Gone To Italy (Rasta Pasta) $14.95
Linguine with Large Florida shrimp, Mushrooms, Organic Spinach, Ricotta, and imported Parmesan cheese in a heavenly, shrimpy, garlicky, cheesy sauce.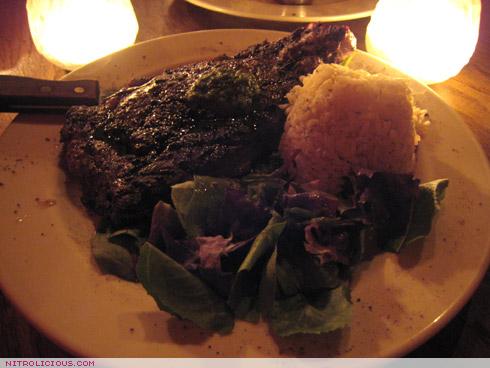 Ripe's "Big-Ass" Jerk Rib-Eye Steak $21.95
A 16 oz rib-eye monster, marinated in our Signature Jerk Rub, flashed on the grill, and crowned with a Chandon Beni sauce. Served with Rice & Peas.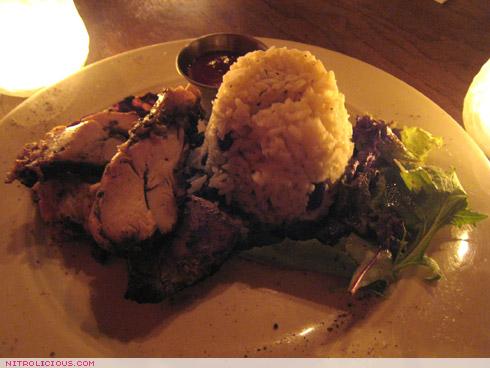 Ripe's Original "Backyard" Jerk Chicken $7.95
Our infamous jerk chicken is marinated for 24 hours in our own "Made From Scratch" dry and wet jerk rub, then slow cooked for 2 hours on our gigantic outdoor grill, to create the "irie-est"  jerk chicken north of Port Antonio, Jamaica. Comes with rice. (1/4 chicken)
Categories: eats
Tags: