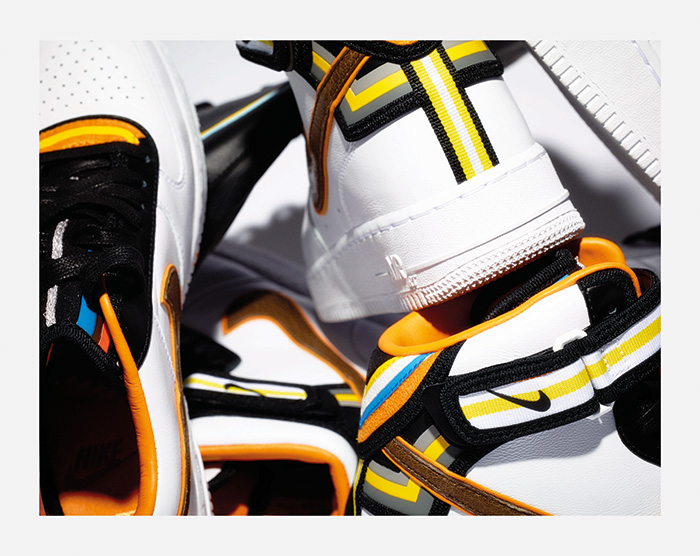 Back in January I've posted a preview of the Riccardo Tisci x Nike Air Force 1 Boot, now here's a view at the full collection. Tisci designed four styles ranging in height from low-cut to knee-high. The Nike + R.T. Air Force 1 Collection will release in two distinct packs starting in March 2014. Available at select Nike retailers globally, the collection will include the Nike + R.T. Air Force 1 Low ($230), Nike + R.T. Air Force 1 Mid ($260), Nike + R.T. Air Force 1 Hi ($320), and the Nike + R.T. Air Force 1 Boot ($340).
"The shoe is universal yet somehow very personal," says Tisci. "I travel all over the world, and I see people wearing the Air Force 1, and they wear it in so many different ways. And so I was thinking, what is the essence of the Air Force 1? And how do I take that essence and make my own statement?" Tisci continues, "The Air Force 1 is not about gender, it's not about a particular city, nor is it about a certain style. The community decides. It's democratic. It's love."
I can't wait till the collection releases, very cool! Definitely need to check them out in person!
UPDATE 04.11.2014: The collection just launched on Net-A-Porter.com, shop it before it sells out!
Keeping it classic, Tisci designed an Air Force 1 Lo and the Air Force 1 Mid. But he also took it somewhere new by presenting never before seen forms in Mid Calf and Knee Hi boot styles. All are unified by bold, multi colored bands that represent a modern day tribe – a borderless community brought together by a love for a sport icon, Tisci considers his collection of Air Force 1's a take on modern day tribes. Born in Italy, resident of Paris, devotee of American culture. Tisci is the master of many languages of creativity.
Photos courtesy of Nike
Tags: collaborationfashionkickslimited editionnikeRiccardo TisciRiccardo Tisci x Nikesneakers