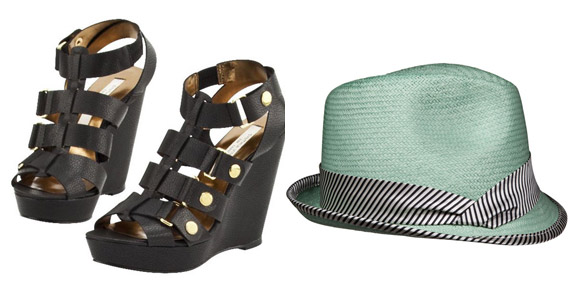 Just a quick reminder that the two newest accessory collaborations from Target, Cynthia Vincent and Eugenia Kim hits stores and target.com today (April 16th)!
The Cynthia Vincent for Target collection reinvents Vincent's renowned style by updating with embellishments and hardware for a collection that is sophisticated and fashionable. The collection consists of wedges, flats and gladiator sandals in a range of bright and classic hues, prices range from $24.99 for flats to $29.99 for wedges and heels! Total steal! You can check them out on my feet here.
The Eugenia Kim for Target collection is the first hat launch in a series of limited-time-only accessory designers at Target, featuring a range of hats that are on-trend and functional that fit into any budget. Inspired by Havana, Cuba, the collection includes cloche, fedora, sun-hat, bucket hat, newsboy and pillbox silhouettes using woven and printed fabrics with various embellishments. Prices range from $14.99 to $19.99.
Scoop them up quick if you want them, these won't last long especially the Cynthia Vincent for Target wedges! Since I got a sample of the Cynthia Vincent for Target Wedge in black already, I'll be ordering a yellow pair on target.com today! Let me know if you guys picked up anything!
Check out the full lookbooks below:
> Cynthia Vincent for Target
> Eugenia Kim for Target
$8.99 0 bids 21hr 55mins

$12.99 BUY IT NOW 20hr 4mins

$15.11 BUY IT NOW 3hr 18mins
disclaimer
Categories: fashion jewelry/accessories shoes shopping target
Tags: