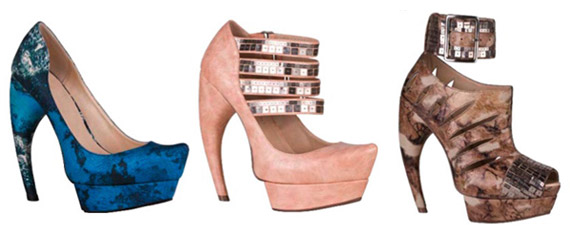 Back in October I posted a sneak peek of the Christian Siriano for Payless spring 2010 collection, from the looks of the shoes they were quite disappointing and toned down from the pairs he sent down the runway. But SheFinds has another preview of the spring collection and it looks exactly like the ones that were on the models in his spring 2010 runway. According to the site, the shoes hit stores in mid-March and will retail for $79.99 each. I'm not sure what to believe until I see them hit Payless.com, cross fingers because I do love these! Thanks to loyal reader lucy92 for the tip.
Do you like these talon-heeled shoes more or the toned down pairs you've seen earlier? Bigger pics after the jump…
UPDATE 03.09.2010: The collection is currently available now!
$16.99 BUY IT NOW 0hr 3mins

$32.0 BUY IT NOW 0hr 5mins

$25.0 BUY IT NOW 0hr 12mins

$60.0 BUY IT NOW 0hr 18mins

$25.0 BUY IT NOW 0hr 19mins

$15.0 BUY IT NOW 0hr 28mins

$7.99 0 bids 0hr 37mins

$37.99 BUY IT NOW 0hr 41mins
disclaimer
Categories: shoes
Tags: