Photos courtesy of Louis Vuitton
Last year Louis Vuitton covered the entire façade of the Fifth Avenue Maison with Takashi Murakami's iconic Monogram Multicolore print, this year the store façade display is inspired by the city stamp artwork that Ruben Toledo designed for the Louis Vuitton City Guides for New York, Miami, Los Angeles, Paris, London, Tokyo, Rome and Mumbai. In addition the special seasonal display windows, "Home for the Holidays" have been installed evoking the spirit of travel signature to Louis Vuitton, the excitement of exploration and the joy of spending the holiday season with family.
"We are thrilled to have renowned artist, Ruben Toledo working with us again," said Daniel Lalonde, President and CEO of Louis Vuitton North America. "Toledo's sketches and illustrations have been an integral part of our city guides for years and we are delighted that his artwork is the center of our Fifth Avenue Maison display for this holiday season."
Conceived by Naoemie Goudal and David Stienhorst, students of the central St. Martin's College of Art and Design in London, "Home for the Holidays" window displays feature authentic flapboards reminiscent of those found in train stations around the world. Departure and arrival cities, seasonal activities, inspired quotes regarding the marvel of travel, and personal sentiments will be featured on each flapboard throughout the duration of the season. Starting November 23rd, Louis Vuitton asks you, "Where will your journey take you?" Submissions are being collected at www.departures.vuitton.com and a selection of answers will be posted on the flapboards at the Fifth Avenue Maison throughout December.
I saw the Fifth Avenue Maison façade display on Monday night and it's pretty amazing, you should all check it out in person if you can.
More pics after the jump…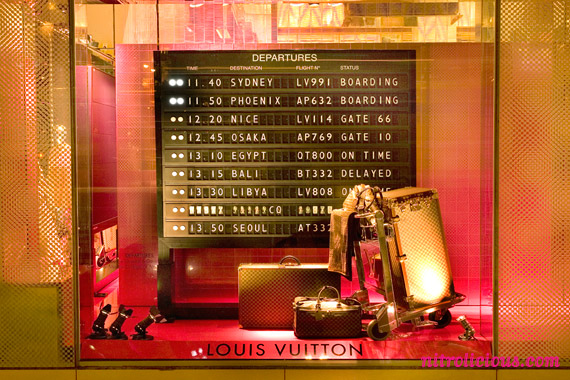 $412.5 BUY IT NOW 0hr 1mins

$1537.0 BUY IT NOW 0hr 1mins

$638.0 BUY IT NOW 0hr 2mins

$252.0 BUY IT NOW 0hr 2mins

$2152.5 BUY IT NOW 0hr 3mins

$4500.0 BUY IT NOW 0hr 4mins

$192.0 BUY IT NOW 0hr 4mins

$108.0 BUY IT NOW 0hr 5mins
disclaimer
Categories: art/design fashion handbags shopping
Tags: