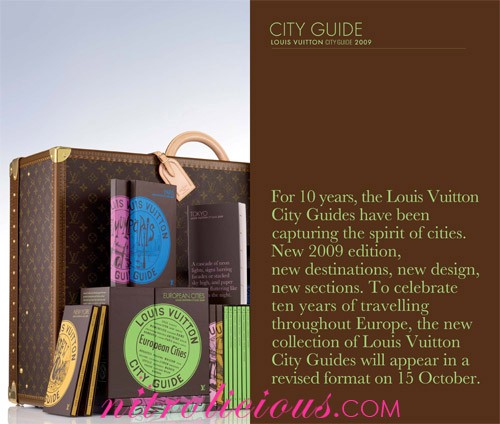 On October 15th Louis Vuitton will be launching their newest City Guide 2009 edition which will mark the 10th anniversary of the Louis Vuitton City Guide. To mark this important milestone, the 2009 edition appears in a new design with new features and new destinations.
Louis Vuitton has developed its collection of guides and for the first time, presents five individual volumes devoted to five cities of the world: Mumbai, Miami, New York, Paris, and Tokyo. In 2009, the City Guide visits 32 European cities, including six new destinations: Bucharest, Glasgow, Lausanne, Manchester, Palermo and Saint-Tropez.
The Louis Vuitton City Guide 2009 collection is on sale from October 15, 2008 in Louis Vuitton stores and on louisvuitton.com. For the first time, the City Guides will also be distributed in a selection of bookshops in France by Harmonia Mundi. Check below for more info and pics.
More pics after the jump…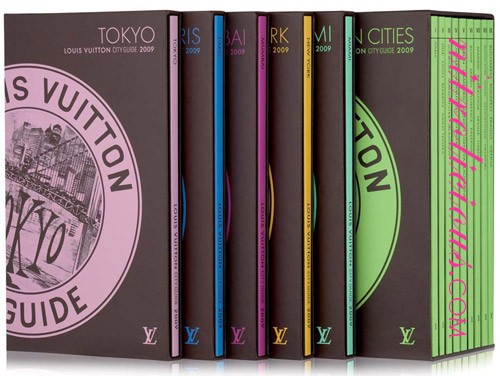 New Design: The redesigned City Guide boxes reference the heritage of Louis Vuitton, drawing inspiration from a vintage luggage label of the kind hotel bellboys would affix to travellers' trunks.
New Perspectives: The 10th edition invites 30 key fi gures to offer their personal perspective on a city they know and love, revealing a few of their top addresses: The actress Monica Belluci on Rome, the sommelier Georges dos Santos on Lyon, the opera singer Angela Gheorghiu on Bucharest or the decorator Simon Doonan on New York.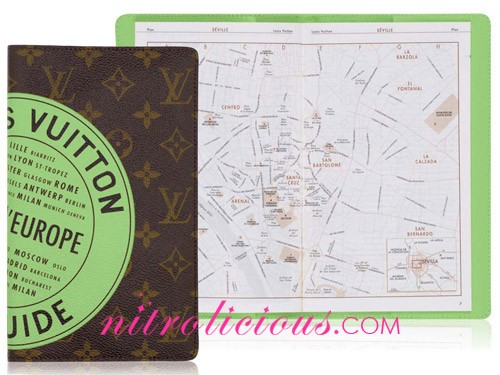 New Features: The new, more user-friendly Louis Vuitton City Guide provides for the first time schematic city maps to help travellers find their bearings and identify the address of their choice more easily.
A New Accessory: To celebrate ten years of its European City Guide, Louis Vuitton is launching a limited edition small leather goods item in Monogram Canvas. An indispensible fashion accessory, that is not only elegant, but is also the ideal way to protect the booklet of your choice when travelling.
EUROPEAN CITIES: The European edition explores 32 cities in 9 booklets through a collection of exclusive addresses. For its tenth edition, the Louis Vuitton European City Guide also includes three audio walks that can be downloaded from louisvuittonsoundwalk.com. Produced in collaboration with Soundwalk, this new generation of MP3 guides offers a captivating discovery of three Chinese cities as told by three great actresses: Gong Li for Beijing, Shu Qi for Hong Kong
and Joan Chen for Shanghai.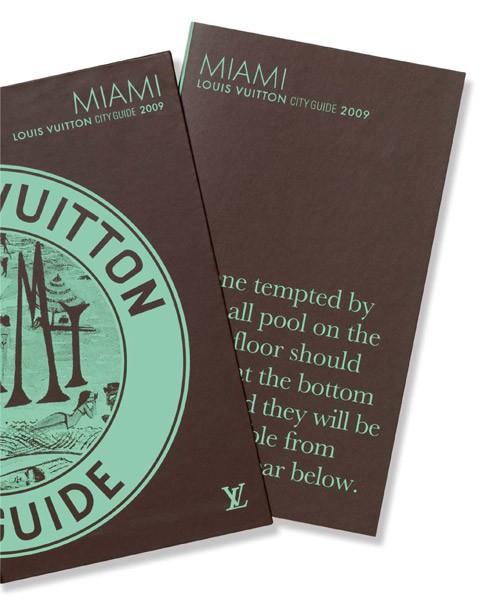 MIAMI: The Miami City Guide unveils this sunny, fl amboyant city as well as proposing a number of tropical escapades that offer a relaxing alternative to the frenzy of this capital of hedonism.
MUMBAI: This unprecedented City Guide offers a contemporary picture of one of India's most dynamic metropolises and the opportunity to discover three legendary Rajasthan cities: Jaipur, Udaipur and Jodhpur.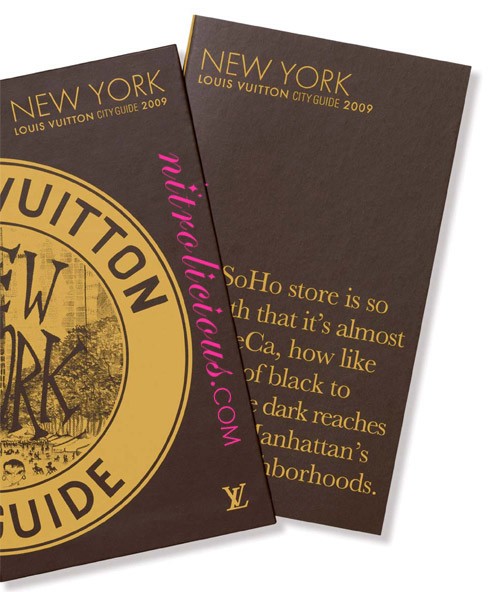 NEW YORK: The fifth edition of this indispensable guide has been thoroughly updated in order to reveal the creative heart of New York.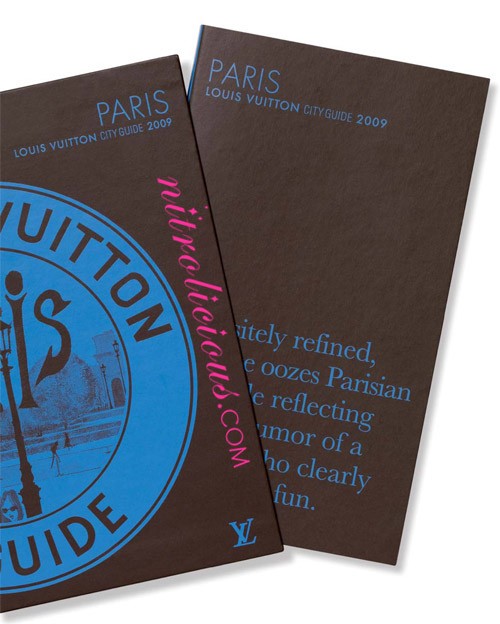 PARIS: The Paris City Guide available for the fi rst time in its own slip-case observes the city with a unique, original and deliberately unconventional eye.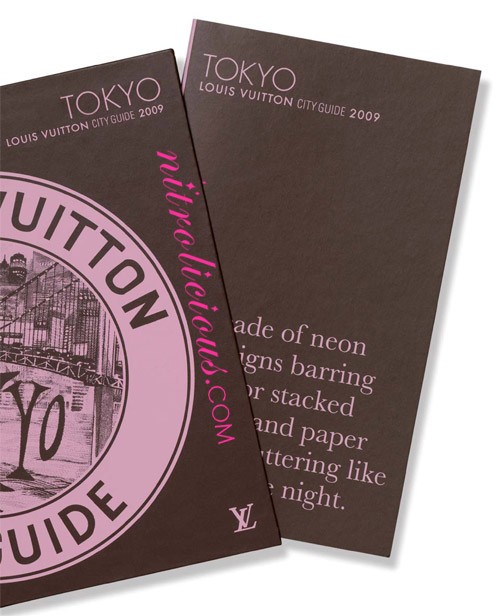 TOKYO: For the first time in its history, the Louis Vuitton City Guide stops off in Tokyo to explore the many facets of the buzzing Japanese capital. Included in this reference guide a collector's manga created by the celebrated artist Leiji Matsumoto.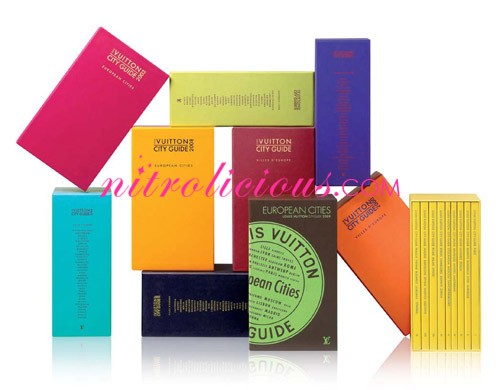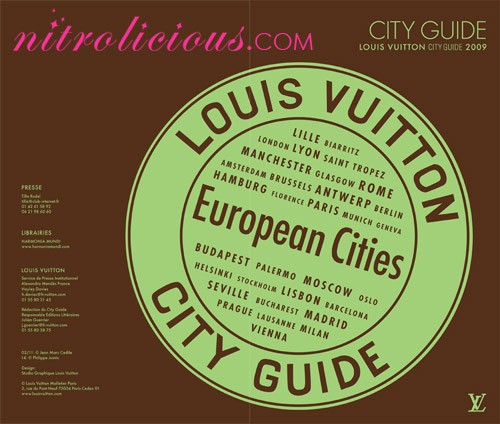 Categories: travel
Tags: