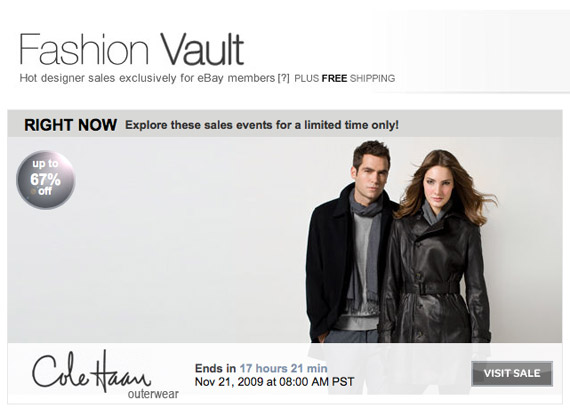 eBay opened its first holiday store today, November 20th, located at 3 West 57th Street stocked with "a selection of Norma Kamali's exclusive fashions for eBay, L.A.M.B shoes, handbags from Michael Kors and Dooney & Burke, Anthropologie dresses, cosmetics from M.A.C., Smashbox and other brands, and the Dolce & Gabbana Light Blue and Vera Wang Princess fragrances. Electronics, toys, home and garden items." The store will be remain open through November 29th (except Thanksgiving Day), definitely going to swing by before it closes.
Besides their first store, eBay took note from sample sale sites like Gilt.com and Ruelala.com with its new Fashion Vault
shopping site. Unlike the other invitation-only sample sales community, Fashion Vault
is open to all eBay members and offers free US shipping. Sales events last for two to three days only and quantities are limited. Right now eBay is offering a 30% off friends and family discount for their first sale featuring Cole Haan outerwear
Use code CFASHIONVAULTN20 at checkout, today only. Check it out!
> eBay: Fashion Vault
Tags: