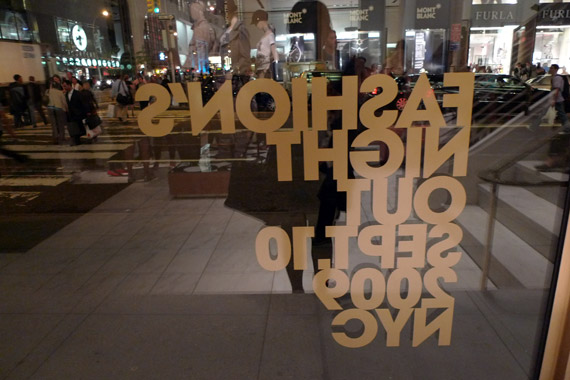 Fashion's Night Out – September 10, 2009
After the successful launch of Fashion's Night Out this past September, we all assumed it would be an annual fashion event to add to our calendars. And of course, according to WWD, today Mayor Michael R. Bloomberg, VOGUE, the Council of Fashion Designers of America (CFDA) and NYC & Co. will unveil the return of the event on Sept. 9, 2010 — and the plan is to make the second one bigger and better than the first. According to an independent study by ShopperTrak, foot traffic in stores jumped by 50 percent that night.
"We were absolutely bowled over by the response to Fashion's Night out," said Vogue editor in chief Anna Wintour. "It was only 15 minutes after the event began and we were getting reports about lines around the block at stores throughout the city. It was wonderful to see people embrace this initiative, and we are thrilled that they wish it to return." CFDA president Diane von Furstenberg added, "To have designers in stores to celebrate and start a shopping season is the best idea for everybody. It creates excitement and lots of business."
Stay tuned for many updates revolving around Fashion's Night Out, can't wait to find out what the plans are! Did you attend the first FNO, did you enjoy yourself?
UPDATE 11.19.2009: Fashion's Night Out has been rescheduled to September 9, 2010. Check the post here.
Categories: fashion
Tags: