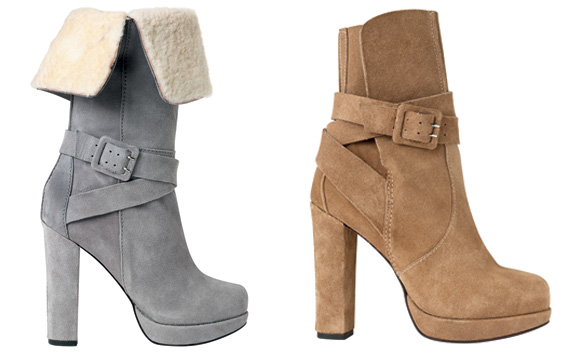 Photography: GAP
The Pierre Hardy for GAP fall 2009 boots were suppose to have dropped yesterday but it was a no show at GAP. Luckily I was busy so I didn't go in the morning. The shipment did indeed arrive at GAP stores on Monday, October 19th but they weren't put out for sale just yet. But I just got official word from GAP PR that the fall boots will be in stores this Wednesday, October 21st, they will not be available on gap.com unfortunately. They will be available at the GAP flagship store on 680 Fifth Avenue (at 54th Street) as well as the 60 West 34th Street (at Broadway) locations.
As for pricing and colors, the lower ankle boot version comes in chipmunk (light brown) and new shadow (light grey) and retails for $175. The mid calf version comes in shearling in a loreleaf (olive green) version and retails for $190.
Are you going to scoop up some sheepskin boots tomorrow?
Bigger pics after the jump…
Tags: