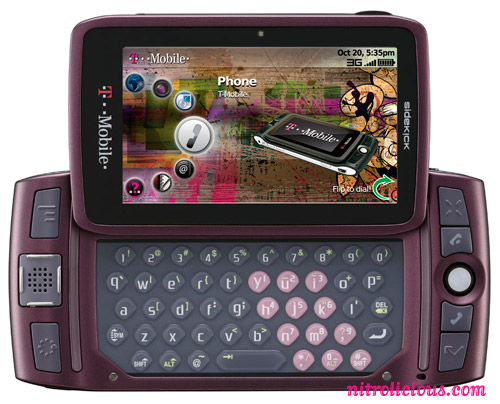 NEW MESSAGE…introducing the brand new T-Mobile Sidekick LX! The Sidekick was my first two way phone I owned, I still remember the "new message" alert and sound of the swivel when I flip open the phone. The new Sidekick LX is 3G-enabled, the high-speed web browsing with 3G support is definitely an upgrade from the old models and makes surfing more efficient. What's a phone without the built-in support for the top social networking applications including Facebook, MySpace, Twitter, you know you're all addicted to that, I'm not going to lie I am. It also includes built-in IM clients: AOL® Instant Messenger, Windows Live and Yahoo!® Messenger, wished they added GChat as well.
The Sidekick LX also offers the largest and sharpest screen to-date for a Sidekick device, it features a 3.2-inch F-WVGA screen with high-definition LCD technology with 854×480 resolution which helps support the enhanced video capability — record and share easily with friends and family via upload to video Web sites, Bluetooth, or MMS messaging. And for all fashionistas and picture whores like myself we need a good camera on our phone, you never know who you'll run into right? The new phone is equipped with a 3.2-megapixel camera with autofocus and an LED flash. The refined LX boasts the thinnest design of the Sidekick family while maintaining the iconic swivel screen and full QWERTY keyboard. The phone is available in carbon and orchid finishes with mood lights running horizontally across the top of the screen.
The T-Mobile Sidekick LX will be available for purchase for current customers during the pre-sale starting April 17th for $199.99 with a two-year service agreement and mail-in-rebate. The Sidekick LX will be available nationally May 13th at select T-Mobile retail stores and online at www.t-mobile.com.
I'll be getting up close and personal with the new device at an upcoming launch party to celebrate the new T-Mobile Sidekick LX and I'll be capturing video coverage so keep your eyes peeled. I can't wait!
> T-Mobile Sidekick LX 2009 Party @ The Sidekick Social Club
> Fun with the Sidekick LX 2009 @ T-Mobile Sidekick Social Club
Update 08.03.2009: For those of you that asked about the Tokidoki skin, read here.
More info and pics after the jump…
Key features of the T-Mobile Sidekick LX include:
Integrated social networking application bundle includes Facebook, MySpace and Twitter
High-speed Web browsing with 3G support
Built-in GPS support with Live Search
3.2-megapixel camera with autofocus and an LED flash
Ability to record, play and share videos
o Share recorded videos via e-mail and upload videos to social networking sites
o Watch videos on YouTube via the web browser or on MySpace
Carbon or orchid finish
Music player with streaming audio and streaming RTSP video
3.2-inch F-WVGA screen with high-definition LCD technology with 854×480 resolution
Support for personal e-mail, SMS, MMS, instant messaging (IM)
o Built-in IM clients include AOL® Instant Messenger, Windows Live and Yahoo!® Messenger
Iconic swivel design and full QWERTY keyboard (manufactured by Sharp)
Intuitive user interface with Quick Find to search across all applications
Network Address Book
Included 1GB microSD™ memory card
Bluetooth 2.0 with A2DP supports stereo Bluetooth and Bluetooth file transfer to other Bluetooth devices including photo printers
Dimensions: 5.1 x 2.4 x 0.6 inches; 5.7 ounces
Quad-band GSM/GPRS/EDGE worldphone (850/900/1800/1900 MHz)
Dual-band UMTS/HSDPA (AWS Band IV & Band I)
1250 mAh Lithium Ion battery
Battery: 3G — 3 hours talk time, 6 days standby; 2G — 5.5 hours talk time, 8 days standby
Software and services provided by Danger, a Microsoft subsidiary
Shortly following launch, T-Mobile plans to make available Exchange Active Sync support via the Sidekick
Categories: gadgets
Tags: