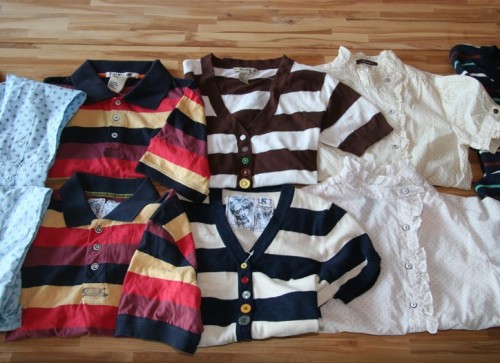 Forever 21 shirts are top row, and Trovata shirts are bottom row
WWD reported that Trovata's lawsuit alleging that Forever 21 copied its designs is headed to trial next month after two years of legal wrangling. It's not the first time Forever 21 has legal issues with copying other designers, Diane von Furstenberg has filed a copyright infringement lawsuit against them awhile back. The trial is scheduled to begin May 7 in U.S. District Court in Santa Ana, Calif. This just adds to their long list of legal issues revolving around "copying" other designers, I wonder what the outcome would be. Just fyi, I am not hating Forever 21- it is what it is. How do you feel about it?
The federal court case involves seven garments Forever 21 sold in its stores in 2007, said to look identical, or almost identical, to garments designed by Trovata and publicized on the runway or in magazines. One Forever 21 garment also had an inside label that was a near representation of Trovata's distinct label at the time. Although U.S. copyright laws do not protect a garment's basic design, silhouette or form, legislation is pending in Congress — supported by the Council of Fashion Designers of America — to expand copyright laws to the "appearance as a whole of an article" of clothing. The Design Piracy Prohibition Act has stalled in committee. Critics contend its provisions are too sweeping and would stifle competition and commerce in the apparel industry.
More info from the WWD story after the jump…

Forever 21 concedes in court papers that there are similarities between the Trovata and Forever 21 garments, but asserts it broke no laws.
"Trovata is claiming that certain button patterns and stripes on a sweater would cause consumers to associate the garments with its brand, but there is no evidence to suggest that consumers would be confused," said Bruce Brunda, an attorney for Forever 21. "Forever 21's products are only sold in Forever 21 stores and are labeled with Forever 21's brand. The design features on the Trovata designs are rather generic and are not protected by copyrights."
The trial is scheduled to begin May 7 in U.S. District Court in Santa Ana, Calif.
"It's a difficult case, and they are putting up a substantial fight, but we believe that Forever 21 willfully and intentionally copied the designs of our client, in violation of a number of laws," said Frank Colucci, a lawyer for Newport Beach, Calif.-based Trovata.
A separate lawsuit Anthropologie filed against Forever 21 does include allegations of copyright violations, as the Urban Outfitters-owned chain said Forever 21 copied a number of its patterns.
In a March 13 order in the case, U.S. District Court Judge Michael Dolinger in Manhattan reprimanded Forever 21 for deceptive conduct during the discovery phase. He added, "We note the extraordinary litigating history of this company, which raises the most serious questions as to whether it is a business that is predicated in large measure on the systematic infringement of competitors' intellectual property."
Gregory Gulia, an attorney for Anthropologie, said he believes Forever 21 is willing to risk the lawsuits because duplicating designer looks is a lucrative business strategy. Forever 21 has been sued more than 50 times for copyright infringement in the last three years. The retailer has settled such cases out of court.
Robert Powley, an attorney for Forever 21 in the Anthropologie case, said copying of designs is rampant in the fashion industry, with vintage garments used by many designers as reference points in their work.
"It can be very hard for a company the size of Forever 21, which is producing thousands, if not hundreds of thousands, of designs every year, to know if every design is original or based on designs that are in the public domain," he said. "Even if you take every garment in question in all these lawsuits, it would account for much less than 1 percent of Forever 21's products. They take this issue very seriously and are working hard to prevent this from happening."
Categories: fashion
Tags: