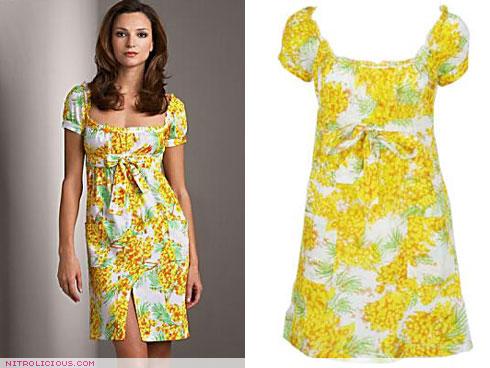 DVF Aubrey Dress vs Forever 21 Pinecone Dress
Wow, if I was Diane von Furstenberg I would be mad too…according to WWD, DVF filed a copyright infringement lawsuit against Forever 21 last week for copying its Cerisier and Aubrey designs. Looking at the dresses they do look nearly identical especially the Cerisier Dress. The price difference is about 10 times cheaper at Forever 21, but if it makes you feel better being "copied" means your designs are popular (though I don't support it). Even though this sounds bad, but if a brand is not replicated that means your stuff is not that popular (IMO), I'm suprised these two Forever 21 dresses are still available online, perhaps after today it will be sold out haha. I honestly think there is nuttin' a designer can do to stop another company from copying its designs, you sue them once they come back again…sigh…that's reality. eBay is selling the DVF Cerisier and Aubrey dress a lot cheaper if you're looking to buy it (be sure to check authenticity, I'm not sure if they make fake DVFs). Nope, I did not cop these, not my style and I don't want to be embarrassed neither haha. Peep the Cerisier Dress replica and read the full story after the jump…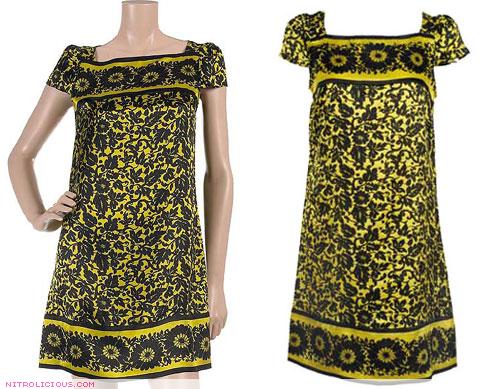 DVF Cerisier Dress vs Forever 21 Silk Sabrina Dress
—
By Liza Casabona, WWD 
Diane von Furstenberg continues to take the protection of her intellectual property very seriously.
Diane von Furstenberg Studio filed a copyright infringement lawsuit against Forever 21 Retail Inc. late last week in Manhattan federal court. According to legal documents obtained Tuesday, the company alleged Forever 21 has sold dresses that infringe on its Cerisier and Aubrey designs.
"Without authorization or license from DVF, Forever 21 has produced and is marketing, advertising, distributing, offering for sale and selling dresses nearly identical to DVF's Cerisier and Aubrey dresses that bear print designs identical to the DVF copyrights," according to legal papers. The complaint goes on to allege that Forever 21's merchandise copied the exact scale and color for each design and that the infringement was willful.
Forever 21 did not return requests for comment by press time.
The Cerisier dress design, part of the company's holiday collection shown in October, consists of two print designs owned by DVF Studio called the "small dentelle" and "flower lace border" designs. The Aubrey dress was first shown in the DVF spring 2006 fashion show in September 2005, according to court papers. The Aubrey dress has a print design on it called "mimosa," which is also owned exclusively by DVF.
The complaint contains allegations of copyright infringement, federal and state unfair competition, false designation of origin and unlawful deceptive acts. DVF asked the court to require Forever 21 to recall and remove from commercial distribution or display any items that infringe on its copyrights as well as any promotional materials related to those goods. The complaint also asked for unspecified financial damages.
Von Furstenberg herself spoke recently with WWD about the implementation of a new program at DVF aimed at protecting the brand's intellectual property. The firm established a three-year strategy to address counterfeiting and intellectual property issues. The company is working with lawyer Harley Lewin, of Greenberg Traurig, on the program. In recent months, the company has quietly filed a handful of lawsuits in jurisdictions all over the country, including California, New York, Georgia, Florida and Virginia.
Forever 21 has found itself the defendant in copyright litigation over fabric before. In January, the company was sued for allegedly infringing on a fabric copyright owned by M.M.P. Inc., which does business as Fabric & Fabric. The privately held company currently operates more than 300 Forever 21 stores and approximately 100 Gadzooks stores nationwide.
Categories: fashion
Tags: