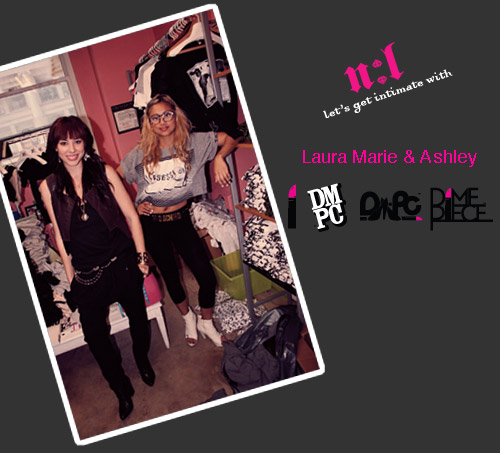 Interview with Laura Marie Fama & Ashley Jones of DimePiece
Interviewed by Tom Bradley
Photography courtesy of DimePiece
Produced by Wendy L.
It's been awhile since I've done an interview but good things are worth the wait. I met the ladies of DimePiece, Laura Marie and Ashley, in person last year during Magic, it was great to finally meet people that I've been talking through email for over a year. They're sweet girls with great style. The duo have been working hard trying to keep up in the game, they're basically a two person team so they do everything themselves, props to them. What really attracted me to their brand is when they introduced cut & sew, the leggings were fiyah. For the people that follow my blog already know that I've been rockin' their L.A. Leggings and Scrabble Leggings a lot, I never get sick of them- plus people just keep asking about them every time I step out in them. I hope they continue to design more interesting leggings! Their LA style mixed with some vintage inspirations is what sets them apart from the rest of the female streetwear brands, very different and they're daring to try new things. Be sure to lookout for their Spring 2009 collection which officially drops on March 18th, I'm totally looking forward to seeing it!
Read up on the interview to learn more about them after the jump…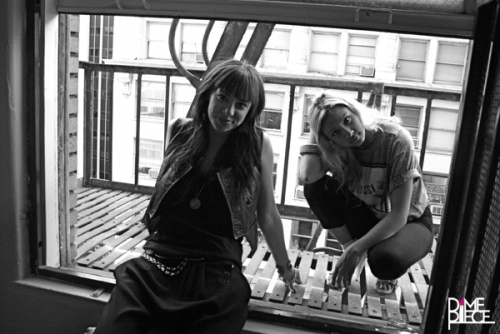 Tell us about yourself…
Laura Marie: Virgo. Likes exotic cheeses and fix gear bikes. Adventurer and thrift store treasure hunter. Loves sewing and designing, and literally orgasms over new runway shows.
Ashley: I'm 24, from Rialto, CA. I spent 5 years in college but I'm not half-baked. I like cheap chardonnay and memorizing quotes by feminist revolutionaries.
What's the worst fashion faux pas?
Laura Marie: Huge pompadour hair teasing and fake bamboos.
Ashley: Those streetwear t-shirts with all the sunglasses on them, then wearing a matching pair your face. Carrying a knock-off Chanel bag and acting like you're a big deal. Britney Spears.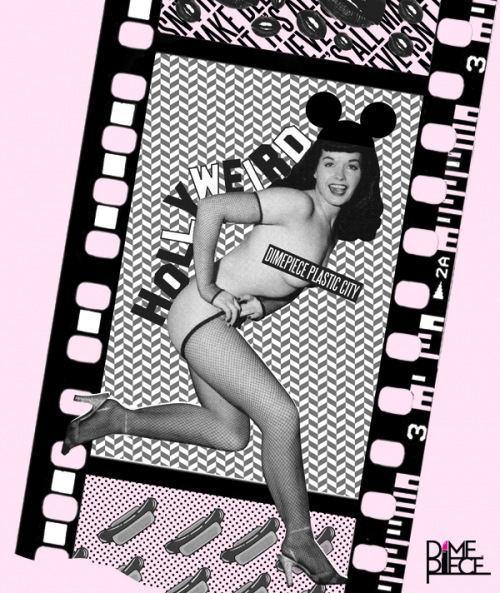 Who would you most like to style in your clothing?
Laura Marie: Juliette Lewis, Lady Gaga, Gwen Stefani, Milla Jovovich, Agyness Deyn, Rihanna, Mary-Kate Olsen. All great women with amazing fashion sense.
Ashley: What Laura said.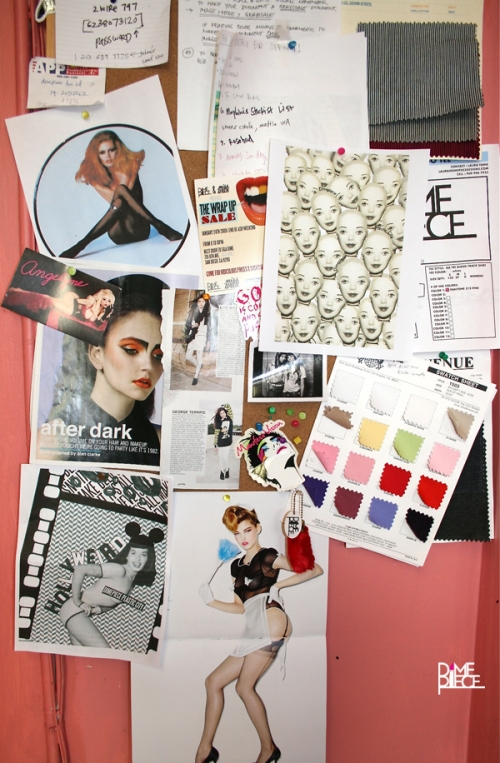 Discuss the conception of the label: the driving force behind its creation, your inspirations, what the brand aspires to etc…
Laura Marie: A huge driving force behind Dimepiece is power the to portray influential messages or stories behind our garments. We want our brand and garments to stand for substantial purposes; whether it's political, sexual or humorous. My inspirations come from vintage record album covers, typography, neon signs from the strip clubs downtown, old ladies in gaudy 2 piece suits, old magazines, and basically my lifestyle in L.A. Dimepiece wants to feed minds and make money through what we love doing.
Ashley: DimePiece started because we wanted to finally manifest the vision we had for so long; but really the driving force behind DimePiece is two things: our unwillingness to work for "the man" 9-5 and our obsessive compulsive disorder for women's fashion. Plus when we met we found out that we both were voted "best dressed" in high school and from that moment on we knew we were destined to be partners forever and ever. Ha! I'm really inspired by Los Angeles' history, the random things you see on Hollywood Blvd. everyday, feminists, chauvaninsts, contemporary art, Vintage shops, labels like Mui Mui and Alexander McQueen.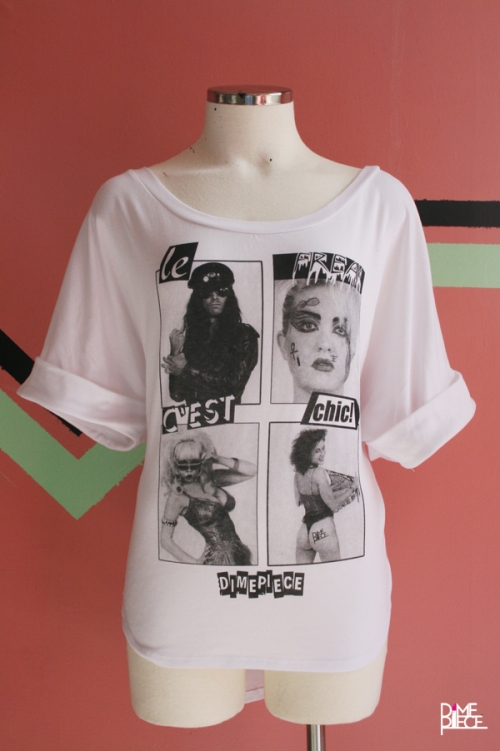 Tell us about working together as a team, any funny things to share or moments where you guys want to strangle each other? 😉
Laura Marie: It's funny because Ashley and I didn't grow up together but we both ended up being "Best Dressed" in our own high school. (Very random) But we work really well together, we have the same taste in current styles. Kind of a weird ying and yang combo. But we definitely have our arguments about colors or trims to use, what sells better, or what next step to take with Dimepiece. We definitely have made some sacrifices with our love life's, money, and time…it's all worth it at the end.
Ashley: I used to get truly annoyed when Laura would say "dude" at the beginning, middle and end of every sentence, but now her dude plague spread to me. It's really bad, dude.
Describe the DimePiece girl… 
Laura Marie: She's an open book. Definitely a woman you have to glance twice at while walking down the street.
Ashley: A boss bitch dipped in sauce.
The women's streetwear scene is beginning to get crowded and many labels tend to look alike. How does Dime Piece set itself apart?
Laura Marie: I think we truly show our sense of style through out our look books, we push our styling, colors, makeup, and themes to show what approach we're feeling that season. Dimepiece is moving into a more contemporary street genre, we want to basically do feminine bold graphics and focus on amazing cut and sew garments that stand out. I don't think the streetwear scene is getting crowded because each brand has a totally different vision. I think we are a little different in the fact that we do everything from start to finish, just Ashley and I. Ideas, adverts, promotions, sales…we do our own manufacturing "foot work", patterns, walk to our cutters, dyers, sewers, graders, printers, etc.
Ashley: I think you're going to get the crabs in a barrel effect in every market. But streetwear is still a niche market, so it's really easy to draw comparisons between brands. As far as what sets us apart, we're not trying to intentionally be different. We believe in our own vision and follow through with it.
Though your line is carried by boutiques and sold through your online store, are there plans for an actual flagship DimePiece location?
Laura Marie: Our main office is in downtown Los Angeles, I would love to open our first location downtown. There's so much history in the buildings and streets, and even though we have to cover our noses everyday from the bum piss, it's a magical place to walk around and explore. There's tons of renovations going on, Main and 4th street would be an awesome location.
Ashley: Thanks to the Bush Administration, I don't think we could invest into something like for a while. But the Blueprint is in the works. Damn that man.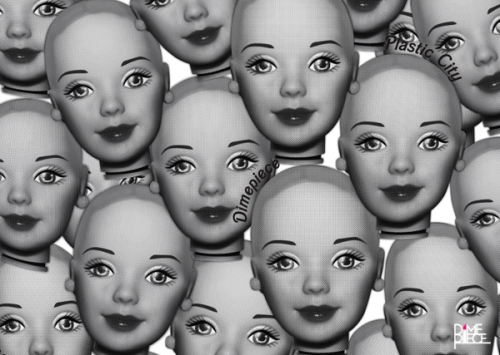 Discuss your Spring 09′ line… (design cues, motifs, muses, etc…)
Laura Marie: Spring is all about Hollywood materialism, a plastic lifestyle, girls consumed with celeb gossip and plastic surgery in Los Angeles. This season we stepped out of our box of the basic tee and created our own custom tank and scoop neck blouse. We did more faux leather appliques like we did Holiday 08′, and also added specialty items like our Napoleon vest with back tuxedo tails (I'm especially excited for that one!). I really adore this new Spring 09′ season because I feel like it's truly "us".
Ashley: Spring 09 is called Plastic City. We based the collection on the immense idealism that this city puts on its youth and the youth across America. Our muse was also our nemesis: Barbie, the plastic devil. We took design cues from that but also stuck to the fun femme theme that we do each season.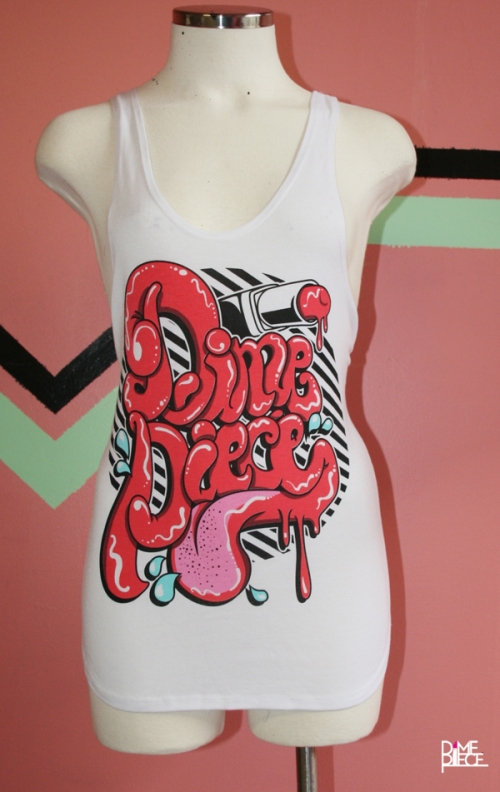 What labels would cause you to entertain the ever-popular notion of co-branding?
Laura Marie: Doc Martins, Patricia Field, Freshjive, Nike (Cortez's), Agent Provocateur, Vicktor and Rolf. -Sky's the limit.
Ashley: I'm wishing upon a star for Doc Martins. But would love to do something one day with Jeremy Scott, Nike Cortez or Heatherette.
How important is the web to your label and how have you sought to use your site as a platform for growth?
Laura Marie: Almost everything is web based right now, our news section of the site keeps our consumers up-to-date with the line and other happenings; and our online store has helped tremendously, our over-seas customers have easier access to purchase our clothing.
Ashley: The web for us is like a virtual word-of-mouth, it's a crazy networking and marketing tool for tons of people and companies. Betsey Johnson once said, "I don't use the internet, I don't get that thing. If I need to do business I pick up the phone". I fucking love that. But it's 2009, our whole society has made it almost impossible to ignore the world wide web.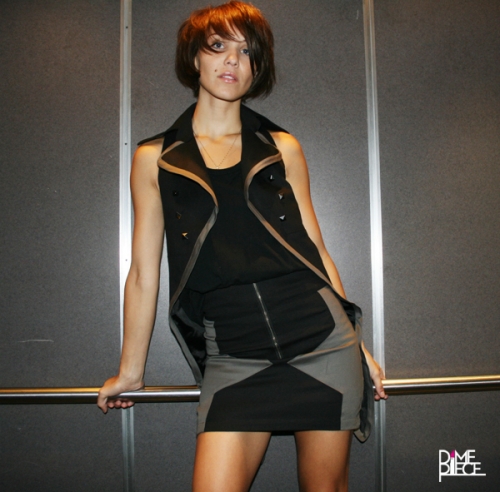 As the label grows in notoriety will there be major changes in the Dime Piece aesthetic? (i.e. cut & sew  pieces?)
Laura Marie: Yeah we definitely want to do more specialty cut and sew pieces and accessories. Ashley and I plus two interns are running Dimepiece right now. It's a bitch and hard ass work running around all day, doing all our own foot work. In time, in time.
Ashley: I mean we've been doing cut and sew since our second season, I think it's only a matter of time and growth until it's noticed by the public. But I really want to get into more complex cuts and stand out, must-have garments.
Where do you see the women's streetwear scene headed in the coming months? What do you feel will be some strong trends or looks for the New Year?
Laura Marie: I see graphic prints to be either totally simplistic (blacks, whites and greys). I think accessories will be big for women's streetwear in the near future also. Streetwear for women in general will grow and a whole, pretty soon there will be a new group of youth and new styles will arise out of that.
Ashley: Streetwear right now is a lot of tees, basics like that (which is a big part of our line) are a staple in fashion, regardless of the market. They'll always be around. I think street wear's most pressing issue moving forward is the original consumer. We're on the verge of all looking like sardines in a can and it's gonna get old and lame. I think it would be a breath of fresh air to start seeing people dress for themselves, ad not for what's trendy.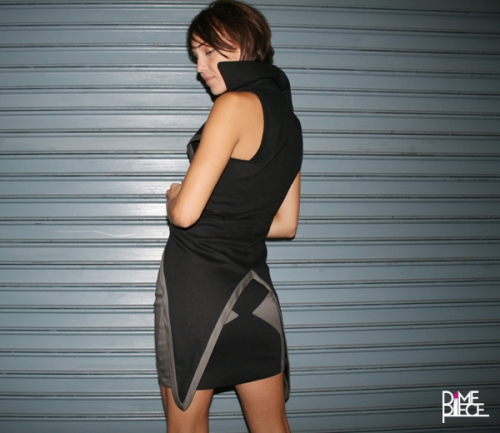 Is DimePiece planning anything we should be waiting for in the near future?
Laura Marie: Our infamous Dimepiece lipstick pendant necklace will be released some time before 09′, and definitely a collaboration piece.
Ashley: Yes! We're going to be doing a logo accessory and some skins for laptops, i-pods and cells. And some damn cute cut and sew pieces.
Please note: I APPRECIATE THE LUV FROM YOUR SITE, BUT PLEASE REFRAIN FROM COPYING THE ENTIRE INTERVIEW/IMAGES TO YOUR SITE/BLOG. A LINKBACK TO THE INTERVIEW IS GREATLY APPRECIATED IF YOU'RE USING MY INFO. THANKS.
Categories: features/interviews streetwear
Tags: