By now you should of all heard or read about the MAC x Hello Kitty collaboration and for those of you that follow my Twitter already got a few tweets on who/what I saw, if not I'm bringing the party to you here! Last night was the big global launch party to launch her to the world, it was an amazing party! The "Hello Kitty Commotion!" cocktail soiree celebrated the MAC Hello Kitty color and accessories collection, plus there was also an amazing fashion exhibit of "Hello Kitty Creations" designed exclusively for MAC by 30 internationally renowned designers, to create one-of-a-kind pieces that are inspired by the Hello Kitty collection. MAC asked designers to work within the color palette of the Hello Kitty collection of black, grey, white and pink and last night in New York, MAC unveiled the exclusive designs to the world. Aside from all the beautiful one-offs, there were S&M Kitties everywhere- men in Kitty "heads" with bare tops and black patent leather pants, they stood around the entrance taking photos with guests, handing out Kitty bow cookies and at the end of the night gift bags to guests. I shot a video of the fashion designs but excuse the interruptions as it was super packed, I tried my best! And of course a load of pictures! FUN, loved the event! Of course I was dressed in a black and pink ensemble to pay homage to Hello Kitty!
The MAC Hello Kitty fashion designer team includes: Blugirl, Catherine Malandrino, Charlotte Ronson, Dress33, Elie Saab, Emanuel Ungaro, General Idea – Bum Suk Choi, Giles, Hervé Léger by Max Azria, Kai Kühne, Kate Sylvester, Katy England, Manish Arora, Marchesa, Miro, Opening Ceremony, Qiu Hao, Rosa Cha, Ruffian, Sang Beg Ha, Shu-Chi Huang, Sinha Stanic, Tadashi Shoji, The Blonds, threeasFOUR, Vicente Villarin, Yigal Azrouel, Zac Posen, Zimmermann. The designs include both avant-garde and more traditional creations from smart cocktail frocks to Kitty couture swimwear. The designs will be auctioned off on eBay, with all proceeds benefiting The Museum at The Fashion Institute of Technology (FIT) in New York. Bidding starts on Monday, February 9, 2009 at 10:00pm EST/7:00pm PST and will close on February 19, 2009. Visit ebay.com/machellokitty to place a bid.
The MAC Hello Kitty color and accessory collection is available February 12, 2009 and MAC Hello Kitty Kouture is available on March 5, 2009 at all MAC locations, maccosmetics.com and Nordstrom, but scoop them up quick it won't last long!
More info and lots of pics after the jump (3 pages)…
Additionally, the Hello Kitty designs created by Katy England for the MAC Hello Kitty collection visuals will be donated to the museum's permanent collection and will be on display in the museum's lobby following the February 5th event. Two MAC Hello Kitty designers will be showcased at Opening Ceremony store on Howard Street in New York City.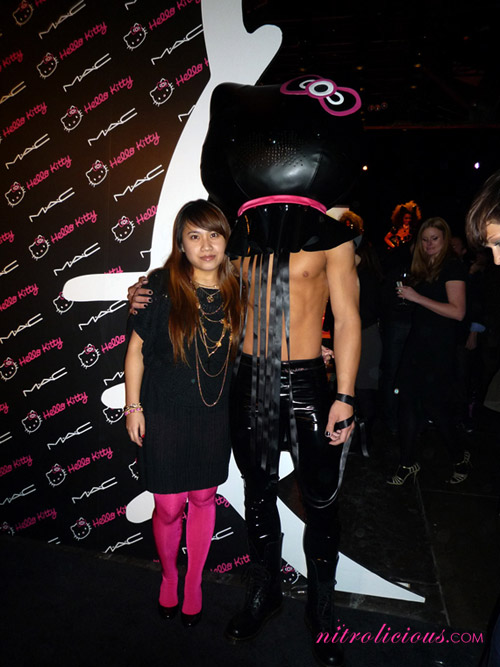 I couldn't resist to take a pic with a S&M Kitty!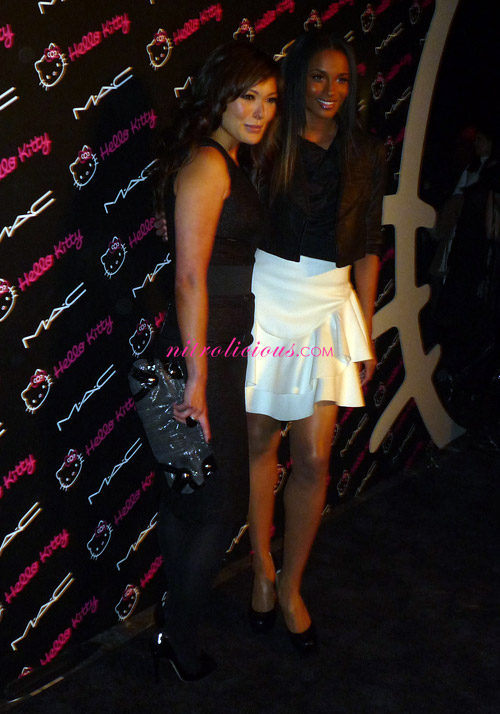 Lipstick Jungle's Lindsay Price and singer Ciara at the event.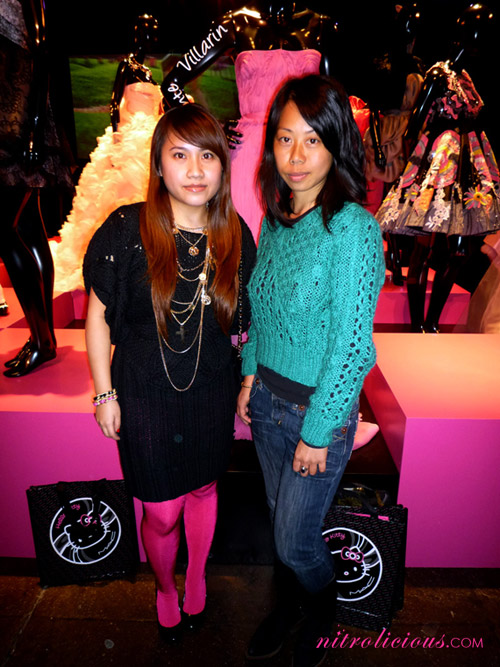 I brought my friend Helen (Red Panda Village) to the event with me!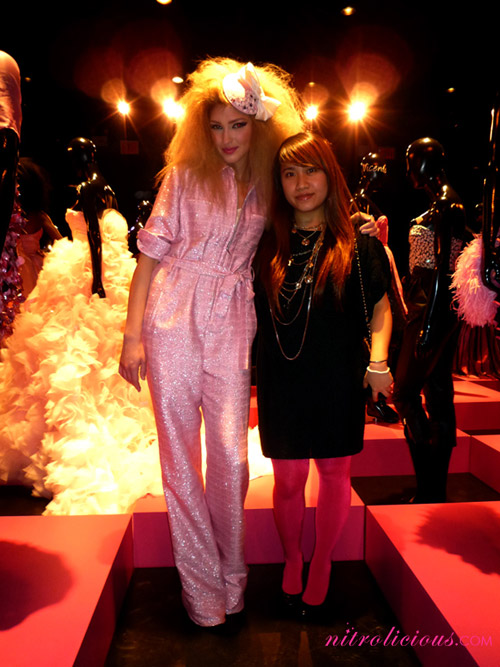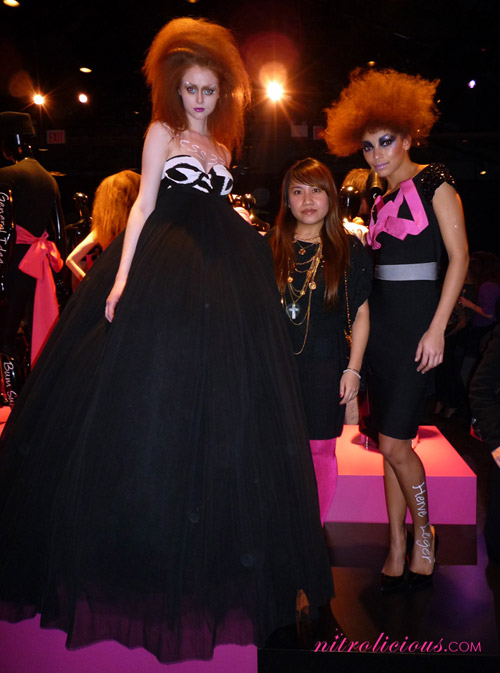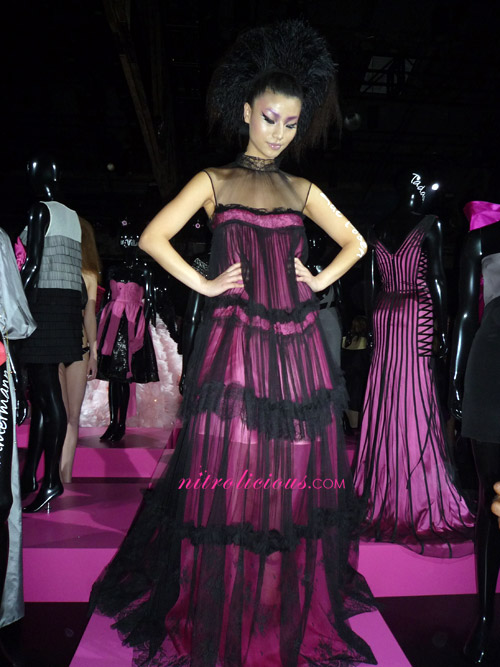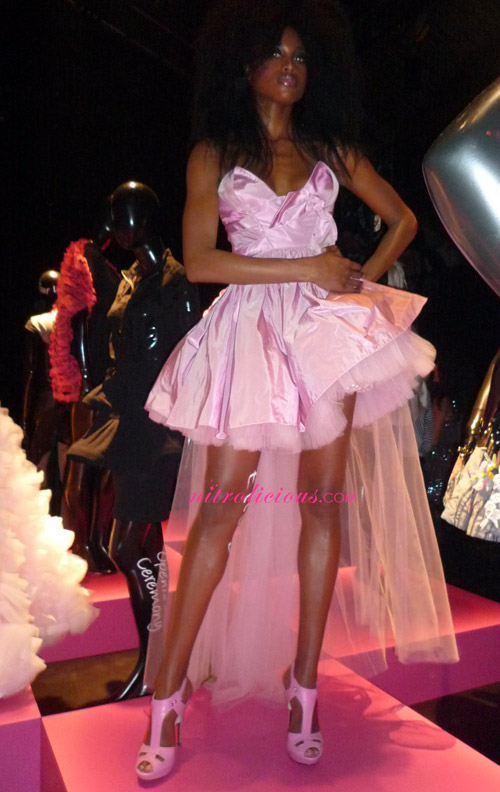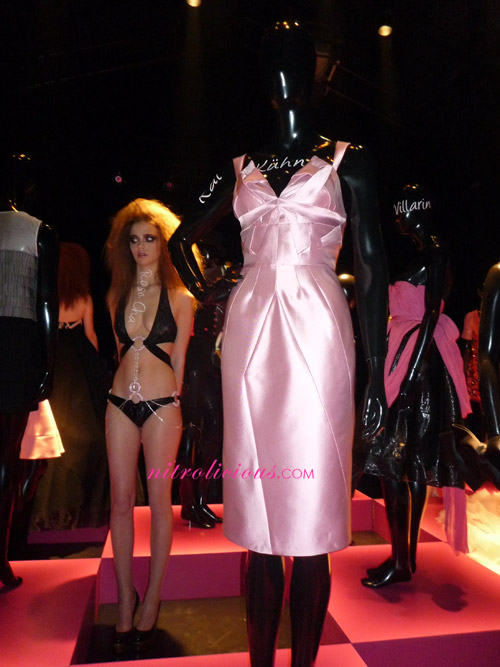 More pics on the next page…
Categories: beauty celebrities fashion outfits shopping toys/design
Tags: