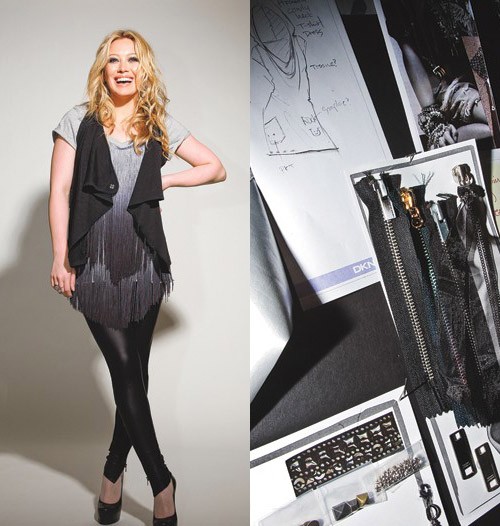 Hilary Duff is following the footsteps of Fall Out Boy Pete Wentz and Rachel Bilson to launch a line for DKNY Jeans which she dubbed Femme. The company has signed Duff for two seasons — "fall and holiday — with the option to extend the agreement depending on performance." The collection features an array of sportswear pieces which wholesales between $19.50 for a T-shirt and $64 for outerwear and consists of about 10 to 12 pieces for each delivery. Beginning in August the line will be available at DKNY stores, Macy's, Lord & Taylor and Nordstrom.
"There's a pair of denim jeans with two different-size belt loops — one for a small belt and one for a large, so the wearer can switch up her belt options each time she wears them. There's also a sweater that comes with a removable cowl-neck, a T-shirt with a removable chain necklace, a butterfly-printed knit wrap sweater made extra long in the front to be easily wrapped as a scarf and a layering camisole with crystal details on the straps, which are meant to be seen when layered correctly."
"One of the hardest things is to come up with a name," said Duff of her new line, which she was wearing: a gray fringe T-shirt, leggings and a vest. "But I think Femme works really well and explains the line perfectly as feminine but tough all at the same time. It's aggressive, but in a good way." via WWD
The line is looking good so far, I anticipate to see the full collection!
Peep the sketches after the jump…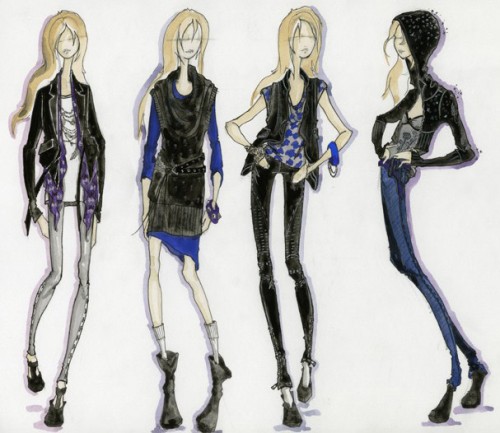 Categories: celebrities denim fashion
Tags: