I'm a gadget freak, I was honestly a bit sad when I heard that T-Mobile wasn't releasing the Bold that was released a couple of months ago. I was really tempted to switch up my T-Mobile BlackBerry Curve which I got last April to AT&T. But when I got news that T-Mobile will be releasing a new Curve 8900 I decided to wait and see what's good. Although there's no 3G, there's other good stuff to make up for it…
The new BlackBerry Curve 8900 is said to be "the thinnest and lightest full-QWERTY BlackBerry smartphone" in the market. It features a 512MHz next generation processor for fast and responsive performance, a large and vivid 480×360 display, OS 4.6.1 and a 3.2-megapixel camera with image stabilization, digital zoom, flash and the ability to record video and play video, a music player, a 3.5mm stereo headset jack and headset, and a hot-swappable microSD/SDHC memory card slot with a 256MB card inserted. It also has a built-in GPS and support of location-based services. It also allows easy access to social networking sites and has built-in Wi-Fi(r) (802.11 b/g) supporting both voice and data."
The T-Mobile BlackBerry Curve 8900 is slated to release in February, can't wait because I desperately need an upgrade!
Official press release and additional images after the jump…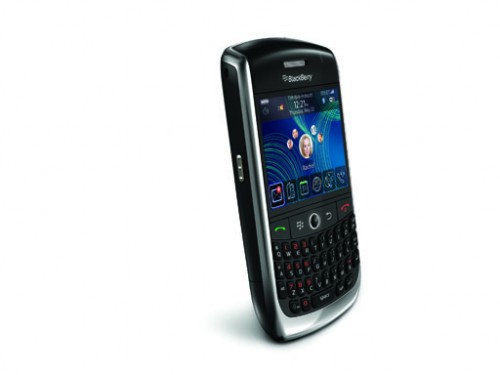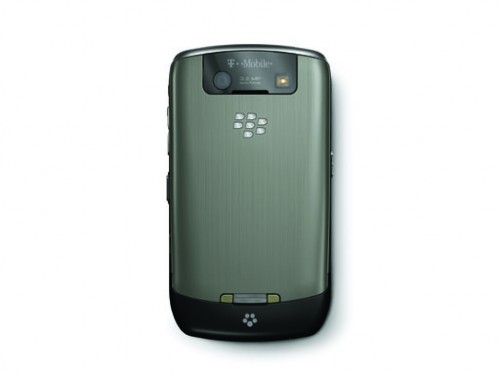 T-MOBILE USA TO OFFER CUSTOMERS THE THINNEST AND LIGHTEST FULL-QWERTY BLACKBERRY SMARTPHONE
New BlackBerry Curve 8900 Smartphone Delivers GPS, Wi-Fi, Enhanced Multimedia Capabilities and More…
Bellevue, Wash., and Waterloo, Ontario – January 7, 2009 – T-Mobile USA, Inc., and Research In Motion (RIM) (Nasdaq: RIMM: TSX: RIM) today announced that T-Mobile(r) will offer its customers the new BlackBerry(r) Curve(tm) 8900 smartphone, the thinnest and lightest full-QWERTY BlackBerry smartphone.
The BlackBerry Curve 8900 from T-Mobile, in a stunning titanium-colored finish with chrome highlights, combines an elegant, compact design with a wide range of popular features and an easy-to-use full-QWERTY keyboard. It features built-in GPS and support of location-based services. It also allows easy access to social networking sites and has built-in Wi-Fi(r) (802.11 b/g) supporting both voice and data, making it easier to stay connected to family, friends and colleagues.
"T-Mobile is thrilled to bring our customers such an elegant and powerful way to communicate with the important people in their lives," said Travis Warren, director, device marketing, T-Mobile USA. "The BlackBerry Curve 8900 offers T-Mobile customers the benefit of a full-QWERTY keyboard in the thinnest BlackBerry smartphone yet."
In addition to a sleek, stylish design, the powerful new smartphone includes a large, vivid display – the highest resolution available on a BlackBerry smartphone – as well as a 512MHz next generation processor for fast and responsive performance. The handset's advanced multimedia capabilities include a 3.2-megapixel camera with image stabilization, digital zoom, flash and the ability to record video and play video, a music player, a 3.5mm stereo headset jack and headset, and a hot-swappable microSD/SDHC memory card slot with a 256MB card inserted. With support for memory cards up to 16GB, customers can carry, capture and enjoy more of their music, pictures and video anywhere they go.
"The new BlackBerry Curve 8900 features a compact and refined design that looks and feels great. It gives you everything you need to stay connected and entertained," said Mark Guibert, vice president, corporate marketing, Research In Motion. "With rich multimedia capabilities, exceptional mobile email and messaging features, enhanced Web browsing, a premium phone and easy access to social networking communities, including Facebook(r), Flickr(r), and MySpace.com(r), the BlackBerry Curve 8900 helps you make the most of a busy lifestyle that spans well beyond normal business hours."
T-Mobile customers can continue to get great mobile coverage and unlimited nationwide Wi-Fi calling with T-Mobile's Unlimited HotSpot Calling service as well as unlimited nationwide calling to five people with T-Mobile myFaves(r) service.* As a quad-band world phone, the BlackBerry Curve 8900 supports international roaming, extending the ability to stay connected while traveling abroad.
The new BlackBerry Curve 8900 smartphone from T-Mobile is anticipated to be available in February at T-Mobile retail stores, select authorized dealers, and online at http://www.T-Mobile.com
Prior to retail availability, customers can learn more about the BlackBerry Curve 8900 at www.BlackBerry.com/NewCurve8900
Categories: gadgets
Tags: