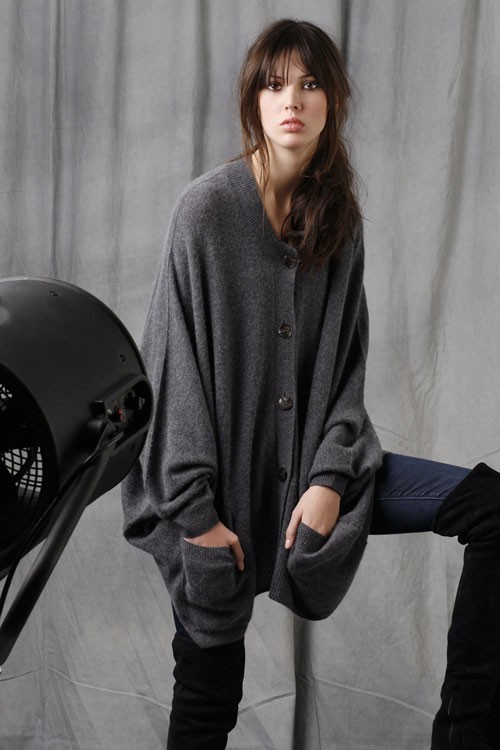 Winter has arrived, what better way to keep warm in a cashmere sweater? nitro:licious and b.chyll has teamed up to giveaway two (x-small and small) grey Sable Cashmere Sweaters, an oversized cashmere cardigan with 4-button closure and patch pockets at front. The sweater is so soft and warm, I tried it on and didn't want to take it off! The oversized cardigan is versatile, definitely a staple in the closet.
Two (2) winners will be chosen at random from the entries/comments in this post to win the cashmere sweaters. One (1) entry/comment per person- duplicate entries will be automatically disqualified. Please follow the guidelines below and check your entry before entering. Good Luck! Sponsored by b.chyll.
Giveaway Starts: Tuesday, December 9, 2008 – Now
Giveaway Ends: Tuesday, December 16, 2008 – 11:59pm EST
*Giveaway had ended!
Edit 12.17.2008:
Congrats to Cee from Boston, NY (x-small) and Athena from Flushing, NY (small) for winning the giveaway! Enjoy!
Please follow the guidelines below to be considered…
Giveaway Guidelines (all must be completed to be considered):
Age / Location (City, ST)
What size? X-small or Small?
Answer questions: b.chyll puts a luxurious twist on a traditionally casual style by constructing this poncho out of pure cashmere. How would you wear it? Would you dress it up or dress it down?
How to read comments:
Many people get confused and leave several comments saying their comments went under another person's name when they are just reading it wrong. Hopefully this will help a bit. Read here.
Categories: contest/giveaway fashion
Tags: