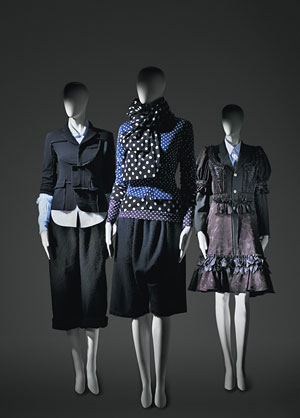 Photograph by Toby McFarland Pond
W Magazine has the first look at the COMME des GARCONS for H&M collaboration slated to release in November, when I initially saw bad images circulating around the web I wasn't too impressed. But after seeing this preview it has gotten me back into it, the range consists of:
Mostly black and with Japanese tomboy airs, the H&M collection includes a range of tailored jackets, many deconstructed, along with cropped pants, baggy shorts and a variety of skirts in stretch wool. On the perkier side are polkadot knits in jersey or merino wool, colorful shirts—some with dots—and a "showpiece" coatdress decorated here and there with dense Victorian ruffles. There are also accessories and a unisex perfume with notes of cedar and patchouli but, alas, no children's wear.
Are you excited yet?
Tags: