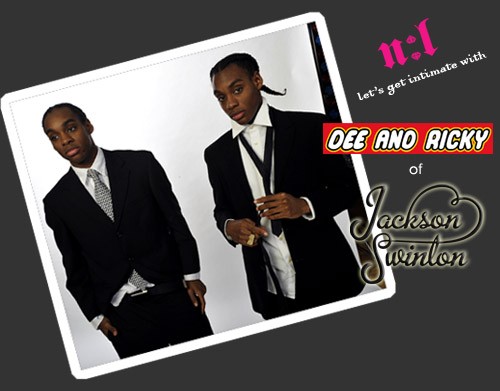 Interview with Dee and Ricky of Jackson Swinton
Interviewed by Tom Bradley
Photography from M David Leeds
Produced by Wendy L.
*I APPRECIATE THE LUV FROM YOUR SITE, BUT PLEASE REFRAIN FROM COPYING THE ENTIRE INTERVIEW/IMAGES TO YOUR SITE/BLOG. A LINKBACK TO THE INTERVIEW IS GREATLY APPRECIATED IF YOU'RE USING MY INFO. THANKS.*
I first met Dee and Ricky when I went on the Camp Beverly Hills "Class Trip" in Vegas for Magic back in February. They are an eclectically colorful and high-energy set of twins and two-thirds of the rap and dance group Jackson Swinton. The Twins, as they are known throughout the downtown scene, have garnered the attention and affection of the fashion and music communities with their unparalleled style and energy. They have appeared in fashion spreads and advertisements in the world's most influential style magazines. They have had their portrait painted by renowned fine artist Kehinde Wiley and have popped up in advertising campaigns for Puma, Nike, Supreme, and A New York Thing, as well as in editorials for Teen Vogue, The New York Post and Paper Magazine. Recently, the Twins' accessories – belts and brooches by Dee and Ricky– were commissioned by renowned fashion designer Marc Jacobs for his New York Fashion WeekSpring 2008 rtwrunway show.
It's been a good few months working on this interview with The Twins and they're the first males to be featured on nitro:licious, that makes them extra special- I just love their accessories so much I had to! They've talked with me about their rising cult fame and the release of their first EP on Business Class Records. Here's your chance to get a better understanding of them. Big thanks to Matt Goias, Pam Bristow and Phillip Leeds for all the help.
Read the interview after the jump…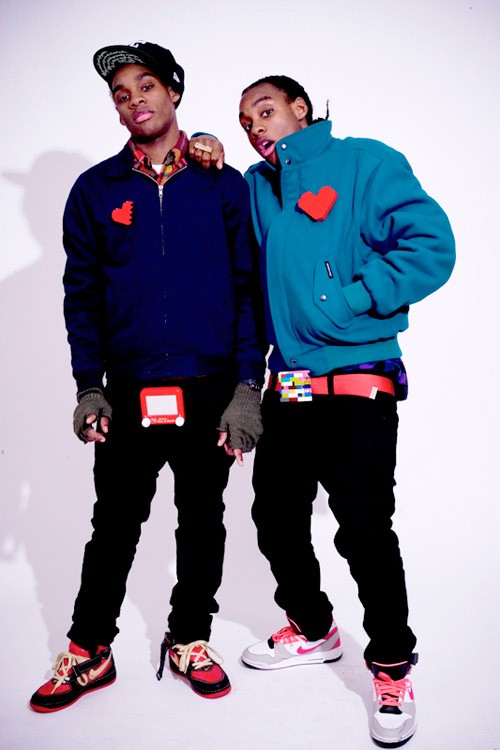 Ricky and Dee
Tell us about yourself.
Dee: I live in Arlington Housing Projects in Staten, Island, NY. I'm 21 years old, and I'm one third of the internationally famous recording act Jackson Swinton.
Ricky: I am Ricky and I am an extraterrestrial.
Who would you most like to style with your Lego belts and brooches?
Dee: Michael Jackson Or El Debarge. They're cool..Yeah!
Ricky: I would want to put our belts and brooches on an official Lego Minifig.
What's the worst fashion faux pas?
Dee: Tight Pants I hate them!
Ricky: The sagging of the trousers.

At what age did you begin to feel passionate about fashion and design?
Dee: Probably around 11 or 12 years old. I was always wanting the newest garments and such.
Ricky: Yeah, me too. Probably around 11 or 12 years old.
Where do your creative inclinations stem from?
Dee: Everywhere, just random, nonsensical stuff.
Ricky: My surroundings, basically. My backdrop.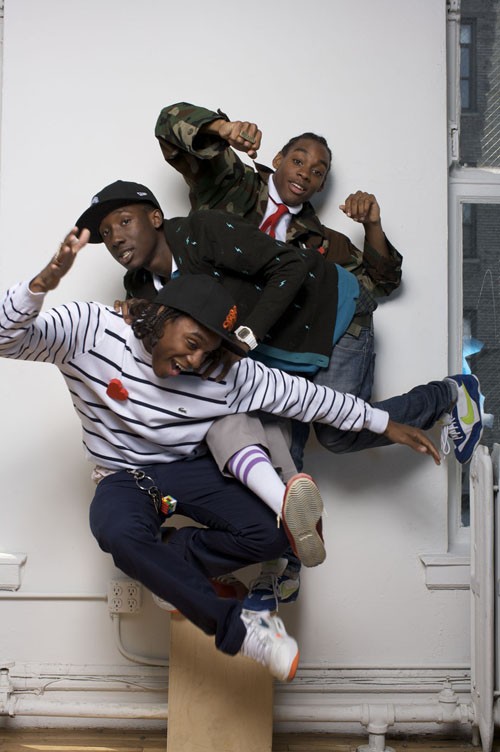 Who do you consider to be personal icons within the fashion or art world?
Dee: My style has no father.
Ricky: Yeah, word.
Do the two of you have any major differences in personal taste or style?
Dee: Yes, we most definitely do. It depends on the day though.
Ricky: Yeah, Dee likes men. LOL.
How did the Lego-belt/brooch design come about?
Dee: Our boy Ari got us into this accessories game. He originally gave us the idea of making belts out of toys and then we came with the Legos and really started doing our thing.
Ricky: Yeah, On The Go Ari and our whole team set things up for us then we put our flavor in it and took it to the next level.
At what point did you come into contact with Marc Jacobs?
Dee: Our boy Matt Goias brought us to a party in The Hamptons and we got introduced to Jason Preston who was Marc's boyfriend at the time.
Ricky: Yeah. Then Jason liked our belts and showed them to Marc and I guess he was feeling them too. From there it was a wrap. A few days later we got the call that they wanted to commission us to make accessories for the Marc By Marc Jacobs runway show.
What has that relationship (with Marc Jacobs) been like?
Dee: We don't really talk but I stay whooping him out in guitar hero, chea!
Ricky: It's all pretty grand. He's mad cool. Very open-minded and he loves our style and energy.
How would you describe your aesthetic as designers?
Dee: Ummmmmmmm. Whatever Ricky said.
Ricky: Hanna Barbera meets Muppets In Space.
Is the goal to make a career out of designing?
Dee: Yeah, I'm also thinking about going to flight school.
Ricky: Yeah but not just designing. I wanna try everything we come across.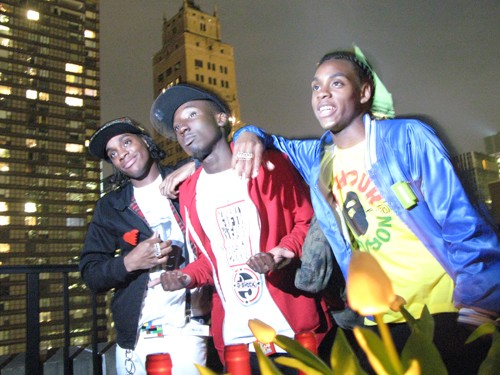 Photography: KRINK
What projects are you currently working on?
Dee: Getting ready to drop the Jackson Swinton album but also working on some top secret shit.
Ricky: Mainly Jackson Swinton right now but we're also gonna bring back some of our vintage stuff and some artist collaborations that we gotta keep on the low.
For more info, check out: Dee and Ricky / Jackson Swinton
—
*I APPRECIATE THE LUV FROM YOUR SITE, BUT PLEASE REFRAIN FROM COPYING THE ENTIRE INTERVIEW/IMAGES TO YOUR SITE/BLOG. A LINKBACK TO THE INTERVIEW IS GREATLY APPRECIATED. THANKS.*
Categories: entertainment/events features/interviews jewelry/accessories toys/design
Tags: