Met up with my friend Helen from Redpanda Village for lunch yesterday to catch up and brought my dog Cookie to the vet also. When I walk my dogs or bring them out to the vet, I never like to bring too much stuff and also I always need to bring a shoulder bag or tote. The reason is my dog Cookie is like a wild horse, he pulls me so I'll need as little things as possible haha. My arm is still aching haha!
Afterwards met up with B to watch the Tropic Thunder screening, courtesy of my buddy Mark Kwan, that's right the movie is not in theaters till August 13th! I've been dying to see this movie ever since I've seen the posters awhile back, just seeing Ben Stiller, Robert Downey Jr. and Jack Black was enough to get me to watch it, I don't even need to know what's it about. I got even more hyped after watching the skit they did on the MTV Movie Awards 2008, it was hilarious! But when I found out more about the movie, that my *crush* Robert Downey Jr. went through plastic surgery to change his features and pigmented his skin to appear black (in the movie for the movie) you know it's gonna be funny haha. I'm not going to say too much but this movie is AMAZING, super duper funny and full of surprises, the whole theater couldn't keep quiet haha- I normally never watch a movie twice at the theaters but this one I definitely can! It's mamamammaaaaaaad funny, hahaha! MUST WATCH!!!
More pics after the jump…
T-Shirt: H&M
Legging: Rogan for Target
Sandals: Chanel
Sunglasses: Chanel 5120
Tote: Redpanda Village (courtesy of Redpanda Village)
Nail Polish: Chanel Robertson Melrose

Redpanda Village Tote – if you're the first 20 guest at the event this Saturday, June 19th you'll get your hands on this tote.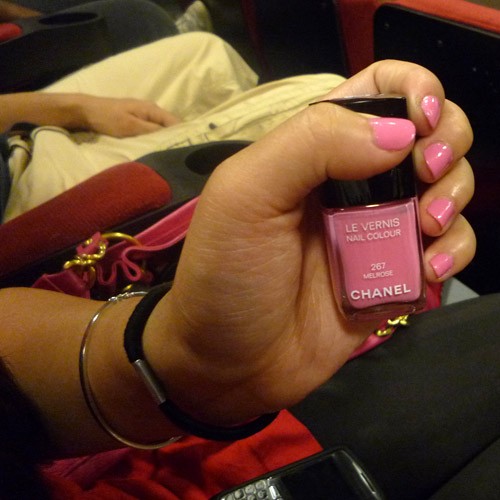 Chanel Robertson Melrose
Categories: entertainment/events gifts outfits
Tags: