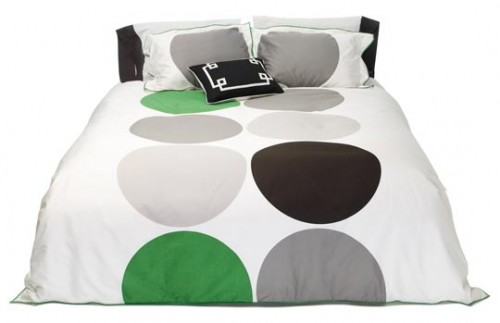 Bold Dots Collection: Duvet Set
Early this month, I have posted the news about the DwellStudio for Target collaboration. Now Apartment Therapy has the sneak peek at what to expect from the range. I'm loving the baby collection, though I don't have a baby at the moment its still great stuff to give as gifts! Thanks to lucy92 for the tip!
DwellStudio to bring their fresh and modern aesthetic to a new home and baby collection launching exclusively at Target and Target.com. The DwellStudio for Target line consists of a graphic and colorful array of bed linens for adults and nurseries, nursery furniture, baby layette and a variety of accessories for the kitchen and table.
Founded by designer Christiane Lemieux, DwellStudio has won accolades for pioneering modern textiles through consistent use of uncommon color combinations and vivid patterns. "Modern today means a mix of colors, prints and textures. These unexpected pairings help achieve a contemporary look," says Lemieux. "This concept translates well into our new line. The result is a signature look that is fresh and distinctly DwellStudio for Target."
The DwellStudio for Target Baby collection will launch in January 2008. The home collection will be available in February. Prices for the home collection range from $2.99 for a napkin to $99.99 for a king-sized comforter mini set. The baby collection ranges from $2.99 for a pair of booties to $79.99 for a three-piece crib set. The furniture ranges in price from $99.99 for an ottoman to $299.99 for a crib or $289.99 for a convertible dresser/changing table.
More pics and info after the jump…
Home
With the DwellStudio for Target bedding collection, Lemieux and her team drew inspiration from old-world design motifs to create six distinct patterns in their signature decorative minimalist style — each of which is guaranteed to transform any bedroom. Age-old mural painting techniques were reinterpreted to create a modern chinoiserie pattern called Perch. For the bold, yet elegant Baroque, a delicate scroll design printed in large scale in black and white is trimmed with a light chartreuse border.
After the DwellStudio design team identified the prints that would anchor the direction of the Target line, they developed coordinating patterns to enhance and fill out the collection. They selected certain designs to become duvet sets and comforter mini sets, and others to become sheets and decorative pillows to round out the bedding collection.
The beautiful and cutting-edge prints and patterns created for the bedding collection were also translated for the table and kitchen, again using a mix- and-match approach. Regency plays on a lattice pattern and is offered in blue in a placemat and black and white in the napkin. Leaves presents lush oversized white leaves on a taupe backdrop. The line's sophisticated tablecloths, placemats, napkins, table runners, kitchen towels, pot holders and oven mitts will infuse any dining room or kitchen with the right mix of style and function.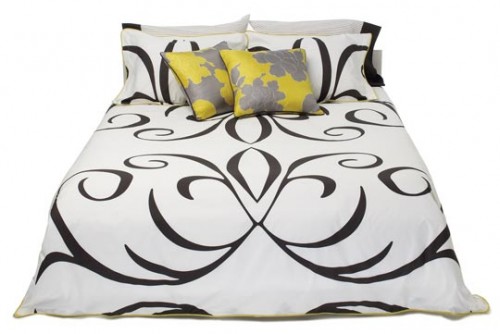 Baroque Collection: Duvet Set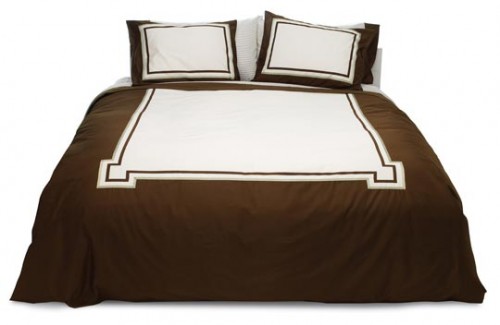 Modern Border Collection: Duvet Set

Leaves Collection: Duvet Set

Regency Collection: Comforter Set

Reversible Pillows: Peony, Bold Dots, Regency, Border, Birds. All $20.


Fine Stripe Sheets: Twin ($30), Full ($40), Queen ($50), King ($60), California King ($60). Available in Black or Brown.
Check out the kitchen collection after the jump…
Tags: