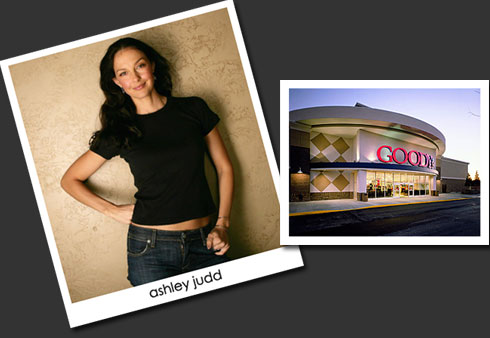 Ashley Judd is the latest celebrity to jump into the fashion game. And, like Sarah Jessica Parker, she's doing it at a low price. Judd has signed a deal with Goody's Family Clothing Inc., the moderate-priced retailer based in Knoxville, Tenn., to introduce a fashion line this fall.

Goody's will launch three exclusive labels, namely AJ; Love, Ashley, and Ashley Judd. The collections will range from organic and knit T-shirts and sweaters to blazers, blouses, cardigans and pants. It will also include an extensive denim offering featuring Judd's signature stitching on the back pockets and floral details on the inside waistband. via WWD
Yet again another celebrity line, but I'm not going to make any judgment calls b/c even though when we first saw pictures of Bitten by SJP for Steve & Barry's we weren't raving for it…but at the end of the day the lines to pay were avenues long. Looks like there's no stores in the NYC area, so perhaps they'll offer this collection online or if I like anything I'll ask my hun Carla in LA to cop me some haha. That proves that cheap-chic pays off well, I def don't mind paying less for stylish clothes! We'll just have to sit tight and see what rolls out of this line from Ashley Judd.
Categories: celebrities fashion
Tags: