Last week the news broke that Sarah Jessica Parker will be teaming up with Steve & Barry's to create a new fashion line called Bitten. Now here's a preview of the collection that leaked on the internet, I did not get access to the press site…so thank the person that did. The picture above is SJP leaving Indochine after the presentation of her new clothing line in her Bitten pieces that are set to release in June. I'm getting a bit confused if its June 1st or June 7th, WWD says June 1st but the site says June 7th, well whatever the case its around there. The pieces look very normal, but I won't make judgement until I see the full 400 pieces, may be there will be at least one piece I'll want to buy? From what I see now, I won't be hyped at all…but I'll just sit patiently until more images surface the web. Peep the Bitten preview and an article from today's WWD after the jump…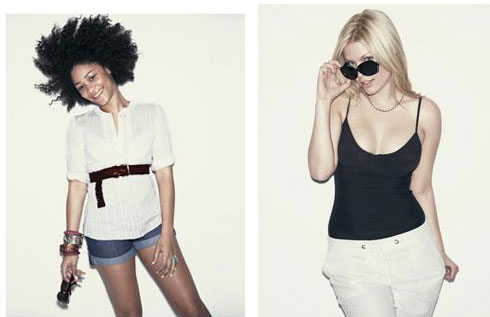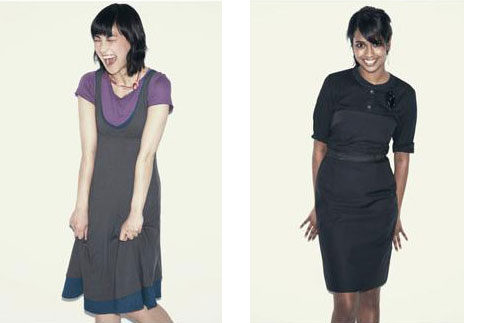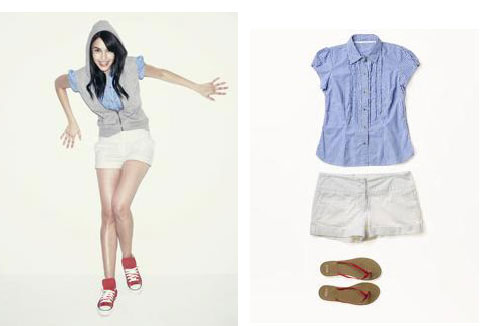 preview images via TFS
—
By Sharon Edelson with contributions by Amy Wicks, WWD
There's Target and Isaac, H&M and Madonna, Reebok and Scarlett— and now Steve & Barry's and Sarah Jessica Parker.
Steve & Barry's, a 200-unit chain specializing in university logo sweatshirts and licensed clothing mostly priced under $10 from Marvel Comics and Coors, among others, landed red-carpet icon Parker for her own collection of apparel, footwear and accessories. It is the latest, and possibly most audacious, example of fashion democracy.
The deal epitomizes the celebrity brand with a populist approach. And Parker's decision to launch with Steve & Barry's has intrigued the fashion and licensing industries, especially when the appeal of such brands seems anything but certain.
Kathie Lee Gifford was once a $500 million business at Wal-Mart, but such numbers seem elusive for today's stars. Sales of high-profile lines such as JLO by Jennifer Lopez and Jessica Simpson have softened, and Chick by Nicky Hilton seems to be struggling at retail, although Gwen Stefani's L.A.M.B. is still popular.
Parker said she decided to partner with Steve & Barry's because of the company's philosophy of offering high-quality merchandise at the lowest possible prices, citing her experience of growing up in a family of eight children that faced financial challenges.
Steve & Barry's offers jeans, T-shirts, sweatshirts, jackets, sweaters, polos and footwear, as well as the Starbury line of clothing and sneakers created by New York Knicks star Stephon Marbury. The Starbury One sneakers cost $14.95.
Bitten Sarah Jessica Parker, as the new collection is called, will launch on June 1 with 400 items for spring-summer. It consists of suit separates in a wool blend with stretch, woven shirts in voiles, Swiss dots, stretch poplins and dobby stripes, wool and cashmere sweaters in classic silhouettes and trendier styles, a black cotton dress collection, a denim collection, intimates, swimwear, handbags, jewelry and shoes. Everything will be $19.98 or less. In the fall, the line will be expanded to 500 items.
Neil Kraft, whose brand strategy and creative firm, KraftWorks, has developed campaigns for Calvin Klein, Barneys New York, Anne Klein, L'eggs, Ralph Lauren, J. Crew, Jil Sander (fragrance) and Karl Lagerfeld (fragrance), developed all the creative for Bitten.
"There will be advertising, public relations and Web (components)," Kraft said. "The media mix will be similar to the Stephon Marbury launch."
Parker shot the debut ad campaign for Bitten at Milk Studios in Manhattan last month, dancing for photographer Alexi Lubomirski, who shot a nude and pregnant Britney Spears for the August cover of Harper's Bazaar.
Industry executives said the deal could be lucrative for Parker. Marbury has said three million pairs of his sneaker line have been sold since the launch in August.
Steve & Barry's always has flown under the radar. Forbes magazine has described it as "the fastest-growing retailer you never heard of." In 2005, Steve & Barry's was named Hot Retailer of the Year by the International Council of Shopping Centers. The retailer sold a minority stake in November to TA Associates, a buyout and private equity firm, in a move intended to help the Port Washington, N.Y.-based chain continue to grow and position itself for a possible initial public offering.
"If they wanted her badly enough, they could give her stock," said a licensing executive who spoke on condition of anonymity and plans to work with Steve & Barry's.
"I'm really surprised" by the deal, said Mary Gleason, a licensing veteran, who worked on the Kathie Lee Gifford collection for Wal-Mart and Shaquille O'Neal's sneaker launch at Payless. "She could have done H&M or Target. It doesn't make any sense that this would be the retailer she'd talk to. Her fragrance, Lovely, was so successful in department stores. There would have been a great opportunity to do a regular-priced line."
She added that "celebrity licensing in general is tricky. There's sometimes no rhyme or reason for why a celebrity works or doesn't. There is still opportunity for celebrities, but the partner you choose is so critical."
However, Michael Stone, chief executive officer of the Beanstalk Group, described Parker's decision to hook up with Steve & Barry's as "a terrific idea. There are a fair number of celebrity apparel brands. Finding the right place to go now and navigating the retail marketplace now is very difficult. There's no point in doing another fashion line with a credible name attached to it. It's a question of finding a space where there's a need, a spot in the retail landscape."
Parker possibly could have been lost at Federated, H&M is basically a short-lived experience and Target looks for designer names, not celebrities, Stone said. The volume Parker will do at Steve & Barry's, however, "is not going to be the same as if she were at Target, which has many more stores, or Federated, which has many more stores and higher prices," he explained.
Steve & Barry's is "an interesting choice because she probably could have gone to anybody," said Robin Kramer, founder of Kramer Design Group, which has done brand identity and store design for Donna Karan, JLO, Michael Kors, Tommy Hilfiger and Wynn Las Vegas. "The fact that she's going into apparel does make sense because she's a fashion icon.
"In licensing, you have to have a very strong brand equity and every decision you make has to comply with that brand equity," Kramer said. "Target would be a great choice, but there, you're one of many designers. The deals with Target were better in the beginning. I don't think they have to pay as much to (designers) to get deals these days."
The licensing executive who asked not to be named said, "If I was representing Sarah, I'm not sure that's the first retailer I would take her to. Steve & Barry's is a big believer in licensing and they're trying to capture a broader audience since they're growing so fast. They hit the men's side really well and are trying to make a play for the college girl with something more fashionable."
Steve & Barry's declined to discuss Bitten. Parker couldn't be reached for comment.
"Steve & Barry's has 200 very big-box doors, between 10,000 square feet and 60,000 square feet," said Ross Misher, ceo of Brand Central Group, a licensing consulting firm in Los Angeles. "I think they do big volume. They have a lot of brands that bring people into the stores. It's kind of a counter-programming approach where (Parker) won't be in a cluttered marketplace. It allows her to be the one big fashion brand they have and might open the door for Steve & Barry's to bring in other designers."
Although licensing deals vary, some may give a well-known celebrity at their peak from 4 percent to a high of 10 percent of sales. Gleason said athletes command high numbers and large guarantees. Target uses this type of model, guaranteeing a designer a certain amount of sales. The guarantee gives the celebrity/designer/athlete upfront money, but it's against sales earned.
There doesn't seem to be much concern about Parker's image being tarnished.
"The only way it will hurt her image is if they don't produce a quality product," Gleason said. "I don't think any of this is about price. It's about the image they project and whether they add a lot of value and fashion to the products."
Besides, Gleason said, Steve & Barry's doesn't have enough stores to hurt Parker, referring to the fact that the chain is not national. She questioned Parker's Q rating, which marketers use to gauge a personality's commercial value before investing in an ad campaign or product launch. "I don't know if she skews as young as the Steve & Barry's customer," Gleason said. "What customer are they trying to appeal to?"
Steven Levitt, president of Marketing Evaluations, the Q score company, said Parker's Q rating with 18- to 34-year-old women is high. "She has a 90 percent familiarity in that age group, which is an important consideration," he said, noting that she appeals to women across all income levels. "Are there better choices (of celebrities) to hit this market? Probably. Are there better markets for her to go with this product? That depends on the product."
Not every product endorsement by Parker was successful. Gap, in 2004, hired the actress for a multiyear ad campaign but canceled it in early 2005 and announced she would be replaced by 17-year-old British soul singer Joss Stone.
Categories: celebrities fashion
Tags: