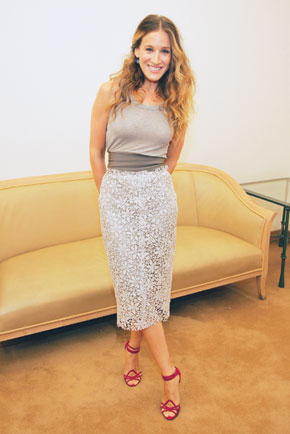 Are we sick of celebrity/model designer lines yet? Well, for sure this won't be the last, we just need to hope for the best. Sarah Jessica Parker bka Carrie Brad-shaw on "Sex and the City" has teamed up with Steve & Barry to exclusively sell her new line, Bitten. When I think of SJP, I think of Prada, Manolo, Jimmy Choo, etc. all the high-end designer brands, but Bitten is the opposite, most pieces will cost only $19.98 or less. The inspiration came from none other than her personal closet, the collection is divided into four categories, Classics, suitable for the workplace; Casual, for the weekend; Trend, featuring more fashion pieces, and Lounge, including a full range of intimates and lounge pieces.
On June 7th, the line will debut at over 200 Steve & Barry stores and it will consist of apparel, swimwear, costume jewelry, handbags, belts, sunglasses and shoes. I am curious of what she came up with, I luv the price range, nice clothes doesn't neccessary have to be expensive IMO. The spring/summer launch collection features about 400 clothing and accessories items, and will increase to about 500 designs by fall. Stay tuned for more updates on this…via wwd
Bitten?
The label will say Bitten Sarah Jessica Parker, and the name is inspired by the moment after Parker found out about the company's cheap-but-chic philosophy, and was "bitten by Steve & Barry's bug," according to a company statement. Steve & Barry's also has collaborated with NBA star Stephon Marbury, which resulted in the Starbury collection of sneakers for 14.98.
Categories: celebrities fashion
Tags: