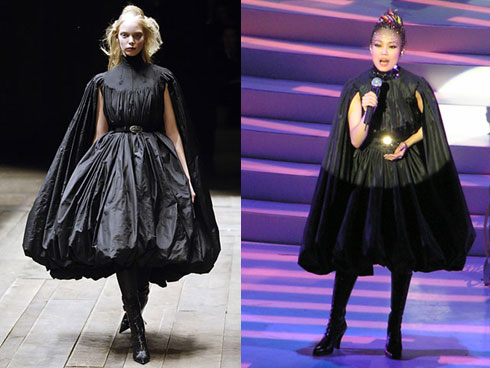 Alexander McQueen Fall 2006 RTW (style.com) | Joey Yung (Cindy Safina)
More sillyness from Joey Yung, this was actually BEFORE the Viktor & Rolf incident. This black dress mimics Alexander McQueen's Fall 2006 RTW Collection (March 2006), she wore this during her One Live One Love Concert back in May 2006! The black dress looks 95% alike with a few minor changes.
What a pity because she has tons of funds and I'm sure tons of sponsors, she def doesn't need to duplicate another dress. If her stylist(s) let her do this, they should be FIRED…immediately! It is a big deal because she is in the public eye and a lot of youngsters look up to her, she should set a good example to her followers. Joey encourages people NOT to buy FAKE CDs and always support the original, but she turns her back and FAKES designer pieces…that is not excusable. Please don't use the excuse that "you" can not find one in HK, HK is not the only place where you can buy designer pieces and NO it is not a MUST to wear it, if you can't buy it where something ELSE. I feel that it is becoming a "trend" for her, hopefully after the headlines she's made, she'll feel embarrassed and stop. Sorry Joey, I luv your songs and voice but this is not acceptable!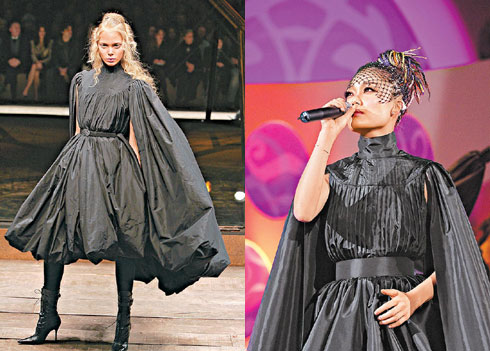 Alexander McQueen Fall 2006 RTW | Joey Yung
Categories: celebrities fashion
Tags: