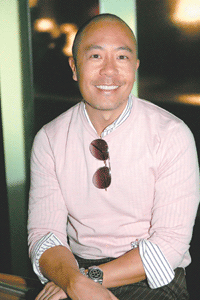 Derek Lam & Diego Della Valle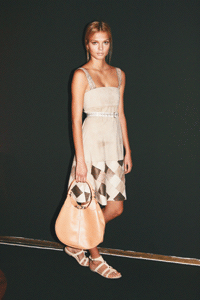 Tod's spring '07 ready-to-wear collection by Derek Lam
Derek Lam and Tod's are taking their partnership to a new level.

The Italian leather goods house has named the New York designer as its creative director. In this new role, Lam will continue to oversee Tod's ready-to-wear, while expanding his responsibility to a collection of fashion-driven handbags and shoes. Lam's first collection as creative director is slated to be unveiled during the fall shows in Milan in late February for a launch at retail in July.
This is exciting news, go LAM!! I like Derek Lam's designs…especially his handbags! I've started noticing him back in June, luv the double ram heads on his bags! Hopefully we'll see some hot "IT" bags coming outta Tod's soon!!
Read the full story after the jump…
The appointment confirms a WWD report on Nov. 14, and an official announcement could come as early as today. Lam's role will be announced today and celebrated at the unveiling of Tod's new showroom in New York Wednesday.
"We look forward to working with Derek Lam, one of the most important and exciting design talents," said Diego Della Valle, Tod's chairman and chief executive officer, in a statement. "His work over the past few seasons has demonstrated a great understanding of Tod's as a brand, and we look forward to his contributions to the continued and growing success of the brand."
In an exclusive interview, Lam, 40, said his expanded role was a natural evolution from his previous responsibilities. Lam's rtw collection for the house premiered last spring. The fashion-driven line of shoes and bags will be in addition to Tod's line of classic pebble-soled shoes and handbags.
"I think it was a matter of being comfortable with how each of us, as individuals, work — getting more familiar with what the Tod's world is and spending much time with Diego and understanding his vision for the brand going forward," the designer said.
Lam added that he hopes to bring to Tod's a "sense of youthfulness and new ideas with fabrics and colors.
"I have a strong point of view about what a customer wants from a luxury brand: It has to be witty, unpretentious and stand for the heritage of beautifully made product," Lam said.
While Della Valle never succumbed to the mergers and acquisitions fury that galloped through the fashion industry in the late Nineties, he has always been set on growing the Tod's brand his way, and this move is no different.
Over the past three years, Della Valle has rounded out the company's footwear and handbag offerings with small leather goods, hats, gloves, eyewear licensed to Marcolin and steel bangles covered with colorful crocodile skins. Fueled by the success of these categories, Della Valle decided to take his first steps into clothing by tapping Lam to design a small collection of urban sportif pieces for spring 2006; highlights included leather trenchcoats, piped raincoats and a vintage-looking biker jacket.
"For us, these pieces are cult items because we treat apparel like accessories," said Della Valle at the time. "We aren't and we don't care to be apparel manufacturers, but our clients wanted more clothes from us. We want our clients to know that they can walk into one of our stores and find apparel that you won't find on every street corner."
Of the clean-cut clothes that melded retro nostalgia via waxed hides and modern accoutrements, Della Valle said, "Derek has a very fluid hand — there's nothing stuffy in his vision of deconstructed luxury."
The launch collection was very successful at Tod's boutiques, to which it is exclusive. For spring 2007, Lam infused a more feminine vein into his safari-inspired clothes while keeping what he defined as a "sportswear sharpness."
In June, Lam deepened his relationship with the firm by signing a licensing deal with Tod's for handbags and shoes under his own label.
For the designer, the larger role at Tod's represents a milestone in his career — one that potentially could give Lam the kind of global recognition Marc Jacobs achieved through his association with Louis Vuitton.
Lam launched his namesake collection in 2003 and has quickly developed a following with retailers and customers. But unlike many of his peers, Lam bowed his own label at age 36, with years of experience under his belt. He joined Michael Kors after graduating from Parsons School of Design (now called Parsons The New School for Design) in 1990 and worked on Kors' signature and bridge collections for a total of eight years, with a monthlong stint at Geoffrey Beene and two years working for moderately priced retail chain G2000 in Hong Kong.
The Lam collection is sold in stores such as Barneys New York, Neiman Marcus and Bergdorf Goodman, as well as in select Saks Fifth Avenue and Nordstrom stores.
"The customer's reaction to Derek Lam at Bergdorf Goodman has been incredible since Day One," said Roopal Patel, women's fashion director at Bergdorf's, which sells the line as well as Tod's accessories. "He is able to bring a sense of romanticism and a sense of luxury and function, which women really appreciate. The Tod's partnership has allowed Derek an opportunity to try something new and have different resources available to him."
Michael Fink, Saks Fifth Avenue's vice president and women's fashion director, noted, "He is definitely one of the next big American designers. Ever since his first collection, he has shown this innate sense of how women want to dress and what they need that season. Tod's has given him a way to test out a more commercial product globally and, most importantly, get funding to branch out into other classifications of his own."
At Tod's, Lam expects to focus more on the fashion side of the leather goods collection. "They still have their bread-and-butter, the driving loafers, and eventually I will be working on them, as well," said Lam. "Both Diego and I feel very strongly about being very focused and having a strong message, from the conceptual stage to design, as well as how you retail the products and advertise them. It will have a stronger message when it's more cohesive."
The appointment of Lam is another step in the development of Tod's, which has ridden the luxury goods boom of the last few years. Parent Tod's SpA saw double-digit profit and revenue growth in the first nine months of this year, despite a dip in sales at its niche apparel label, Fay.
Net profits for the nine months ended Sept. 30 rose 20.2 percent to 52.6 million euros, or $67.3 million. Sales advanced 10.7 percent to 438.3 million euros, or $561 million. The company said same-store sales were up 6.9 percent in the period. Earnings before interest and taxes spiked 22.7 percent to 89.7 million euros, or $114.8 million. (Dollar figures have been converted from the euro at average exchange rates for the period to which they refer.)
"The results released…are in line with our expectations and confirm the continuous and sound growth of our group," Della Valle said in a statement at the time, noting a backlog of spring-summer orders. "I'm therefore confident in the group's ability to achieve its targets for the current year and to continue to post significant growth rates in sales and profits also over the next years."
Sales growth registered in the double digits for the mainstay Tod's and Hogan brands. Revenue at Tod's rose 13.8 percent to 250.8 million euros, or $321.02 million, while at Hogan it climbed 19 percent to 119 million euros, or $152.3 million. In terms of products, footwear sales rose 10.6 percent to 276.9 million euros, or $354.4 million, while those of leather goods and accessories advanced 24.1 percent to 100.7 million euros, or $128.9 million. – Marc Karimzadeh and Alessandra Ilari, WWD
Photo by Giovanni Giannoni
Categories: fashion
Tags: