Spring is in the air! MAC Cosmetics introduced a few new color collections to get you ready for the new season with BOOM, BOOM, BOOM, Powder Kiss and Art Library collections releasing this month. Check out the full collections with pricing along with release dates below.
MAC BOOM, BOOM, BLOOM
Put the BOOM into BLOOM and get swept up into spring! Introducing BOOM, BOOM, BLOOM, a cherry blossom, petal-powered spring colour collection. Rosy hues and pearlescent accents give the perfect tones for an on-trend spring moment, whilst classic favorites are reimagined with a fresh cherry-blossom scent! Step into the season and keep the bloom alive! Available online March 4, 2019 at maccosmetics.com and in select MAC locations March 7, 2019.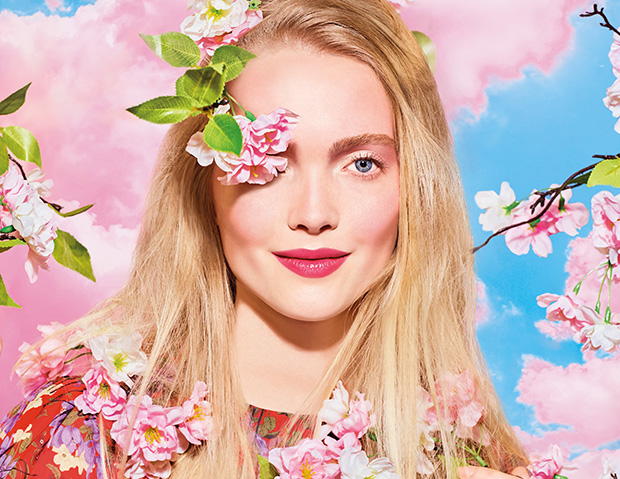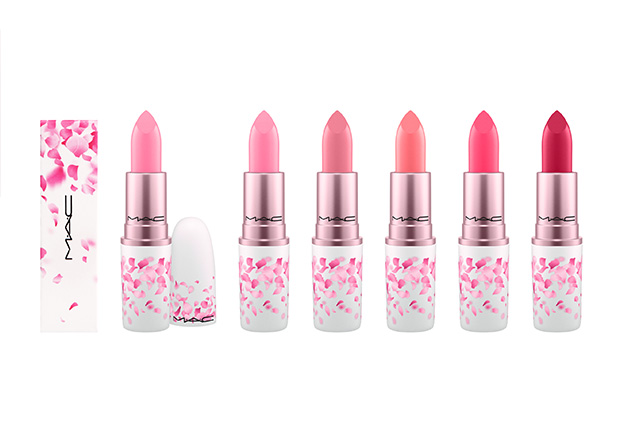 LIPSTICK | $19.50 US
HEY, KISS ME! pastel pink (cremesheen)
WAGASA TWIRL dirty blue pink with pearl (matte)
HI-FRUCTEASE pink coral (matte)
TSK TSK! bright warm pink (matte)
FRAMBOISE MOI raspberry pink (matte)

LIPGLASS | $18.50 US
FOR THE FRILL OF IT pearly light pink
PINK-A-BOO bright blue pink
CHERRY MOCHI warm raspberry pink
HEARTMELTER midtone rosy pink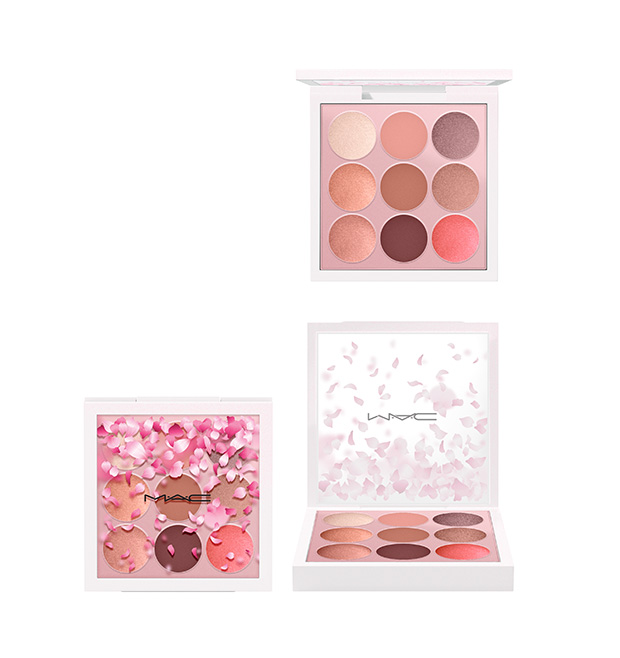 EYE SHADOW X9: KABUKI DOLL | $33.00 US
DUST OFF soft beige shimmer (frost)
FORTUNE KOOKIE frosty rusted pink (frost)
MAKING MAUVEY MOVES mauvey pink (matte)
DON'T BE KOI! rosy gold (frost)
SPICE DYNASTY yellow brown (matte)
BAMBOO-ZLED pinky bronze (VLXP)
KYOTO KITTY red bronze (frost)
KABUKI DOLL plum red (matte)
TOKYO DRIFTER shimmery midtone taupe (VLXP)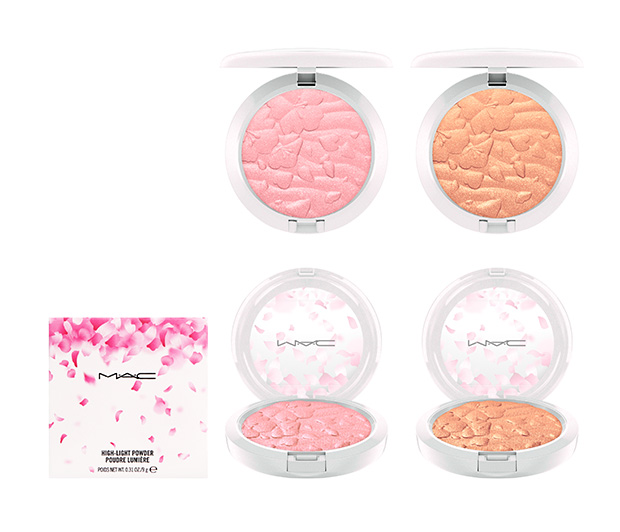 HIGH-LIGHT POWDER | $30.00 US
FLEUR REAL light pastel pink
SPRING BLING red brown

PREP+PRIME FIX+ | $28.00 US
CHERRY BLOSSOM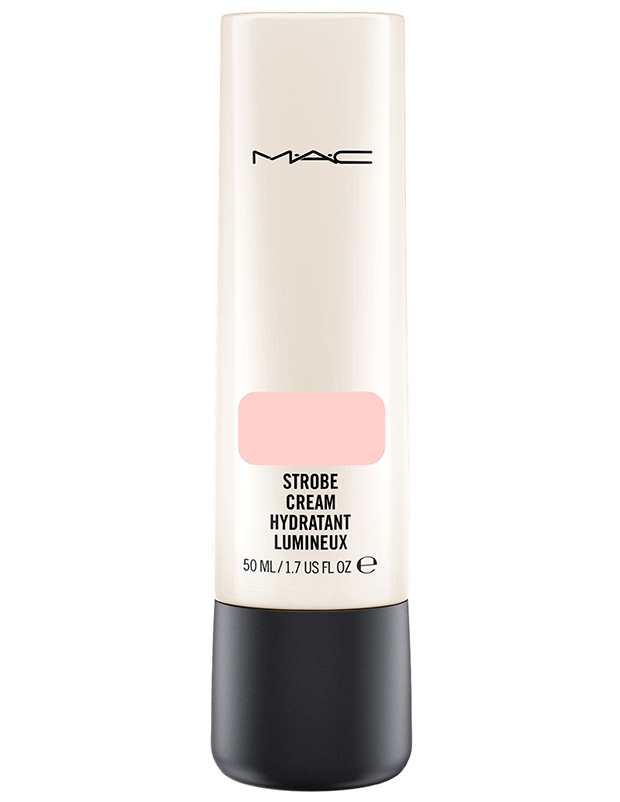 STROBE CREAM | $34.00 US
PINKLITE pink pearls
—
MAC Powder Kiss
The ultra-moisture-rich, backstage approved, MAC lipstick now has 8 NEW shades. Giving you ultimate matte, powerful pigment, and feel-good hydration. Available online at maccosmetics.com and in select MAC locations February 21, 2019.
"MAC Powder Kiss is the latest innovation in lipstick that is both moisturizing and matte. It goes on like a true matte lipstick that is buildable in coverage but is lightweight and feels like a lip balm. The formula can be used sheer or intensified to cover uneven lip tones. This season, we're launching 8 new shades to complement the whole Powder Kiss shade family."
Romero Jennings, Director of Makeup Artistry- MAC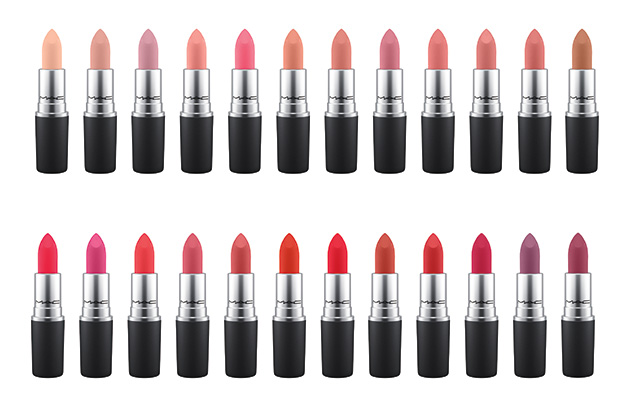 8 New Shades ($19.00 US) Include:
Sexy, But Sweet yellow-toned pink
Ripened greyed lavendar
P For Potent mid-tone purple
Sultry Move bright rose-brown
Werk, Werk, Werk cool red
Stay Curious muted, pink-red
Reverence soft, yellow pink
—
MAC Art Library
Introducing 3 expert-curated eye palettes developed by MAC Artists! Take your makeup skills to the next level and ignite your inspiration with the chic, heated shades of the FLAME-BOYANT palette. Bare your soul with the intensely pigmented neutrals of the NUDE MODEL palette, or go avant-garde with the runway-ready range of IT'S DESIGNER palette. Each palette is carefully coordinated for high-impact, next-level eye artistry- and designed to get you started on your next masterpiece! Available at Nordstrom locations and nordstrom.com February 14, 2019, online February 25, 2019 at maccosmetics.com and in select MAC locations February 28, 2019.
MAC ART LIBRARY X12 PALETTE: FLAME-BOYANT | $48.00 US
AMBER LIGHTS…………. Peachy-Brown With Shimmer Frost
SAMOA SILK …………………………… Warm Orangey-Beige Matte
RULE…………………………………………Vivid Orange Matte
DALI WOOD ……………………………….. Burnt-Brick Orange Matte
FAN THE FLAMES…………….Warm Reddish Copper Frost
LOUVRE AT FIRST SIGHT ………………………….. Cool Red Matte
FLAME BOYANT …………………………………….. Metallic Red Frost
EVERYONE'S DARLING ………..Warm Wine Burgundy Matte
DADA ISSUES …………………………………….. Peachy-Brown Matte
LA VIDA MOCHA ………………. Brown With Bronze Pearl Frost
EMBARK …………………………….. Intense Reddish-Brown Matte
WHAT'S THE POINTILLISM……………. White Gold Pearl Frost
MAC ART LIBRARY X12 PALETTE: NUDE MODEL | $48.00 US
SHROOM …………………………… Soft Beige With Shimmer Satin
L.E.S ARTISTE ……………………………. Metallic Silver Grey Frost
SANDSTONE …………………………………… Cool Grey-Beige Matte
DANCE IN THE DARK ……………. Deep Blackened Plum Matte
SUGAR PLUM ……………………………………………. Cool Plum Matte
NUDE MODEL ………………………………………Metallic Taupe Frost
DROP THE ROBE…………………… Beige With Gold Pearl Frost
TETE-A-TINT ……………………………… Peachy Soft Neutral Matte
PLEASING TO THE EYE…………………… Mild-Tone Rose Matte
OUTRE …………………………………………….. Mustardy-Brown Matte
ESPRESSO ……………………………… Muted-Golden Brown Matte
GOGH LIGHTLY……………….. Light Metallic Olive-Green Frost
MAC ART LIBRARY X12 PALETTE: IT'S DESIGNER | $48.00 US
STARRY NIGHT ……………………………….. Sheer Plum-Rose With Green Flip Pearl Frost
BRIGHT PINK …………………………… Intense Fuchsia-Pink Matte
MY KID COULD MAKE THAT…………………..Lime-Green Matte
IT'S DESIGNER………………….. Metallic Orangey-Bronze Frost
DARKROOM ……………………………………….. Metallic Purple Frost
GALLERINA …………………………………. Metallic Turquoise Frost
HIGH CONCEPT …………………………………….. Bright-Silver Frost
IF IT AIN'T BAROQUE …………………………….. Bright-Gold Frost
CHROME YELLOW……………………… Vivid Bright Yellow Matte
TRIENNIAL WAVE ……………………………………….. Cool Blue Satin
CAN'T AFFORD THIS………………… Bright Neon Orange Matte
CARBON ………………………………………………. Intense Black Matte
LASHES | $17.00 US
70 Lash, 75 Lash, 76 Lash
LIPSTICKS | $18.50 US
YOU WOULDN'T GET IT ……………………..Mid-Tone Pink Matte
DOWN TO AN ART ………………………………… Peachy Nude Matte
SOAR……………………………….Deep Mauvish Plum Matte
Photos courtesy of MAC Cosmetics
Categories: beauty
Tags: mac cosmetics