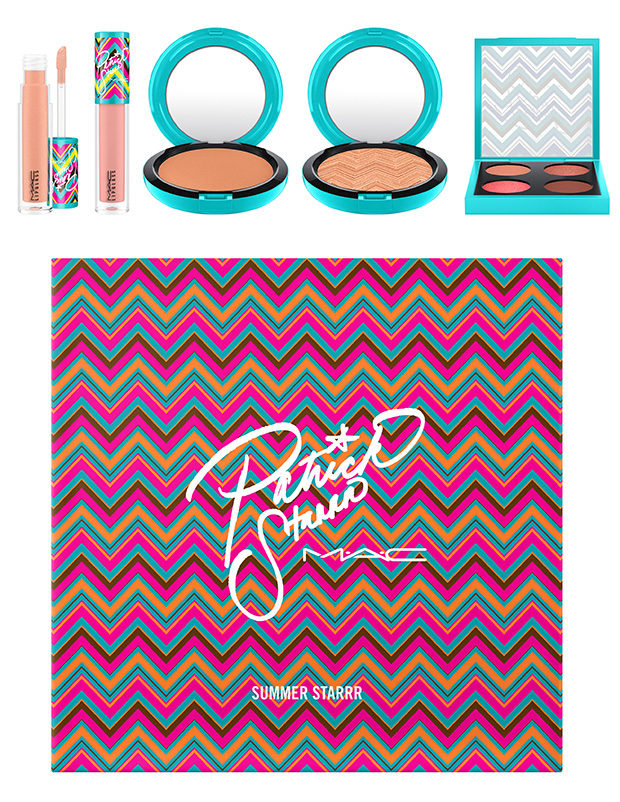 Summer is here-ish and that means more glow, waterproof makeup and SPF (well that should be worn year round!). Also, get your manis and pedis for ready for sandal season! Check out some of the new products for summer, I can't wait to try them myself!
MAC PATRICK STARRR Diva Feva
Get hot and heavy in the tropical-chic shades of PATRICKSTARRR's newest collection! Create your own blinding light with the opalescent Face Powder. Whether you want to cause a heat stroke with Patrick's 4 Quad Eye Shadow Palette for a steamy late summer night or give yourself some life with the sun-warmed Bronzing Powder for a relaxing beach day, you'll be having Diva Feva with every single product of this collection. Glam is what we serve. Available online June 4, 2018 and in store June 7, 2018.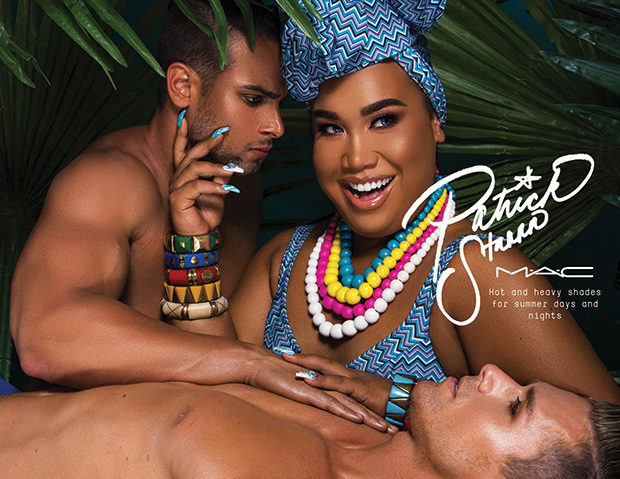 FASHION PUNCH LIPGLASS: pale peach
CREAM PIE LIPGLASS: mid-tone neutral pink
EYE SHADOW X 4 / HEAT STROKE
Sandy Crotch: muted orange with pearl (matte)
Brash: pinkish brick with gold shimmer (VLXP)
Mabuhay: deep peachy brown with shimmer (matte)
Ruddy: intense red with gold shimmer (VLXP)
GIVE ME LIFE BRONZING POWDER: soft golden bronze
SRP: $49.50 US/$59.50 CAD
FACE POWDER (opalescent)
HOT AND HEAVY: neutral tan with gold shimmer
SRP: $34.00 US/$37.00 CAD
—
COVERGIRL TruBlend Matte Made Foundation Collection
TruBlend Matte Made offers 40 shades of foundation designed with you in mind, easy navigation with four numbered ranges Light (L), Medium (M), Tan (T) and Deep (D) as we all as warm, cool and neutral undertones call-outs to help you find your perfect match! Retails for $8.49-$11.49. More info on release here.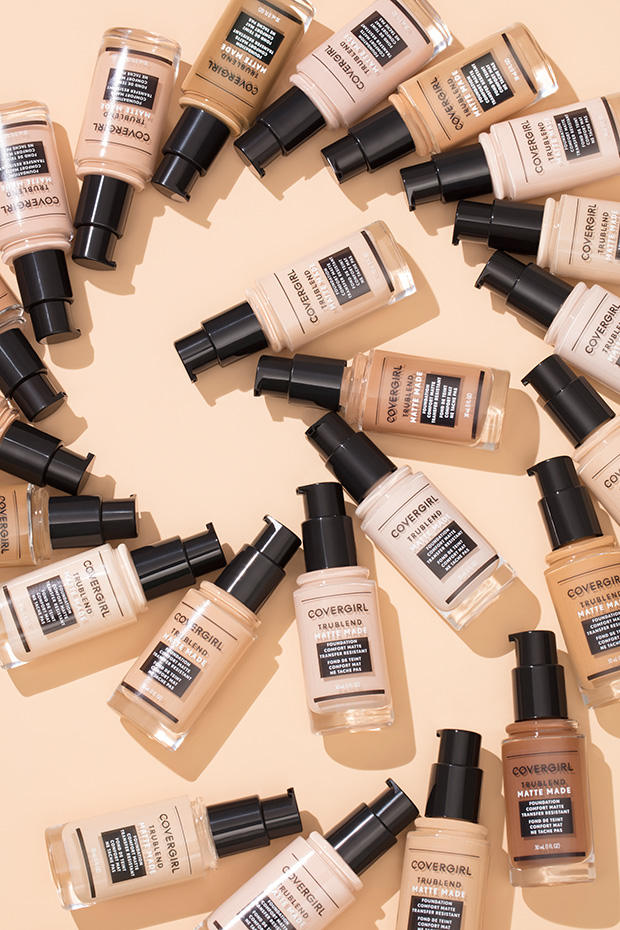 Shades:
• Light Ivory (L20)
• Light Nude (L60)
• Natural Ivory (L70)
• Porcelain (L15)
• Classic Ivory (L40)
• Classic Beige (L90)
• Fair Porcelain (L10)
• Golden Ivory (L30)
• Fair Beige (L50)
• True Ivory (L80)
• Buff Beige (M15)
• Warm Beige (M20)
• Natural Beige (M60)
• Honey (M30)
• Perfect Beige (M90)
• Golden Natural (M10)
• Warm Nude (M40)
• Soft Tan (M50)
• Sand Beige (M70)
• Caramel Beige (M80)
• Soft Honey (T20)
• Tawny (T90)
• Sun Beige (T40)
• Natural Tan (T50)
• Golden Amber (T10)
• Golden Honey (T15)
• Warm Honey (T30)
• Warm Sun (T60)
• Caramel (T70)
• Toasted Caramel (T80)
• Bronze (D30)
• Deep Bronze (D40)
• Espresso (D90)
• Warm Tawny (D15)
• Toasted Almond (D60)
• Soft Sable (D80)
• Golden Caramel (D10)
• True Caramel (D20)
• Deep Golden (D50)
• Cappuccino(D70)
—
Nubian Heritage Goat's Milk & Chai and Olive Oil & Green Tea Bath and Body Collections
Products are available at The Vitamin Shoppe and vitaminshoppe.com.
Goat's Milk & Chai Collection
Includes Body Wash (SRP $10,99), Body Lotion (SRP $10.99), Bar Soap ($4.99), Hand Cream (SRP $9.99), and Infused Shea Butter ($12.99)

Chai helps nourish the skin to maintain a more youthful looking appearance

Also formulated with rose extracts to soothe and hydrate skin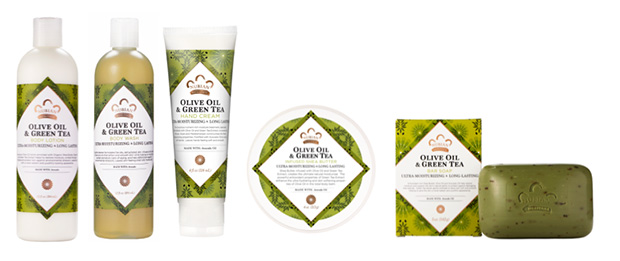 Olive Oil & Green Tea Collection
Includes Body Wash (SRP $10,99), Body Lotion (SRP $10.99), Bar Soap ($4.99), Hand Cream (SRP $9.99), and Infused Shea Butter ($12.99)

Green Tea is revered by naturalists for its powerful anti-oxidant properties

Formulated with Avocado Oil to provide long-lasting, moisturizing benefits
Olive Oil is coveted for its nutritious, ultra-hydrating, skin-softening properties
—
Molton Brown Orange & Bergamot NEW Body Launches
These new body luxuries wonderfully uplift your bathing ritual, awakening the spirits in an enduring mist of dancing citrus airs, giving skin an incandescent glow. Refine and rejuvenate the skin with exfoliating Mediterranean bitter orange peel and apricot kernels in the Radiant Body Polisher. Infuse your bath with the Sevillian neroli oil in the Radiant Bathing Oil for a silky-soft touch. Massage the nourishing, luminous dry Radiant Body Oil onto your body to give it a beautifully dewy finish.
Radiant Bathing Oil | $65, available at moltonbrown.com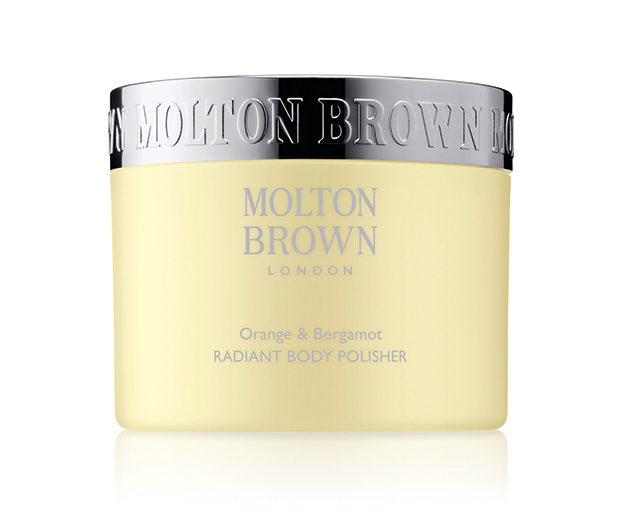 Radiant Body Polisher | $50, available at moltonbrown.com
—
eos Aqua Collection
The brand's first cross-category collection consists of skincare and lip products from sustainably-sourced sea kelp and Irish moss. eos Aqua consists of six products delivering deep hydration and smooth skin. Available at evolutionofsmooth.com/aqua.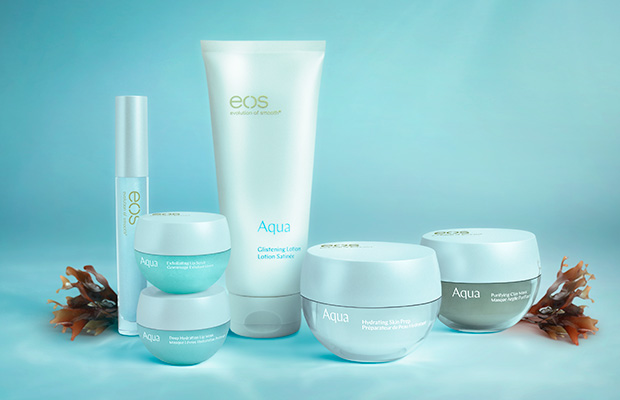 Aqua Exfoliating Lip Scrub | $10
Aqua Deep Hydration Lip Mask | $10
Aqua Dynamic Lip Gloss | $16
Aqua Purifying Clay Mask | $18
Aqua Hydrating Skin Prep | $20
Aqua Glistening Lotion | $20
eos Active Lip Balm
Enriched with jojoba oil, shea butter and antioxidant-rich Vitamin E along with SPF 15, this lip balm keeps lips soft, well cared for and beautiful while protecting them from the sun. Available at evolutionofsmooth.com for $3.29.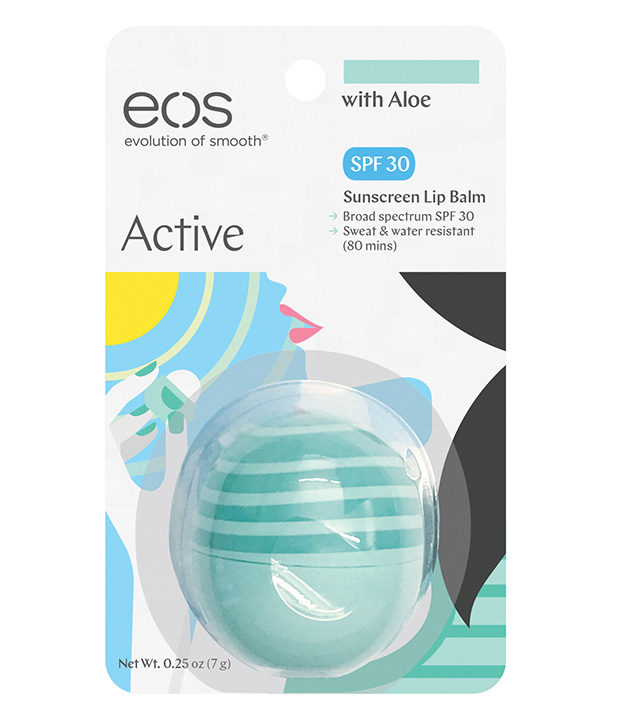 eos Skin Benefit Shave Cream
Shave Cream Shave Cream eos Shave Creams are now available in two skin-friendly formulas – Sensitive and Dry Skin – for a super smooth shave. These new formulas are enriched with soothing natural ingredients, like coconut oil and aloe, along with deeply moisturizing lavender and mango butters. For a clean, protected shave and silky smooth skin. Available at evolutionofsmooth.com for $4.49.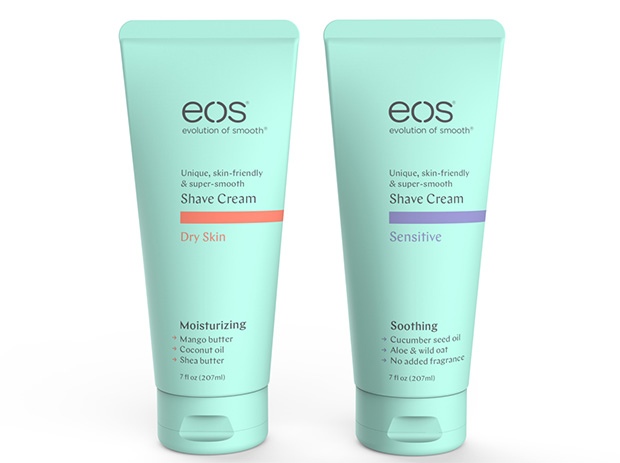 —
Cindy Crawford Meaningful Beauty Beyond Starter Kit
Youth Activating Melon Serum harnesses the anti-aging power of Meaningful Beauty's next generation melon technology. Skin looks, feels and acts younger with twice daily use. Intensive Triple Exfoliating Treatment, a time saving, multi-tasking treatment detoxifies like a mud mask and simultaneously whisks away dead surface layers to reveal more visibly smooth and supple skin.
Environmental Protecting Moisturizer Broad Spectrum SPF 30 – a multi-tasking moisturizer designed to visibly firm, plump and hydrate the skin and to reduce environmentally induced damage that can lead to the visible signs of premature aging. Overnight Retinol Repair Cream is an intensely hydrating overnight moisturizer featuring retinol and melon extract that helps to reduce the appearance of fine lines and wrinkles around the eyes, mouth and forehead, increase the look of visible firmness and impart a smooth overall texture.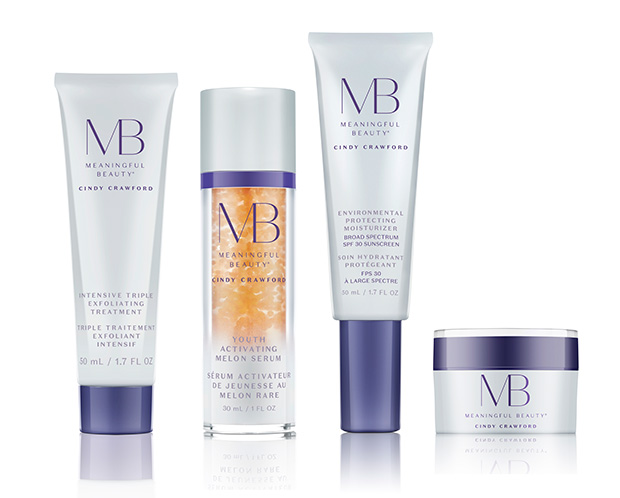 Beyond Starter Kit | $50, ulta.com [$120 Value]
—
NOTE Cosmetics Waterproof Makeup
With summer quickly approaching, having easy access to waterproof makeup products is essential. NOTE Cosmetics; the richly pigmented, pocket-friendly cosmetics brand, has the perfect eye, face and lip products to keep your makeup looking flawless no matter where this season takes you.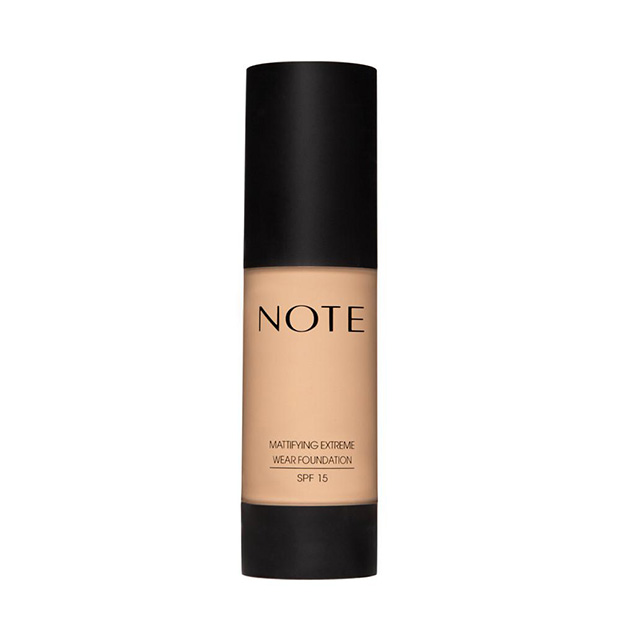 Mattifying Extreme Wear Foundation | $15.99
NOTE's best-selling product contains a formula that offers natural-looking mattifying coverage without drying out the skin. Natural ingredients such as Cedar Wood Oil and Spiraea Extract, help to maintain a healthy complexion while SPF 15 protects against sun's rays.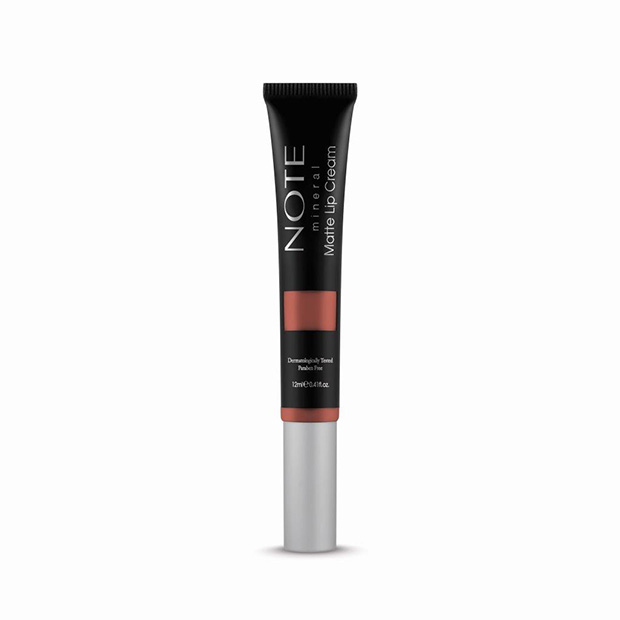 Mineral Matte Lip Cream | $16.99
Enriched with natural minerals and ingredients such as Coral Seaweed, calcium, magnesium and zinc to provide hydration, protection and create a healthy glow.
Precision Eyeliner | $8.99
This perfect jet black shade glides on with precision for a mistake-proof application while its liquid formula sets quickly for a waterproof finish that won't move all day.
—
NaturaBrasil Launches Fine Fragrance
NaturaBrasil presents the ethos of an amazing country bottled into an exquisite fragrance collection. Each evocative scent gives a glimpse of travels through Brazil, providing sensual snapshots of the heat, the lush flora, and the seductiveness of this unique country. All fragrances are made with 100% organic alcohol and presented in all recycled packaging, adhering to NaturaBrasil's commitment to sustainable and ethical business practices.
Available starting June 20th at naturabrasil.com and in flagship boutiques in Nolita and Garden State Plaza. Retail Price $95.00 per bottle (50 ml / 1.7 oz).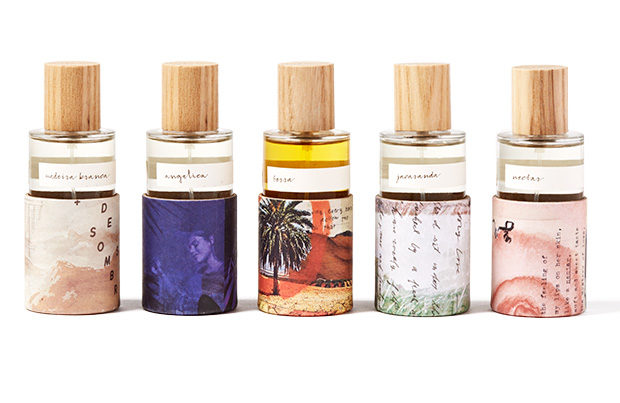 Angelica: The sultry air is tinged with a hint of sweetness; a drum beat thumps like a pulse somewhere in the background. The purple night sky brings temptation, mystique, and promise. Angelica is the Brazilian name for tuberose, a flower known for its mysterious qualities. Combined with zesty mandarin and aquatic flowers, this alluring fragrance is dark and seductive.
Jacaranda: The blue flowers of the Jacaranda tree begin to sway – as if they're doing an elegant dance. The tall grasses appear to wave hello. The cool and tender breeze ushers in a feeling of freshness – a renewed spirit. A combination of fresh and spicy, this bright earthy fragrance energizes with hints of papyrus, rose and grapefruit.
Madeira Branca: Hidden in the shade of the lush green forest is an unexpected sea of glass. A sleek and contemporary refuge that evokes a feeling of both coolness and warmth all at once. Madeira Branca was inspired by Brazilian architecture – strong and modern yet still immersed in nature – with hints of warm woods, spicy black pepper and calming musk.
Nectar: The fresh-cut grasses are still damp from the early morning dew. The succulent scent of ripe blood oranges mingles with the warm, balmy air. The sweet breath of nature clings to skin like an all-over tattoo. Like a second-skin, this soft, romantic scent envelops the body with sensual flowers, citrus, and warm amber.
Terra: The fiery sunset casts a soft amber glow on the surrounding sandy soil. Like a warm embrace, you can feel it lingering even after it's gone. With hints of soft woods, white flowers and vanilla musk, this earthy fragrance wears like a cozy, comforting blanket.
—
Le Mini Macaron: Powder Sets, Unicorns and a Full-Sized LED Lamp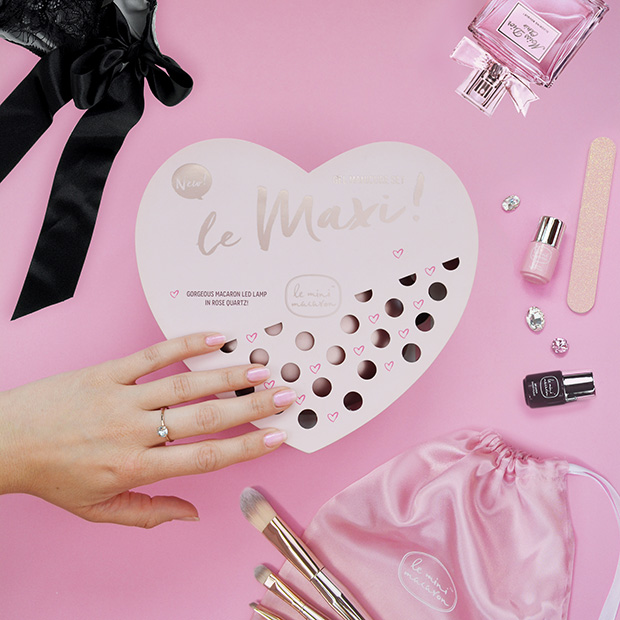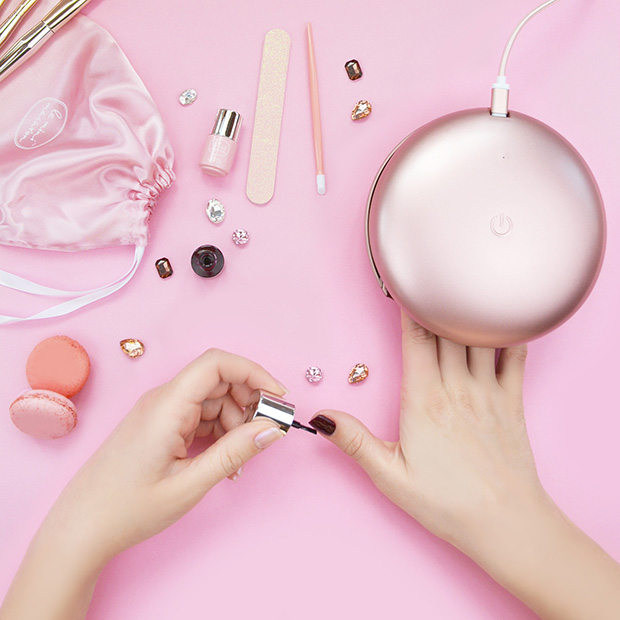 First there was "Le Mini Macaron" and now you have "Le Maxi" – a full-sized LED lamp in brushed Rose Quartz. The patented LED lamp treats four nails in 60 seconds, making gel manicures even faster. Get a brilliant, glossy gel mani or pedi in just 10 minutes. Available at leminimacaron.com for $59.95.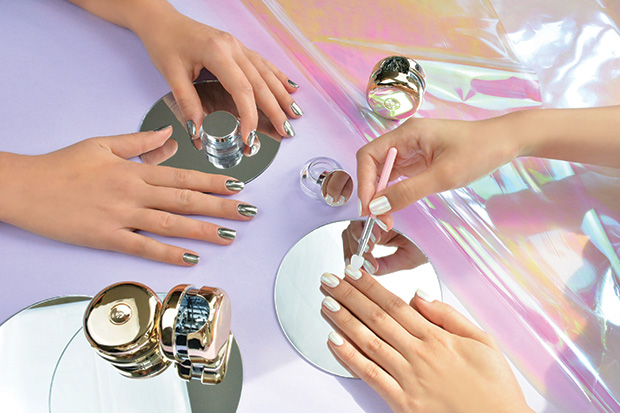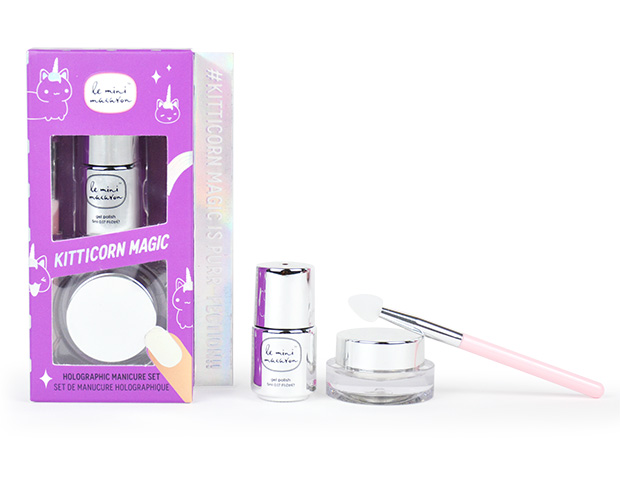 DYI hologram nails with the Kitticorn Magic Powder Set and achieve an iridescent, holographic, rainbow powder finish. Recommended with a light base coat! Available at leminimacaron.com for $21.99.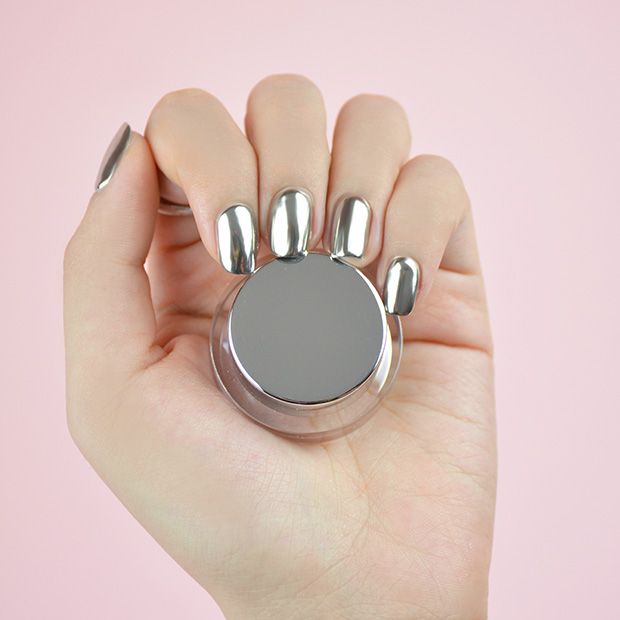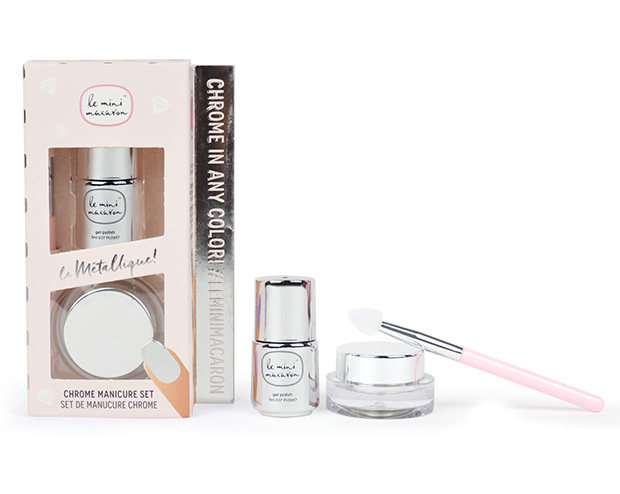 Le Métallique Powder Set delivers a pure silver, chrome finish. Pair with any Le Mini Macaron base color for a mirror-like finish – chrome in any color! Available at leminimacaron.com for $21.99.
—
jane iredale – The Skincare Makeup Collection
The offers Blurring Creams, Lip Tints, 4-in-1s, and even a NEW hand moisturizer, all containing SPF recommended by The Skin Cancer Foundation as effective daily sunscreens. Just add a little mascara, and you've got all your bases covered! Available at janeiredale.com.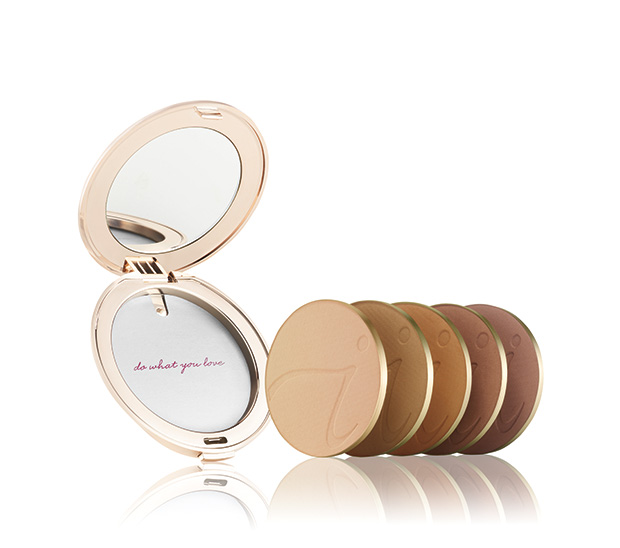 4-in-1: jane iredale PurePressed™ Base Mineral Foundation | $42
Semi-matte with a weightless feel, it provides broad spectrum SPF 20 that's water resistant for up to 40 minutes while protecting the skin and minimizing pores and fine lines. Available in 24 shades and also has an eco-friendly refillable compact!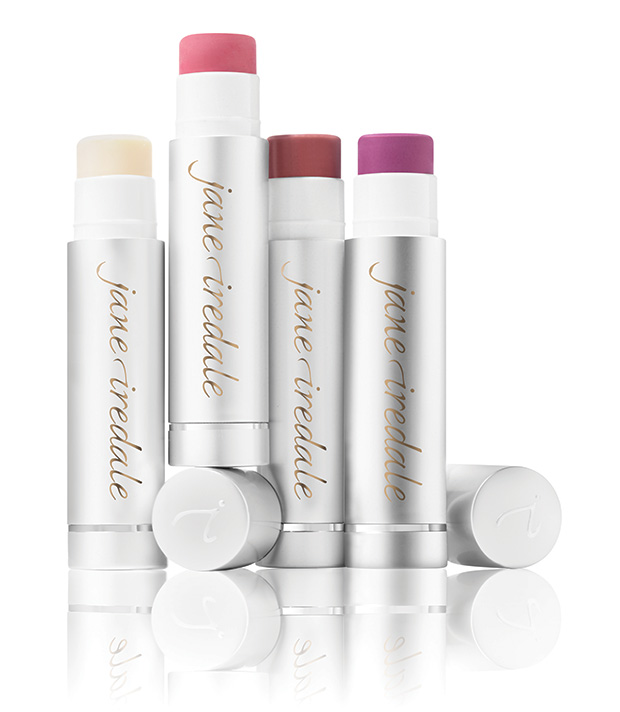 Lip Tint: jane iredale LipDrink | $17
LipDrink provides SPF 15 and powerful blend of antioxidants, green tea extracts and Vitamins C and E, to help protect against future damage. LipDrink is lemon scented and available in four shades including: Flirt a peachy pink, Crush a tinted sheer berry, Buff a sheer nude, and Sheer, the original translucent shade. A fifth shade, Tease, a shimmery plum brown, will be launching July 2018.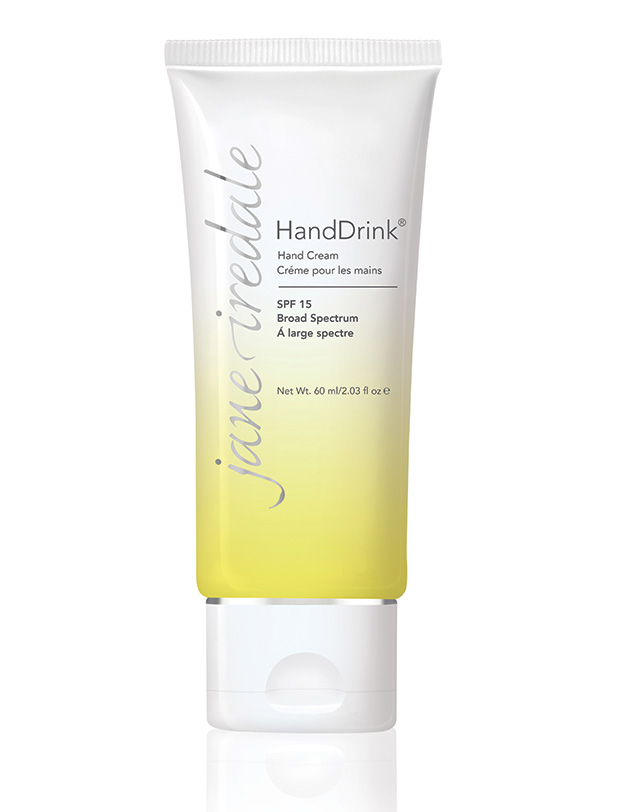 Hand Moisturizer: HandDrink® Hand Cream | $29
NEW antioxidant-rich Lemongrass HandDrink® provides broad spectrum SPF 15 while smoothing and protecting skin without feeling greasy. Lemongrass Oils refresh and revive skin, Liposomal encapsulated Apple Extract brightens and evens the appearance of skin tone and White and Green Tea Extracts provide nourishment and antioxidant protection.
Blurring Cream: jane iredale Dream Tint Tinted Moisturizer | $41
Dream Tint is a hydrating, lightweight, water-resistant tinted moisturizer with SPF 15 that gives a soft-focus effect that helps minimize the appearance of fine lines and enlarged pores. It's formulated with lightweight minerals and is a tinted moisturizer that not only hydrates and provides sheer to medium coverage, but helps prevent trans-epidermal water loss.
—
Maybelline New York | Spring/Summer Pastel Makeup
To celebrate the rising temperatures and blooming flowers, Maybelline New York has you covered with their City Kits Eye + Cheek palettes and the Lasting Drama Light Liner Pencils.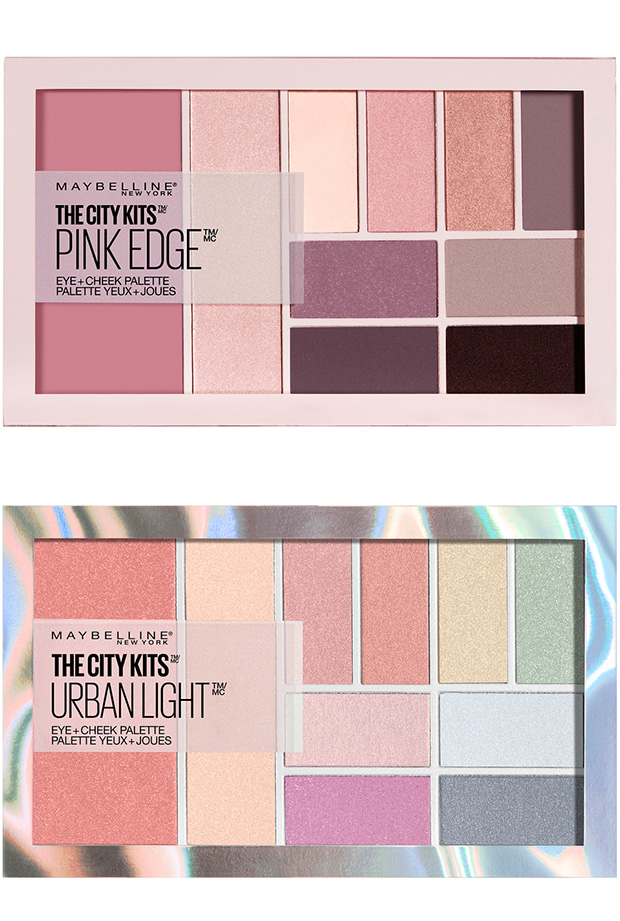 Maybelline New York's City Kits | $8.99
Provide pastels and portability with all-in-one shadow, cheek color, and highlighter palettes. Available in Urban Light and Pink Edge, each palette features 8 eye shadows, one blush, and one highlighter. These palettes have everything you need to create your own vibrant springtime in the city look. They're available on Amazon.com and at mass market retailers nationwide.
Want to instantly look more awake? A favorite trick of Maybelline New York Global Makeup Artist Erin Parsons is lining your waterline with Maybelline's Lasting Drama Light Liner Pencil. This mechanical cream eyeliner easily adheres and will last all-day with waterproof wear. They're available on Amazon.com and mass market retailers nationwide at a suggested retail price of $5.99.
—
Snow Fox Summer Care
Summer is just a few weeks away and it's time to prep skin for those hot days ahead.  Snow Fox is ideal to keep skin feeling refreshed and hydrated.  Begin your routine using Snow Fox Soothing Facial Cleansing Mousse to remove any dirt, oils and impurities from your face and then apply Snow Fox Day & Night Defense Multi Cream to lock in moisture.  These two go hand in hand and to leave your face feeling beautiful and ready for Summer! Available for purchase at snowfoxskincare.com.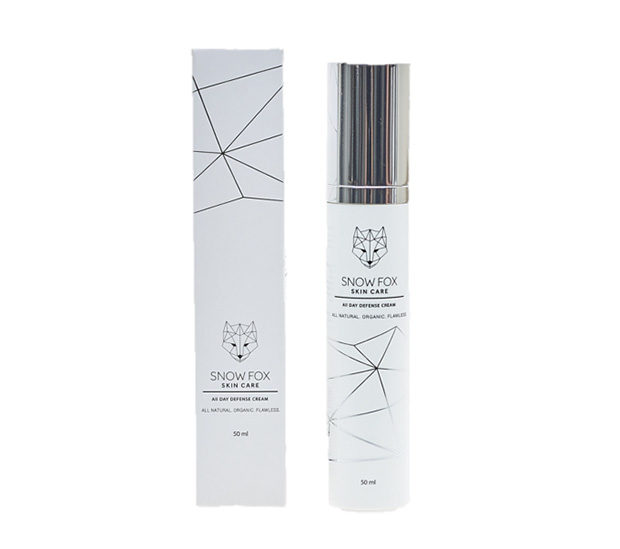 Snow Fox Day & Night Defense Multi Cream | $55
Locks in moisture, repairs and protects the skin from environmental stressors
This multipurpose product can be used as a primer, a day cream, a night cream and even a mattifying foundation or BB cream blender
The cream is formulated with antioxidant Ginseng Extract and also works against fine lines, wrinkles and evens out hyperpigmentation
Key ingredients include Olive Fruit Oil, Ginseng Extract, Jojoba Oil and Macadamia Oil
Snow Fox Soothing Facial Cleansing Mousse | $35
A powerful and gentle formula that removes dirt, oils, and impurities from your face without stripping your skin of moisture
This non irritant refreshing formula is made from organic peppermint oil extract that provides natural, cooling antimicrobial protection
Key ingredients include Citric Acid, Peppermint Oil and Aloe Vera Leaf
—
frank body Shimmer Lip Scrub and Lip Gloss
Always cruelty-free and naturally-derived, these two products will be available to only to our loyalty program members from now until June 2 when they will launch to the public. The frankbody.com loyalty program, Hotel Pink, is free to sign up and earn rewards like discounts and free products.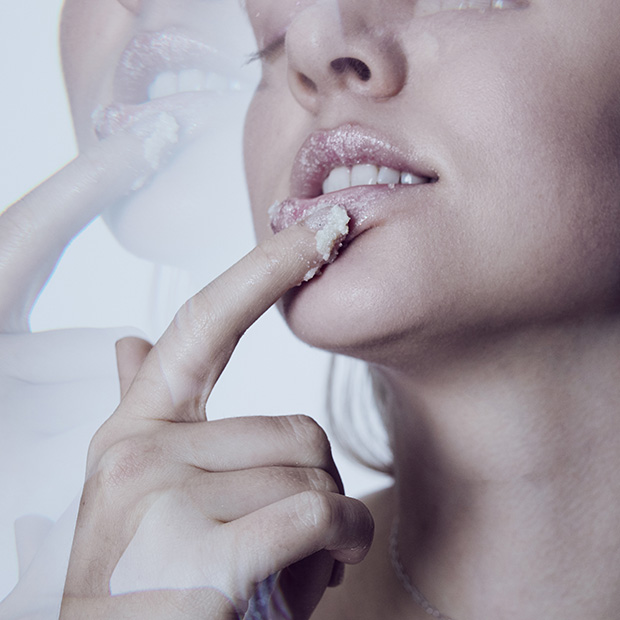 SHIMMER LIP SCRUB | $14.95, frankbody.com
Step 1: Scrub. Lift the lid on the world's first Shimmer Lip Scrub. Made to buff, smooth and soften lips then leave them with with natural shimmer. With a lemonade scent and grainy texture, the Shimmer Lip Scrub increases circulation to leave lips plump and juicy.
SHIMMER LIP GLOSS | $12.95, frankbody.com
Step 2: Drip, drench, gloss. Shimmer Lip Gloss rejuvenates lips in a glassy glow without a residual sticky finish. Smells like lemonade, leaves lips hydrated. The ultimate multi-tasker, layer it over lip colour (like the Cherry Bomb Lip Tint) or use it as a dewy highlighter.
ALSO AVAILABLE AS A DUO $23.95
—
ARM&HAMMER™ Shoe Refresher Spray
Ideal for feet and sports gear alike, say so long to smelly sneakers and sayonara to stinky sports gear and helmets. It deodorizes and eliminates shoe odor with ARM&HAMMER™ Baking Soda and odor neutralizing ingredients. This portable 360°spray makes it easy to clean gear wherever your travels take you. All you sneakerheads may want to try this new product! Available at Walmart for $5.99.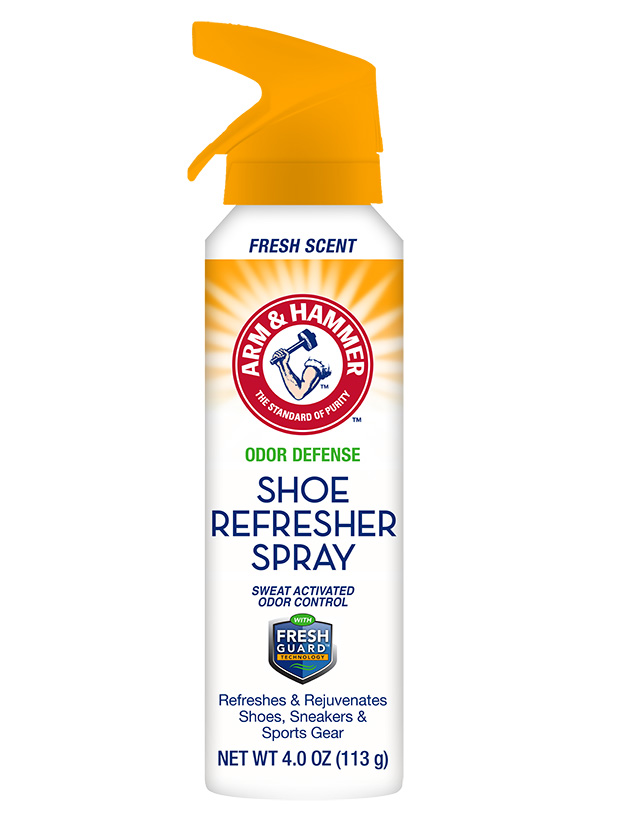 —
Musely 1-2-3-Forehead Hydrogel Masks
The forehead is often forgotten in most daily skincare regimens yet takes up 1/3 of the entire face and is one of the first areas on the face to show age. Available for Box of 8, $35 Musely.com.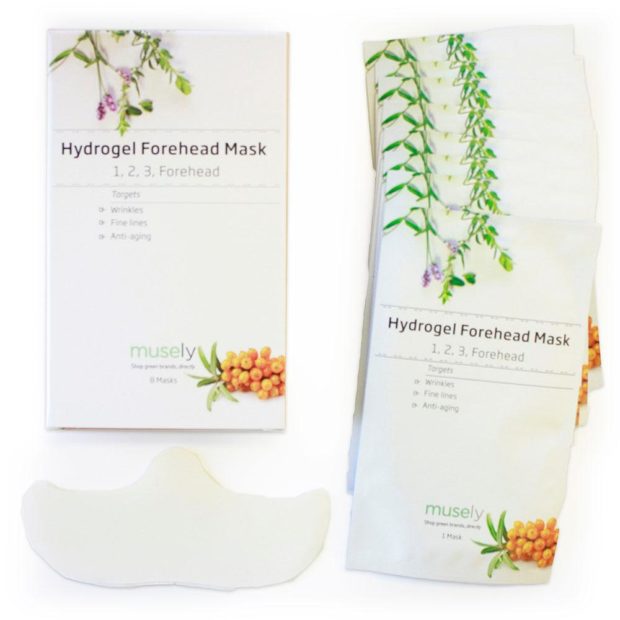 These masks protect you from expression lines and aging with:
Seabuckthorn seed extract visibly diminishes fine lines with potent antioxidants
Pomegranate seed extract prevents fine lines, aging, and acne
Grape seed oil firms the skin and minimizes the appearance of wrinkles and pores
Niacinamide brightens dark spots and evens skin tone
—
Soap & Paper Factory Farmacie Bath Bombs
Each bomb is packed with Shea Butter to hydrate and because they are generously sized it's just like being at a spa. Relax, light a candle, pour a little glass of wine, take a deep breath and let the aroma of our pretty bath bombs take away all the stress and worry of the day! Free from dyes and gentle enough for everyone in your family. Available for $10.00/each at soapandpaperfactory.com.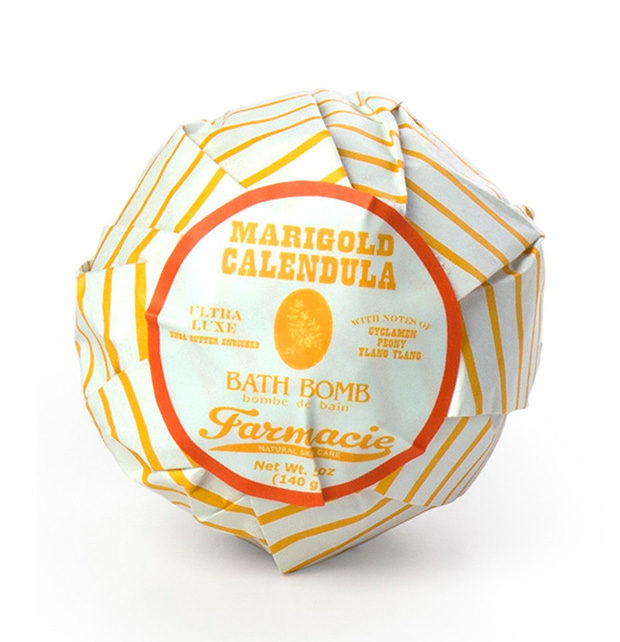 —
The Body Shop Banana Collection
Truly nourish your hair with our Banana collection, each product enriched with deliciously ripe Community Trade organic banana puree from Ecuador. Our 100% vegetarian shampoo and conditioner and vegan hair mask will leave hair shinier and infused with a tropical scent. Available at thebodyshop.com.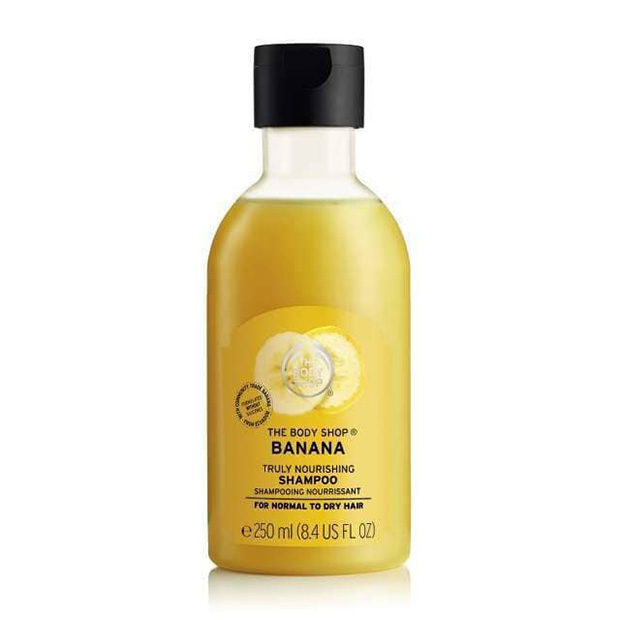 Banana Truly Nourishing Shampoo | $6-$16
Enriched with deliciously ripe Community Trade organic banana puree from Ecuador, this truly nourishing shampoo gently cleanses your hair and drenches it in an uplifting, tropical scent.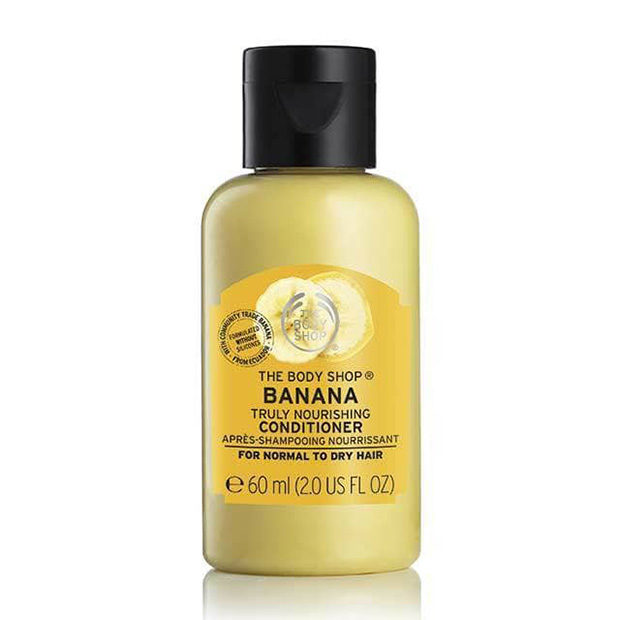 Banana Truly Nourishing Conditioner | $6-$11
Enriched with deliciously ripe Community Trade banana puree from Ecuador, this delightfully fragrant conditioner deeply nourishes hair and leaves it feeling softer and looking shinier.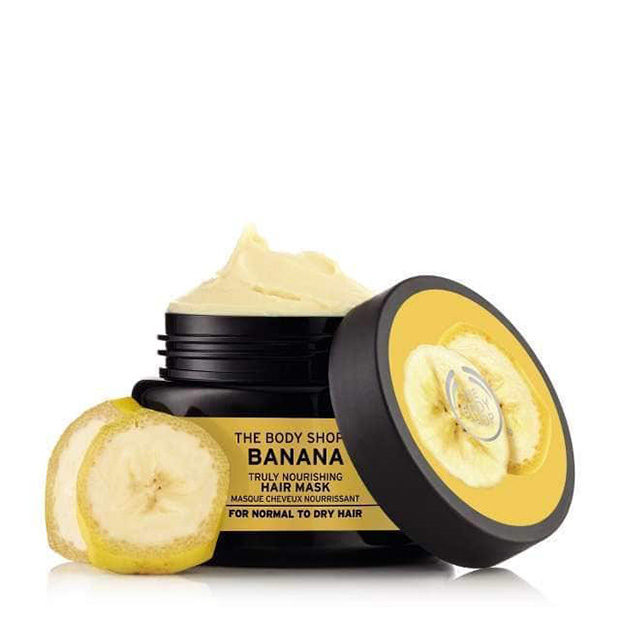 Banana Truly Nourishing Hair Mask | $18
Featuring a delicious blend of Community Trade natural-origin ingredients, including banana puree from Ecuador and Brazil nut oil from Peru. Enriched with Brazilian cupuaçu, this 100% vegan, once-a-week treatment leaves hair feeling intensely nourished from root-to-tip. Locks look less frizzy and instantly shinier, all without weighing them down.Featuring a delicious blend of Community Trade natural-origin ingredients, including banana puree from Ecuador and Brazil nut oil from Peru. Enriched with Brazilian cupuaçu, this 100% vegan, once-a-week treatment leaves hair feeling intensely nourished from root-to-tip. Locks look less frizzy and instantly shinier, all without weighing them down.
Banana Body Butter | $7-$21
Quench your skin with our mouth-watering Banana Body Butter, a special edition for summer. Enriched with Community Trade organic banana puree, our fabulously fragrant, 100% vegan formula provides up to 24 hours of moisture and leaves skin feeling softer and smoother.
Categories: beauty
Tags: beauty