A new year means a brand new beauty closet? No, jk! But adding new products to the "to try" list never hurts. Here are some new beauty products that I'm looking forward to trying!
MAC Padma Lakshmi
Padma Lakshmi's talents have taken her from actress to cookbook author extraordinaire, top model to host of Top Chef… and now, to designer of a MAC capsule collection! Her eye shadow palettes and individual colours are designed to take you from day to deep night – and last through all the culinary adventures in between. Available online and in select stores March 15, 2018 through April 2018.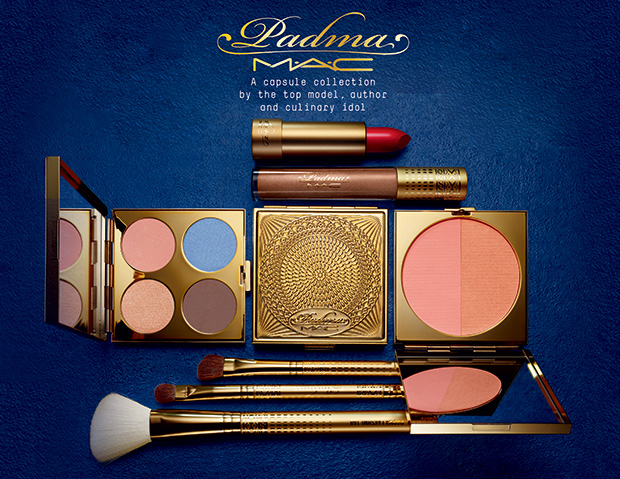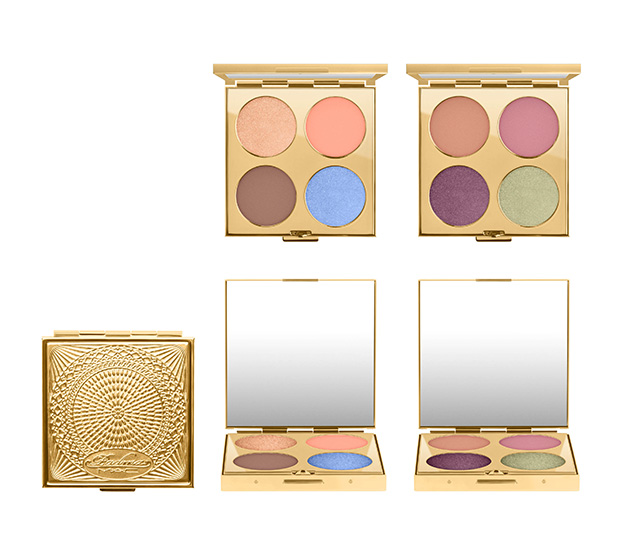 EYE SHADOW X 4 IN 70'S SUNSET | $33.00 US/$43.50 CAD
Sand & Clay: mid-tone cool beige (matte)
Cardamom: cool light green with white frost (vlxp)
Mumtaz: coppery purple with gold sparkle (vlxp)
All's Rosy: mid-tone plum with gold (matte)
EYE SHADOW X 4 IN DESERT DUSK | $33.00 US/$43.50 CAD
Indian Moon: creamy gold with sparkle (vlxp)
Shell Peach: muted peachy pink (satin)
Hopper Blue: sky blue with white sparkle (vlxp)
Natural Brown: deep creamy brown (matte)
LIPSTICK | $17.50 US/$22.00 CAD
Sunset Rose: creamy brown with pearl (cremesheen)
Apricot Gold: mid-tone peach nude (amplified)
Nude Fudge: mid-tone neutral (matte)
Mittai Pink: hot fuchsia (matte)
Blue Blood: true red (matte)
Sumac: deep plum (matte)
CREMESHEEN GLASS (ONLINE-EXCLUSIVE) | $21.00 US/$24.00 CAD
Nefertiti: peachy gold with sparkle
POWERPOINT EYE PENCIL (dual-ended) | $18.50 US/$22.50 CAD
Iced Heather / Kerala Sun: silver frost / pure gold
Indian Ink / Mossy Green: pure black / deep green
Bordeauxline / Molé Brown: deep plum / cool brown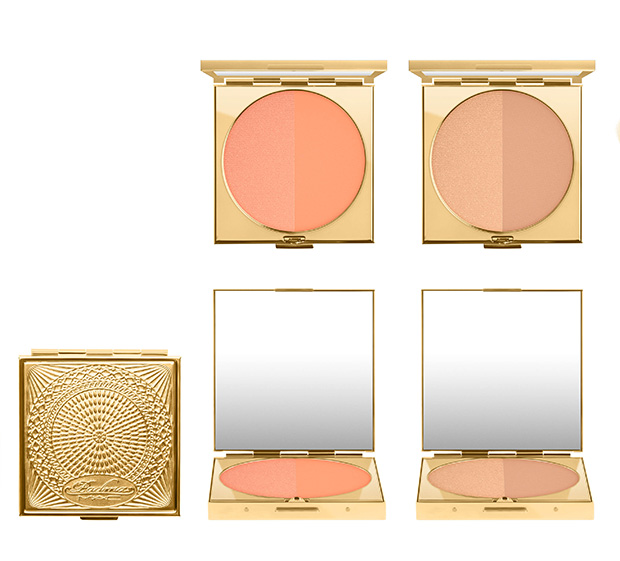 POWDER BLUSH (DUO) | $33.00 US/$43.50 CAD
Moon & Shine: frosty highlight (frost) / warm beige (matte)
Melon Pink: bright peachy pink with gold sparkle (satin) / mid-tone orange (frost)
BRUSH
168SES Large Angled Contour Brush | $35.00 US/$42.00 CAD
275SES Medium Angled Shading Brush | $25.00 US/$30.00 CAD
213 Fluff Brush / 219 Pencil SES Dual-Ended Brush | $35.00 US/$42.00 CAD
—
beautyblender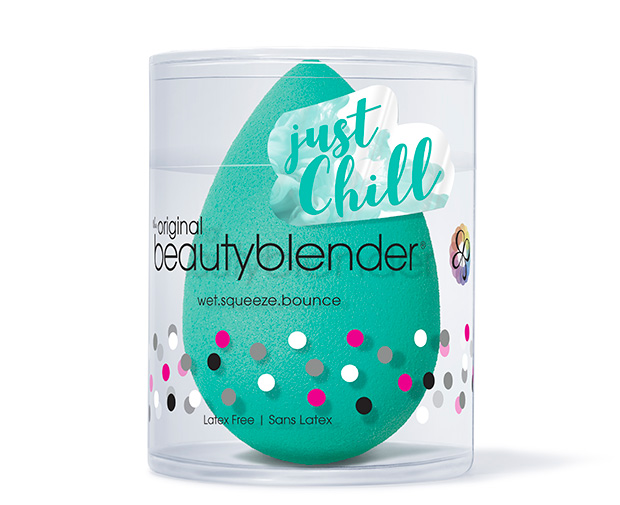 beautyblender chill | $20, sephora.com
Usher in a wave of calmness to your beauty routine with beautyblender chill. Inspired by the cool ocean color, this aqua-activated makeup master features a new hypnotically serene shade. Perfect for all your makeup looks – from laid back to fully glam – beautyblender chill features the same soft, exclusive beautyblender material you know and love. Just blend and chill.
—
NARS Spring 2018 Color Collection
featuring new shades and formulas for Lips, Eyes, and Cheeks. Face the season with a fresh spectrum of luminous neutrals and molten accents. Spring forward. Out with the old. In with the nude.
AVAILABILITY:
Available January 18, 2018 at NARS Boutiques and on narscosmetics.com
Available February 1, 2018 at department and specialty stores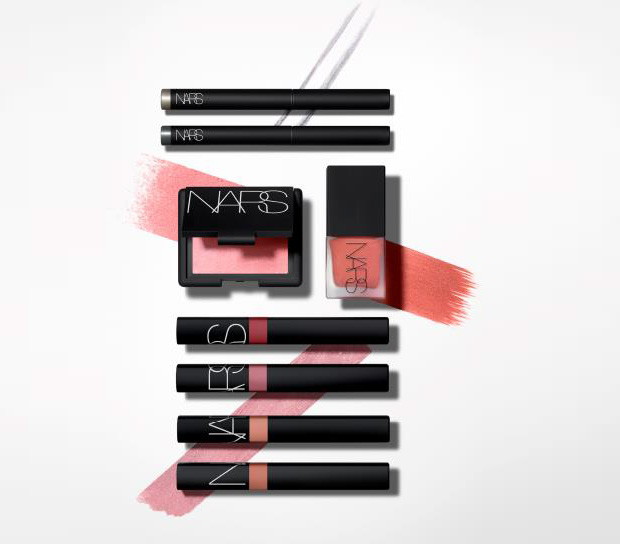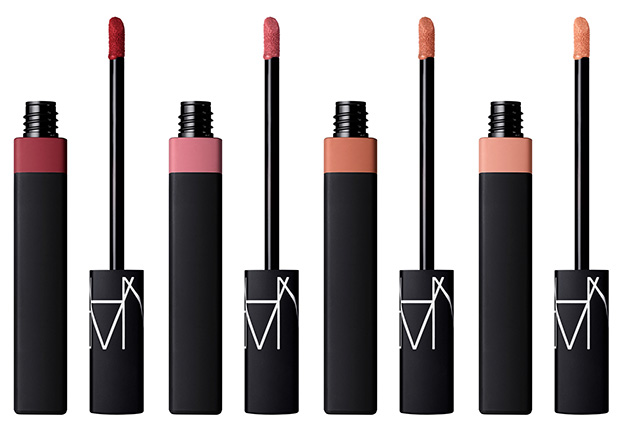 Lip Cover | $28
Lips go creamy and full coverage with limited-edition high pigmented shades of fan-favorite, Lip Cover – a sensorial creamy Lip Gloss that combines extreme softness and incredible color saturation on lips.
EMBRASSE MOI LIP COVER, shimmering peach pink (limited edition)
UNDER ARREST LIP COVER, peach beige (limited edition)
SUMMER FIRE LIP COVER, pink mauve (limited edition)
HELL GATE LIP COVER, black cherry (limited edition)
Shadow Sticks | $29
Eyes open up to polished shine in metallic Velvet Shadow Sticks.
FRIOUL VELVET SHADOW STICK, shimmering light peacock (limited edition)
GALICE VELVET SHADOW STICK, soft pewter
Liquid Blush | $30
Radiant gradient enlivens cheeks with tones of Liquid Blush and a newly formulated Highlighting Blush.
HOT TIN ROOF LIQUID BLUSH, shimmering brick red (limited edition)
Highlighting Blush | $30
Featuring a satiny, cool powder that imparts the most subtle pearly radiance to the skin, the new sheer and buildable Highlighting Blush formula is easy to apply and melts flawlessly into the complexion revealing an enhanced, healthy skin tone.
FREE SOUL HIGHLIGHTING BLUSH, light shimmering pink (limited edition)
—
Kiehl's
In 2005, Kiehl's Powerful-Strength Line-Reducing Concentrate was launched as a cutting-edge product with 10.5% pure, stabilized Vitamin C – a formula that has remained one of the most popular, highly efficacious formulas on the market for over a decade. The original Powerful-Strength Line-Reducing Concentrate, which boasts hundreds of 5-star reviews online and numerous awards, sells at a rate of one per minute around the world, with more than 5 million bottles sold to date.
The powerful, fast acting, anti-aging serum has undergone a state-of-the-art reformulation that amplifies the efficacy of the original, making it work better and faster. The result is an anti-aging serum clinically demonstrated to provide intensified results, including visible improvement on lines, wrinkles, radiance and texture, faster than ever before.
This advanced formula has a heightened potency of 12.5% Vitamin C (10.5% Pure Vitamin C [L-Ascorbic Acid] + 2% Vitamin Cg [Ascorbyl Glucoside]), and is now made with Hyaluronic Acid, and, like the original, it's stabilized without water. The new powerful, antioxidant-packed formula provides clinically-demonstrated performance that provides benefits including the reduction of the appearance of fine lines and deep set wrinkles, visible improvement of skin brightness and visible and tactile improvement of skin's surface quality.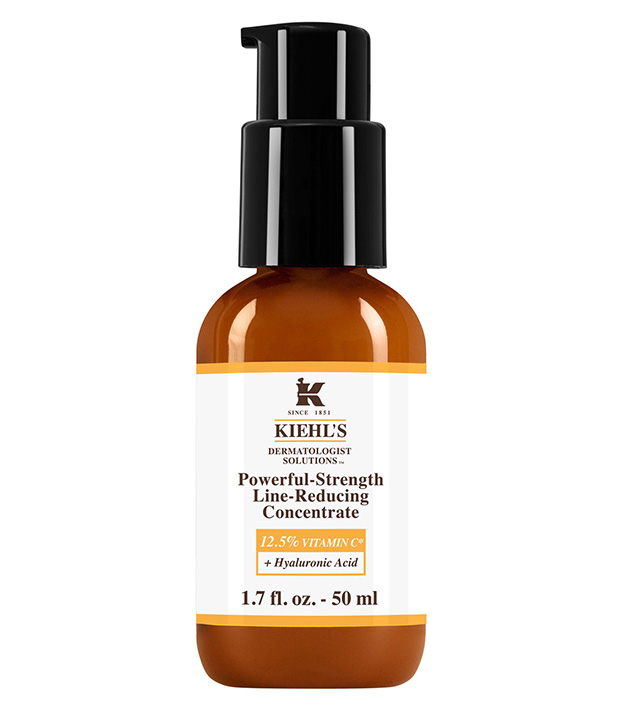 Kiehl's Powerful Strength Line Reducing Concentrate
50 ml / 1.7 oz. – $62 | 75 ml / 2.5 oz. – $81 | 100 ml / 3.4 oz. – $104, kiehl's.com
—
dr. brandt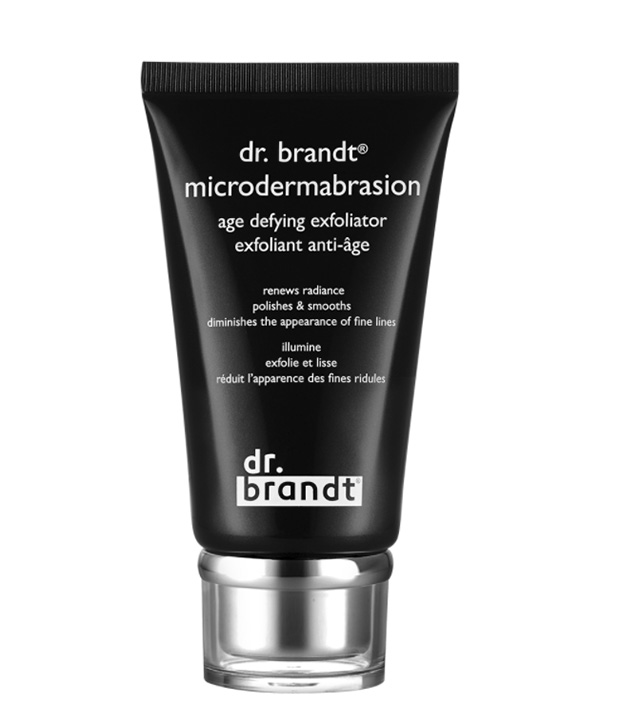 dr. brandt microdermabrasion | $79, sephora.com
An exfoliating cream that polishes away dead skin cells, instantly revealing a more radiant complexion. The product features lactic acid and pharmaceutical grade crystals that exfoliate skin without scratching or irritating, smooth fine lines and wrinkles, and improve the overall texture of the skin. dr. brandt® microdermabrasion was the first product to mimic an in-office microdermabrasion treatment, achieving maximum results in minimum time and immediately restoring a radiant youthful glow to the complexion.
—
Honest Beauty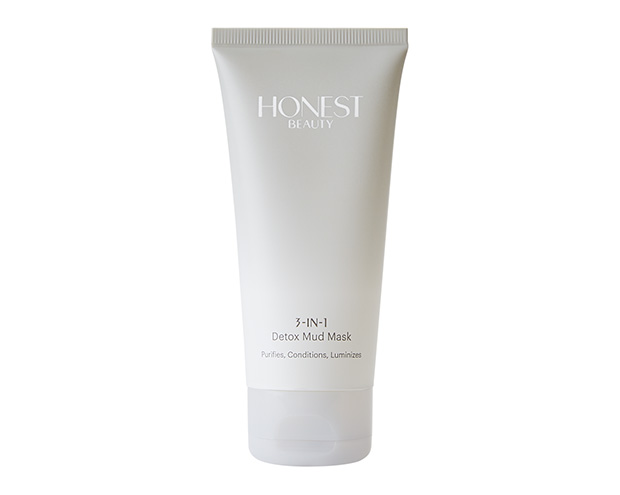 Honest Beauty 3-in-1 Detox Mud Mask | $22
Formulated to purify, condition and luminize to give your skin the ultimate pick-me-up
Packed with naturally derived detoxifiers & plant-powered conditioners to minimize the look of pores and reveal a softer and healthier-looking complexion
Key ingredients:
Jeju volcanic ash from Korea helps detoxify skin
Activated charcoal helps filter out impurities
Refined white bentonite helps soak up excess oil
Made without questionable or potentially harmful ingredients Sulfates, parabens, formaldehyde donors, PEGs, propylene glycol, butylene glycol, synthetic fragrances or dyes
—
Youth To The People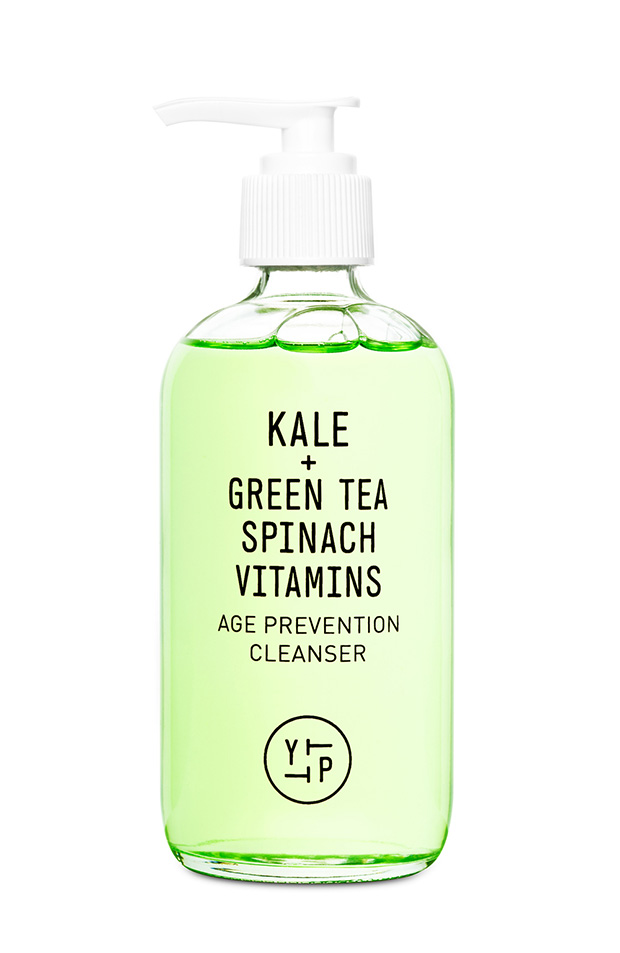 Youth To The People Age Prevention Cleanser | $36, sephora.com
Packed with superfood ingredients including kale, spinach & green tea, skin is left protected from free radicals and environmental stresses. Plus, with its pH-balanced formula, this multifaceted cleanser can be used as your daily toner or makeup remover!
—
Simple Skincare | target.com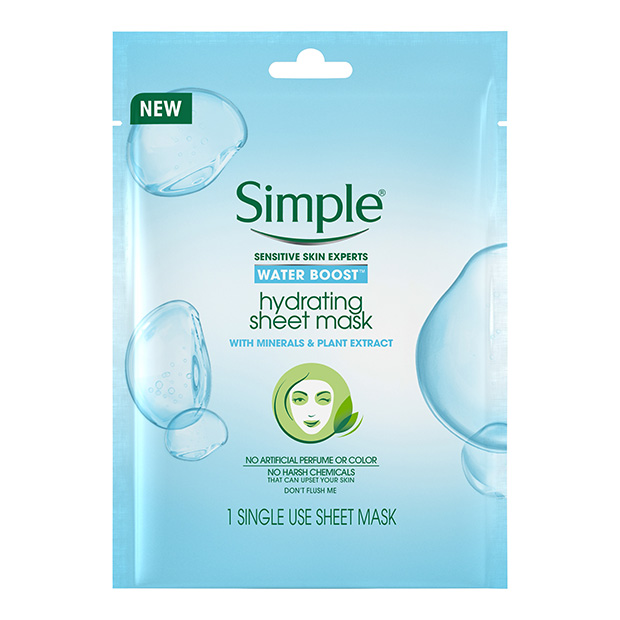 Simple Skincare Water Boost Hydrating Sheet Mask | $2.50
Skincare Water Boost Hydrating Sheet Mask is the perfect antidote to fight the five early signs of dehydrated skin: dryness, dullness, dry dehydration lines, tightness, and roughness. Formulated with minerals and plant extract, this super soft sheet mask quenches thirsty skin, leaving it hydrated, supple and dewy-fresh.
Simple Skincare Water Boost Hydrating Gel Cream | $8.99
Lightweight and silky in texture, Simple Water Boost Hydrating Gel Cream delivers instant and long-lasting hydration to dull, thirsty skin. Its non-greasy formula smooths away dryness for skin that looks and feels healthy and revitalized with no sticky residue. Skin is better protected against dehydration and sensitivity with every use.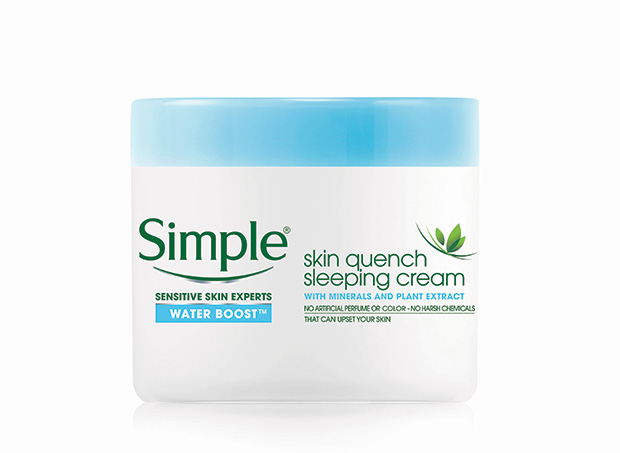 Simple Skincare Water Boost Skin Quench Sleeping Cream | $8.99
Reverse dehydrated skin while you sleep with Simple Water Boost Skin Quench Sleeping Cream. Its silky, lightweight gel cream formula absorbs quickly and deeply into skin to replenish dull and tired skin, so you are ready for the day ahead.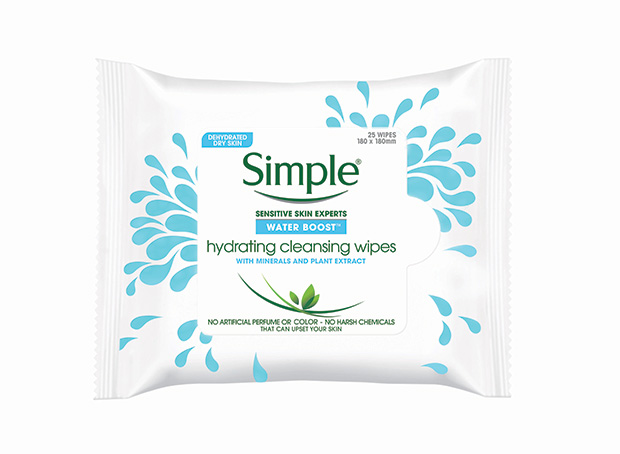 Simple Skincare Water Boost Hydrating Cleansing Wipes | $5.99
Our collection of Simple cleansing wipes is growing with the introduction of the Water Boost Hydrating Cleansing Wipes made especially for dehydrated or dry skin. The wipes are infused with clever micellar cleansing bubbles to gently and eectively cleanse and refresh your skin. Blended with skin-essential minerals and plant extract, our formula instantly hydrates skin, leaving it feeling supple and smooth to touch.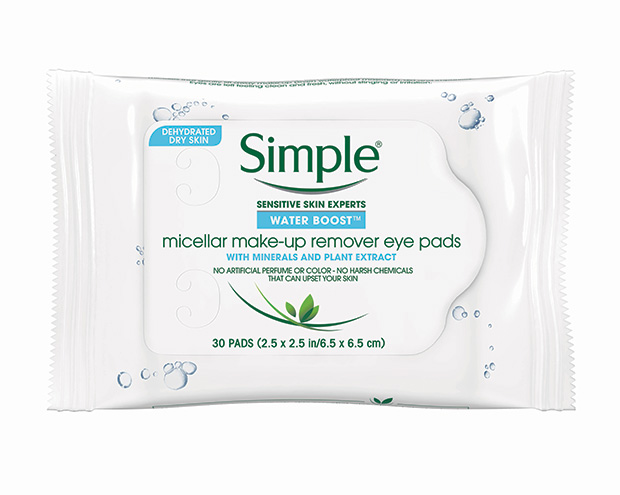 Simple Skincare Water Boost Micellar Make-Up Remover Eye Pads | $5.99
These easy-to-use Simple Water Boost Micellar Make-Up Remover Eye Pads gently and eectively cleanse the eye area and remove make-up (even waterproof formulas!) without over-drying skin. Infused with micellar bubbles for extra cleansing help, and formulated with skin-essential minerals and plant extract, the eye pads instantly hydrate skin around your eyes, leaving it feeling refreshed, without stinging or irritation.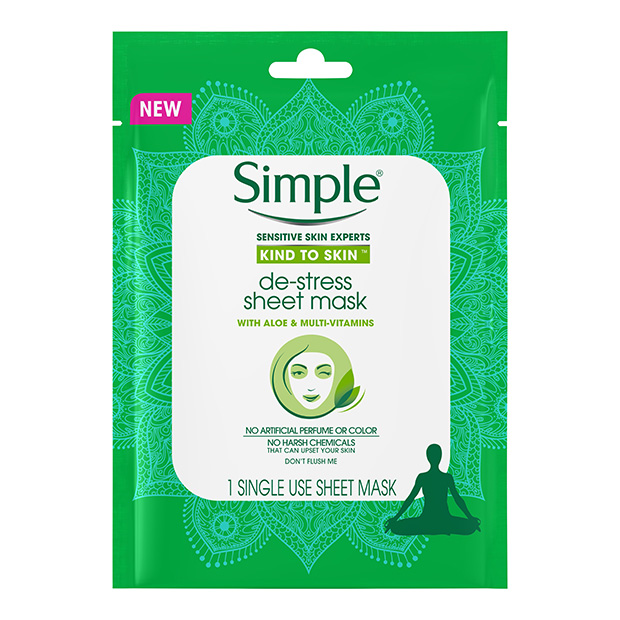 Simple Skincare Sheet Masks | $2.50
Simple Skincare De-Stress Sheet Mask is the perfect antidote to stressed skin. Infused with aloe and multi-vitamins, our super soft mask contours to the face to instantly hydrate and soothe skin.
—
POND'S Hydrating Sheet Masks
Derived from super soft eucalyptus fibers, these sheet masks easily glide onto the face and stay in place, while providing skin with an essential boost of hydration. With a combination of effective ingredients and vitamins, each skin quenching treatment offers users an added glowing or firming skincare benefit with every use.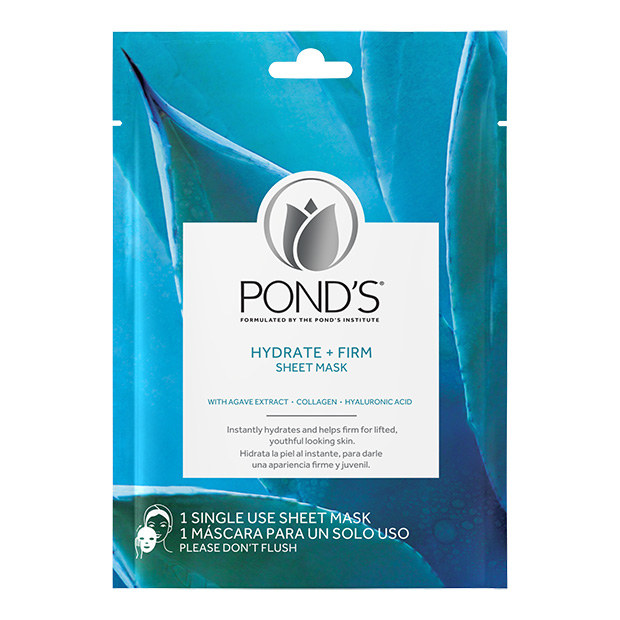 POND'S Hydrate + Firm Sheet Mask | $2.50
Formulated with agave extract, collagen and hyaluronic acid, this Sheet Mask hydrates and helps firm skin, leaving it looking lifted and youthful.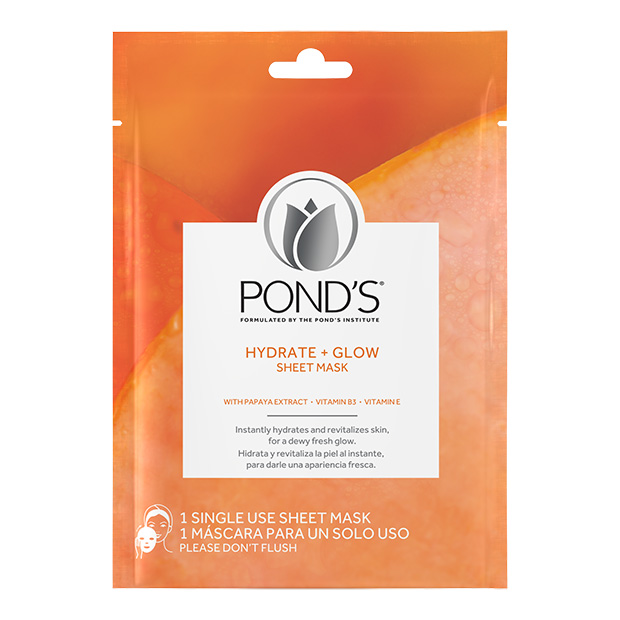 POND'S Hydrate + Glow Sheet Mask | $2.50
Enriched with a cocktail of papaya extract, vitamins B3 and E, this Sheet Mask hydrates and revitalizes skin, leaving it feeling dewy fresh and looking radiant.
—
Sally Hansen
Sally Hansen Big Polish Guards Cuticle Protectors | $5.49, target.com
The newest innovation in at-home manicures. Just wrap your cuticles, paint on color and then peel away any mishaps. This means each hand (yes, both) will get the same, flawless results. It's really that simple. Big Polish Guards Cuticle Protectors give you the freedom to paint your nails at home, mess-free.
Sally Hansen Big Polish Guards Cuticle Protectors slip on so you can paint your nails then peel away any mistakes. Find the super-flex guard that fits your nails to create a barrier and ensure a flawless polish line, every time.
—
FOREO UFO (Ur Future Obsession) | shop the current collection at sephora.com
FOREO unveiled the UFO, the world's first smart mask treatment to offer spa-level facial treatments in just 90 seconds, combining LED light therapy with cryo-therapy, thermo-therapy and T-Sonic pulsations activated via your smartphone.
The UFO is set to retail at $279 USD while the UFO mini, and entry level design, will retail at $179 USD. For the pre-launch phase on Kickstarter, however, customers can enjoy savings of up to 50% off.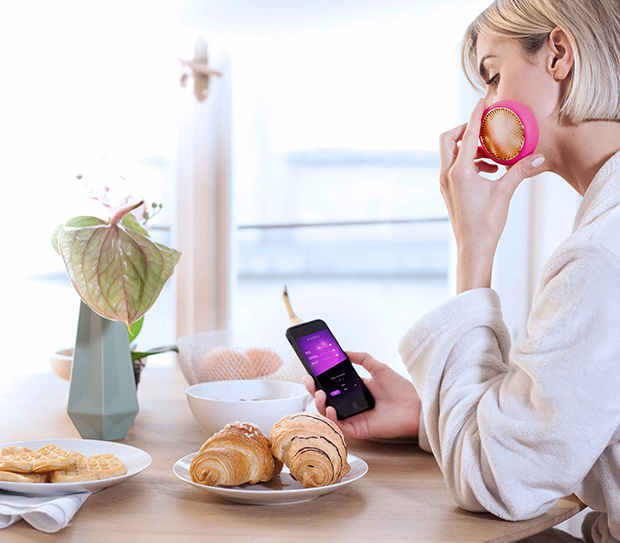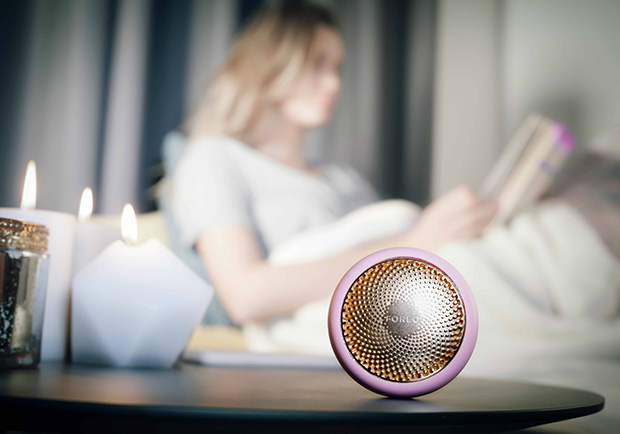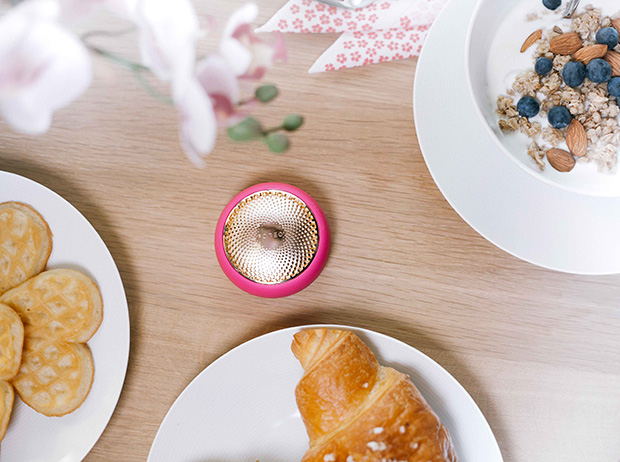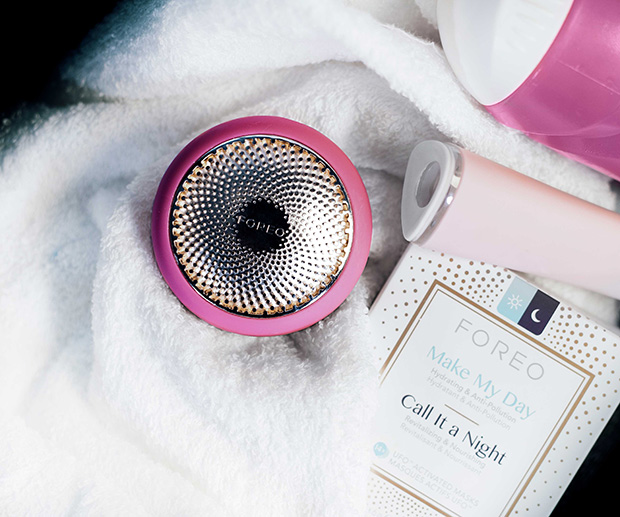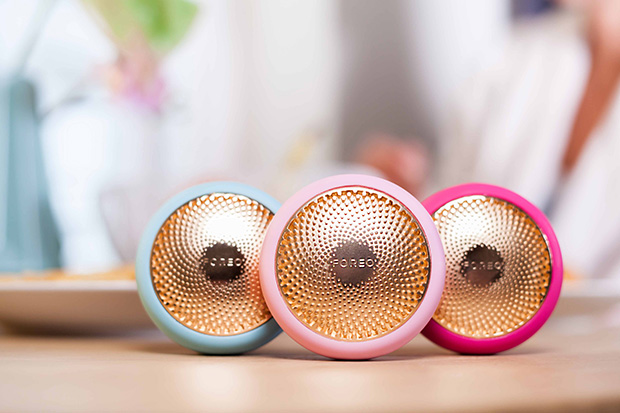 The UFO Features:
Utilizes hyper-infusion technology, combining heating to open pores, T-Sonic™ pulsations to instantly infuse active ingredients more deeply into the skin and cryotherapy to seal the active ingredients and firm the skin.
Includes a range of LED light therapy treatments to offer three photofacials, including anti-aging (red LED), brightening (green LED) and anti-acne (blue LED)
Each treatment incorporates a carefully chosen combination of temperature and pulsation intensity for maximum effect and soothing facial massage
The device works hand in hand with the specially invented UFO-activated sheet masks. These ultra-soft microfiber masks ensure flawless skin from dawn to dusk and each formula pairs with a unique UFO treatment routine designed to give a wake up call, or to help relax when people are ready to call it a night.
UFO-Activated Smart Mask Treatments:
UFO Smart Masks are made from soft micro-fiber infused with plant and fruit extracts, concentrated botanical oils and natural flower water. Each mask is paired with a pre-programmed UFO treatment routine to boost their effects. There are two masks currently available on launch including:
'Make My Day' Mask
Features Hyaluronic Acid and Red Algae for deep hydration combined with pollution protection for radiant skin. The UFO treatment begins with 30 seconds of Thermo-Therapy and Red LED light to prep the skin and open the pores. The next 30 seconds integrate T-Sonic Pulsations to heighten the absorption of the mask essence. The final 30 seconds switch to a Green LED treatment and lower frequency pulsations, to even skin tone and add that radiant boost.
'Call It A Night' Mask
Features ginseng and olive oil to nourish and revitalize – a formula that replenishes skin overnight. The treatment begins with 30 seconds of higher-frequency T-Sonic pulsations combined with Thermo-Therapy and Red LED light, to infuse the essence beneath the skin's surface. T-Sonic pulsations then switch to a lower frequency, with the Red LED light retained and Thermo-therapy disabled, to focus on enhanced blood circulation and restoring skin's elasticity.
App-operated Features:
The UFO can be paired with the FOREO app to get the most out of the device. While the 'Make My Day' and 'Call It a Night' masks are pre-programmed into the device, the FOREO app gives access to all future mask treatments. In addition, users can reorder masks with a simple click and unlock UFO's full potential by customizing the intensity of all UFO settings to perfectly suit individuals skincare needs.
The app will be available for iOS and Android and can:
Control the intensity of the T-Sonic pulsations
Control the light intensity
Control the heating/cooling
The UFO has all the mutual benefits expected with a FOREO invention including a medical grade silicone body, plus a 100% waterproof design and USB-charging.
—
Caress Botanicals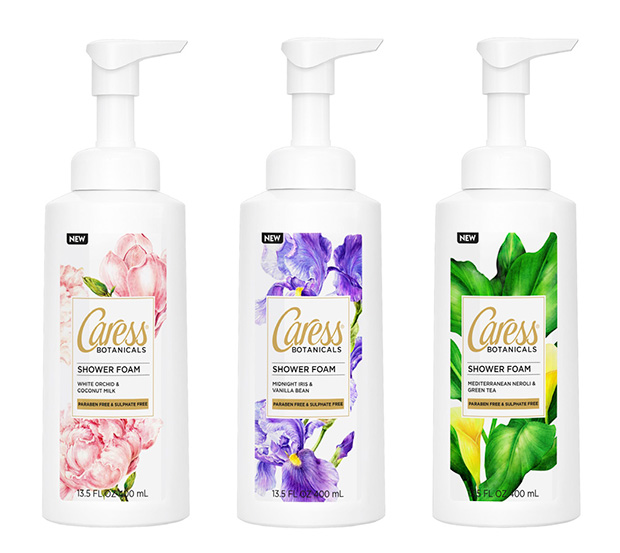 Caress® Botanicals Shower Foams | $5.47, target.com
This rich formula is paraben and sulfate-free, and leaves skin feeling naturally soft and lightly fragrant with three garden-inspired scents: White Orchid & Coconut Milk, Midnight Iris & Vanilla Bean, and Mediterranean Neroli & Green Tea.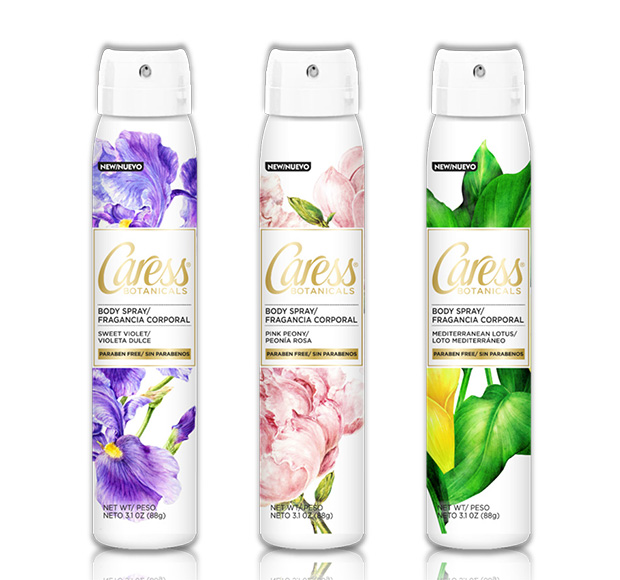 Caress Botanicals Body Sprays | $3.99
This line of floral mists leave skin lightly scented and feeling "just out of the shower" fresh all day. The paraben-free spritzes will be available in three different scents: Sweet Violet, Pink Peony and Mediterranean Lotus.
—
NEXXUS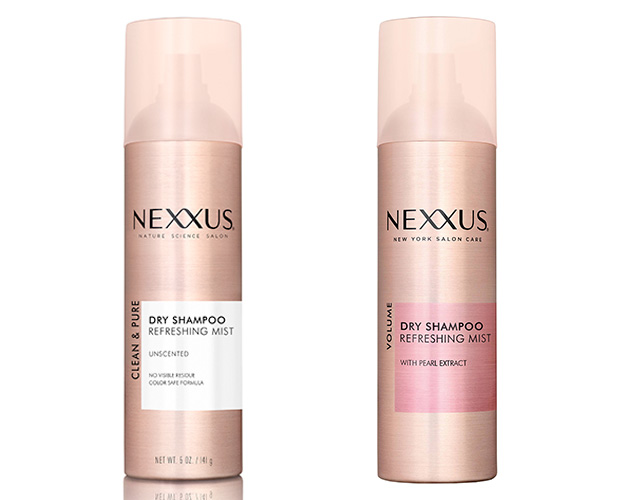 CLEAN & PURE UNSCENTED DRY SHAMPOO | $11.99 – $12.99
Fragrance-free dry shampoo absorbs oil, sweat and odor, leaving body and a fresh texture
Lightweight and color-safe formula to retain natural hair movement
Leaves hair looking clean and pure without fragrance or visible residue
VOLUMIZING DRY SHAMPOO | $11.99 – $12.99, ulta.com
Lightweight dry shampoo enriched with Pearl Extract.
Refreshes hair to extend the life of any style
The formula weightlessly refreshes hair between washes
Leaves an uplifting and refreshing fragrance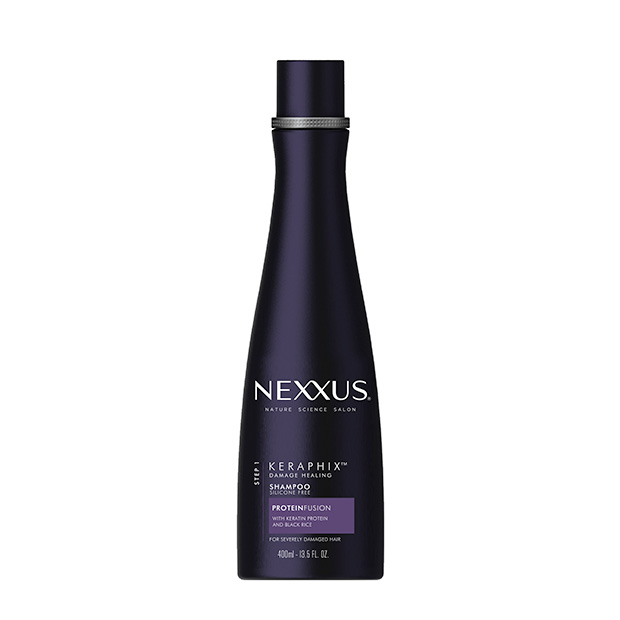 KERAPHIX DAMAGE HEALING SHAMPOO | $12.99, target.com
Protein-rich shampoo cleanses and penetrates hair fiber – starting the Keraphix damage healing process
Infused with Keratin Protein and Black Rice
KERAPHIX DAMAGE HEALING CONDITIONER | $17.99, target.com
Protein-rich conditioner targets damaged areas of hair by enveloping the hair in both wet and dry stages – delivering a smooth, conditioned feel
Formulated with efficient conditioning and detangling benefits
Features caviar and a complex rich in protein and nutrients, known to provide softness and nourish the hair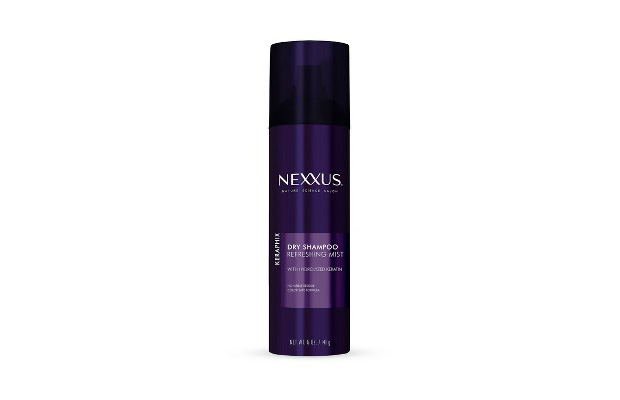 KERAPHIX DRY SHAMPOO | $11.99, target.com
Instantly cleanses and refreshes hair in between regular washes, extending the life of your style
Gentle and suitable for severely damaged hair, it absorbs oil, sweat, and odor with no visible residue
Salon-crafted with Hydrolyzed Keratin
KERAPHIX DAMAGE HEALING HAIR RECONSTRUCTING TREATMENT | $14.99, target.com
A powerful protein infusion treatment brings the salon experience home and revives severely damaged hair
Features our highest level of proteins containing keratin, collagen and elastin combined with black rice extract – formulated to replenish the amino acids and proteins that are lost from severely damaged hair
Always use the treatment gel as part of the Nexxus Keraphix Damage Healing System
Clinically Proven Results
KERAPHIX DAMAGE HEALING MASQUE | $4.99, target.com
A deep conditioning treatment that envelopes the hair surface with an ultra-fine film to restore the protective barrier and leave hair more aligned, flexible and smooth
Infused with Keratin Protein, Black Rice and humectant agents to moisturize deeply inside the hair
—
Palladio Beauty | palladiobeauty.com

Palladio Beauty Eyeland Vibes Eyeshadow Palettes | $14
Available in four curated shade assortments: Sandbar (nude), Paradise (brights), Cabana (smokey) and Horizon (rose gold) and each featuring 10 complementary shades in shimmering to matte finishes that range from seductive nudes to vibrant hues. This eyeshadow formula is enhanced with Vitamin E, Aloe, and Chamomile for a silky smooth application.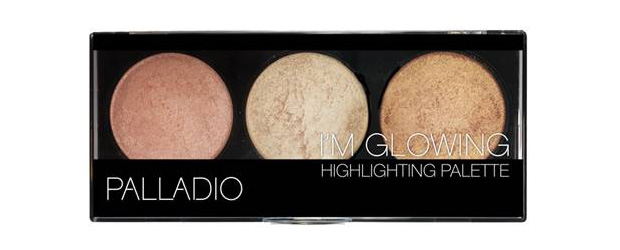 Palladio Beauty I'm Glowing Highlight Palette |$14
Available in one universal shade containing three creamy and buildable illuminators: pearly pink, champagne, and golden bronze. This lightweight powder formula is enriched with Vitamin E, Ginseng, Chamomile, Aloe, and Gingo Biloba blends effortlessly onto skin for a radiant dewy and sun-kissed finish.

Palladio Beauty Liner Obsessed Paddle Tip Liner | $9
The unique paddle shape can draw precise, ultra-thin lines, or can be bold with a dark, thick liner. Available in classic black, this quick drying formula lasts all day with water-resistant wear.

Palladio Beauty Liner Obsessed Gel Liner | $9
This intense black liner glides on smoothly for a look that's sure to last without creasing or smudging. The Coconut Oil allows for smooth application, while the Kaolin Clay helps the liner last all day!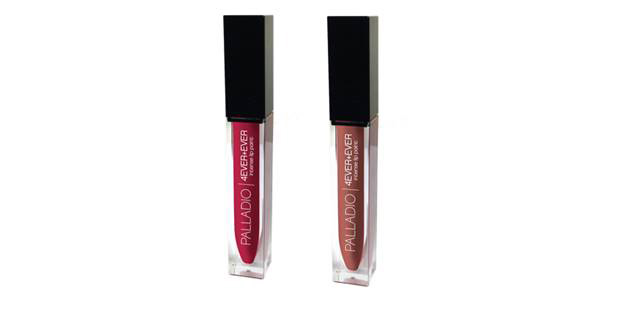 Palladio Beauty 4Ever + Ever Intense Lip Paints | $8
Now in Swoon (deep pink) and Devotion (sandy nude). Aloe Vera Extract and Coconut Oil hydrate and moisturize lips, leaving them lavish and luxe. Ginseng revitalizes lips, while the Gingko Biloba and Chamomile lend anti-inflammatory properties. Also enhanced with Apricot Kernel Oil for additional moisturizing, anti-aging and antioxidant benefits.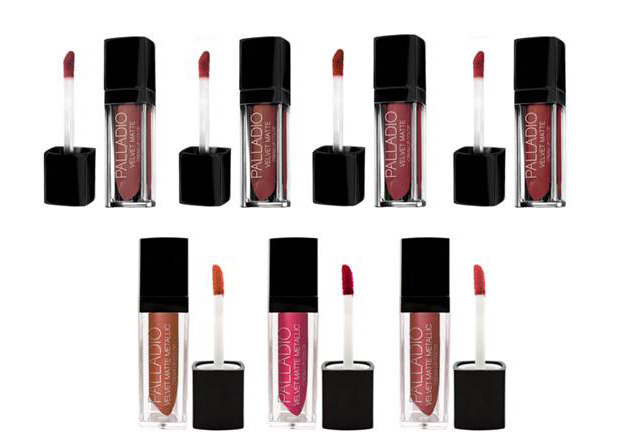 Palladio Beauty Velvet Matte Lip Colors | $8
Four new shades of subtle pinks and flattering nudes, including Chiffon (cool nude tone), Organza (warm toned nude), Pashima (light pink berry), and Velour (peachy nude). The Velvet Matte Metallic Lip Colors continue to shine on with three new statement making shades of Posh (pink champagne metallic, Dazzle (hot pink metallic), and Sassy (rose gold metallic). Packed with moisturizing ingredients and enhanced with Green Tea and Vitamin E, the nourishing formula glides on seamlessly with incredible color payoff and settles into a velvety metallic-matte finish that lasts for hours.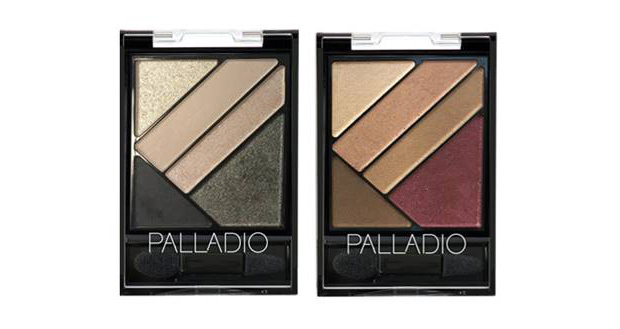 Palladio Beauty Silk FX Eyeshadow Palettes | $12
Two new shades, Risque (olive green) and Mirage (rose gold), are available in powder-to-liquid formula (just add water!). Each compact pairs five complementary matte and shimmering colors to mix-and-match.
—
RIMMEL LONDON |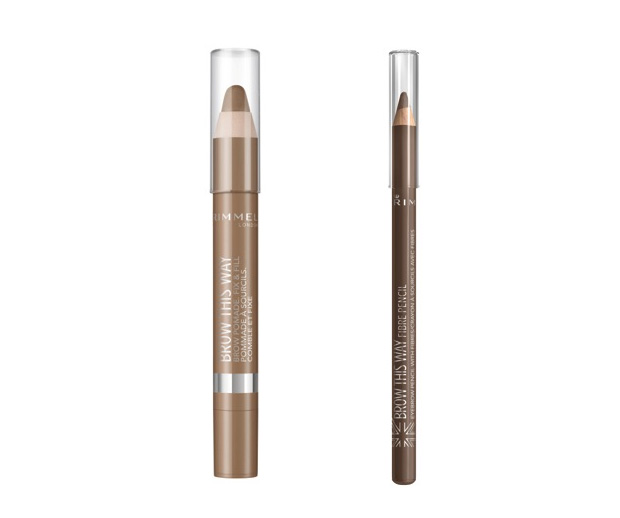 RIMMEL LONDON BROW THIS WAY POMADE FIX & FILL PENCILS | $4.59, asos.com
Available in three blendable shades: Dark, Medium and Light
RIMMEL LONDON BROW THIS WAY FIBER PENCIL | $4.59
Available in three blendable shades : Dark, Medium and Light
—
Cheeky Physique
Make trouble spots a thing of the past and reveal your sleekest, sexiest silhouette with Cheeky Physique's Cheeky Cups – a modern body contouring system based on ancient cupping techniques. Like a deep tissue "massage in reverse", Cheeky Cups target stubborn cellulite, re-energize sluggish spots and smooth visible imperfections – all in less time than it takes to pour a glass of champagne.
Traditionally used to boost circulation and detoxification, the act of cupping boasts fantastic, skin-smoothing benefits by targeting cellulite in ways that creams simply cannot. By lifting the skin's connective tissue to help smooth the appearance of dimples, while fighting fluid retention for a sleeker, more defined look, Cheeky Cups make for an easy-to-use beauty cheat.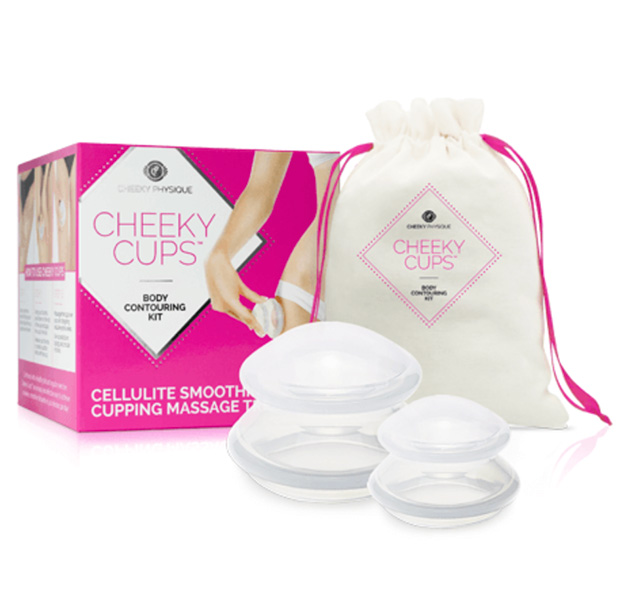 Cheeky Physique's Cheeky Cups Contouring Kit | $32, cheekyphysique.com
includes 2 silicone massage cups
an instruction manual
travel pouch
Categories: beauty
Tags: