If you've been waiting patiently for H&M's announcement for its new designer collaboration, wait no more! H&M taps London-based designer ERDEM to design a brand-new collection for women and, for the first time ever, a collection for men. "For ERDEM x H&M he'll reflect and reinterpret the design themes from some of his most celebrated collections, playing with the prints, textiles and delicate craftsmanship that have made his name." Looks like there's going to be a whole lot of floral prints, can't wait to see!
To bring the collection to life, visionary film maker Baz Luhrmann created a short film to showcase some of the pieces. You can get a sneak peek of what to expect in the teaser video below! The ERDEM x H&M will be available in selected stores as well as on hm.com, November 2, 2017. Who's excited?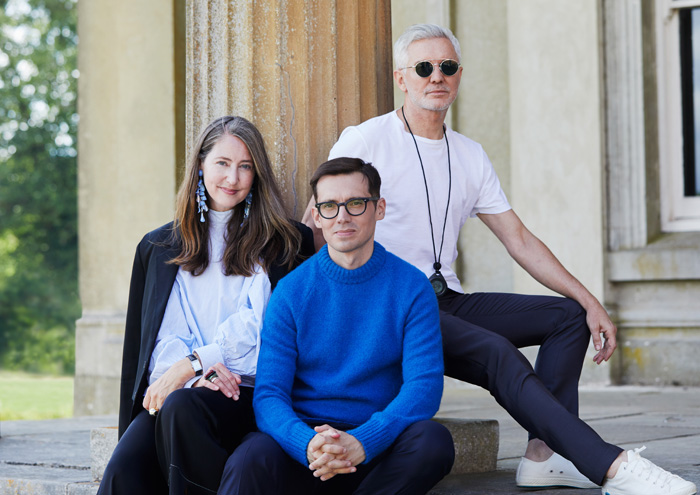 H&M's Ann-Sofie Johansson, Erdem Moralioglu, and Baz Luhrmann
"I am so happy to collaborate with H&M, and to explore my work on a whole new scale including a menswear collection which I have never done before. It's also such a thrill to work with Baz Luhrmann, one of the most important storytellers of our time," says Erdem.
"For me fashion is always about more than just clothing, it is a form of expression – a stand alone art form. I am excited to be collaborating with ERDEM and H&M to reveal the story of this unique collection," says Baz Luhrmann.
"From the moment we started talking with Erdem about the collaboration, I was captured by his vision. For ERDEM x H&M he has created an enchanting world full of beauty, delicacy and rich details. These are special pieces you will want to wear forever," says Ann-Sofie Johansson, H&M's Creative Advisor.
Save
Save
Tags: erdemERDEM x H&MH&M