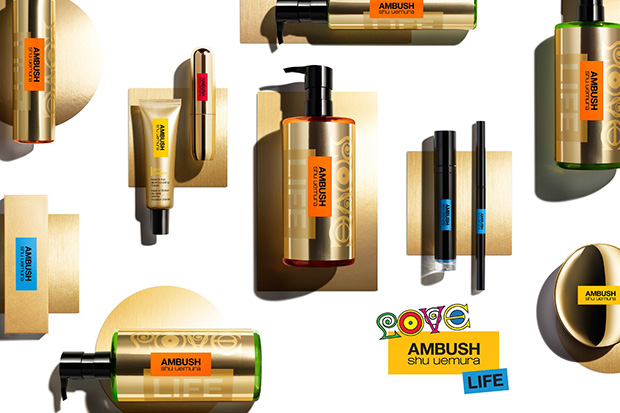 Whether you're getting ready for Memorial Day weekend fun or need some new skincare and/or makeup products to try or need of ideas on how to store your products- here are some options for you! I'm a beauty junkie and love trying new products and seeing what works for me or not. I have an insane amount of products so displaying it properly is important as well. There are so many beauty products that launch everyday but I'm here to spotlight some of the newest products that I am looking forward to trying and think you may like too! See below for more products!
Shu Uemura x AMBUSH Collection
Shu Uemura's latest collaboration — a collection of products designed in association with Tokyo cult jewelry design sensation AMBUSH (on the short list for this year's LVMH prize). The collection perfectly addresses the current metallic/monochrome trend and includes a plethora of new skus/shades from Shu Uemura, as well as limited edition packaging on hero items like the Anti/Oxo+ and Ultim8 Cleansing Oils. All of the products (and the pack design) are meant to reflect the texture and colors found in AMBUSH's jewelry collections, with an emphasis on metallic sheen. The collection will be available on shuuemura-usa.com through July 2017.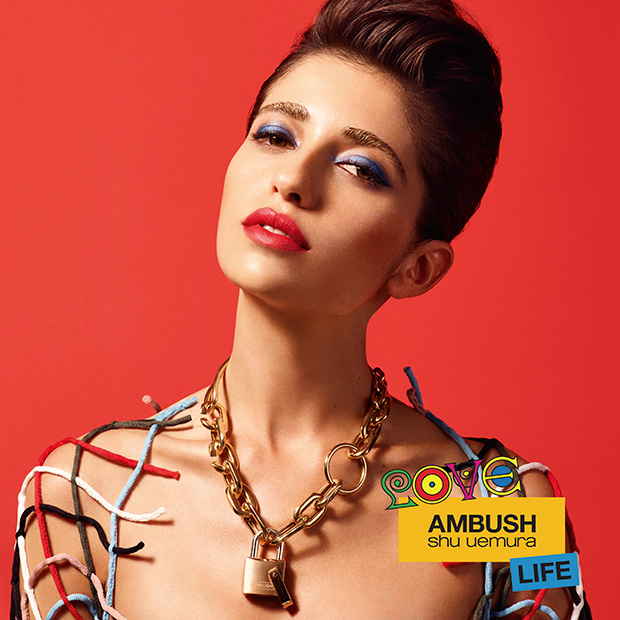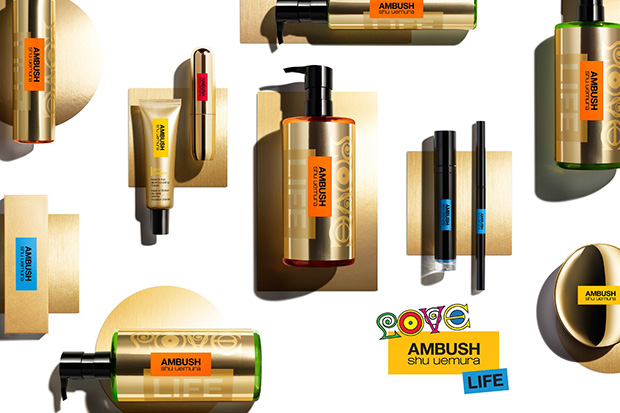 shu uemura art of beauty x Ambush eye foil ($32)
amb squad (customizable palette featuring the below)

shu uemura art of beauty x Ambush custom pallet quad in gold ($14)
shu uemura art of beauty x Ambush pressed eye shadow ($16)
shu uemura art of beauty x Ambush glow on blush ($18)
shu uemura art of beauty x Ambush eyebrow manicure ($23)

shu uemura art of beauty x Ambush lasting soft gel pencil ($24)
shu uemura art of beauty x Ambush rouge unlimited ($30)
shu uemura art of beauty x Ambush Anti/Oxi+ cleansing oil ($37, 150ML; $77, 450ML)
shu uemura art of beauty x Ambush ultime8 ? sublime beauty cleansing oil
($42, 150ML; $90, 450ML)
shu uemura art of beauty x Ambush perfecting blotting paper ($20)
—
NARS Liquid Blush Collection
NARS Cosmetics introduces the all new Liquid Blush Collection for Spring 2017. One pump glides on effortlessly delivering the perfect amount of natural-looking color and glow. Ideal for mixing textures, layer over powder blush for high impact color or apply first for a diffused effect. Provides lasting color that's both buildable and blendable with added Monoi and Tamanu oils for moisture. Go with the glow.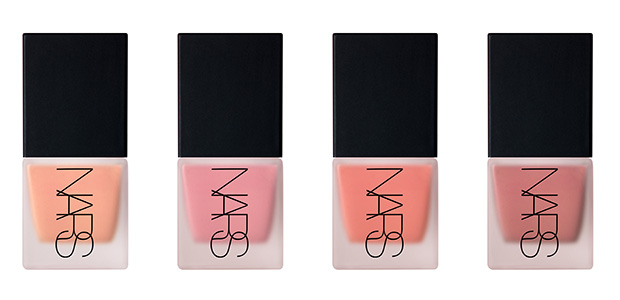 Luster – Sheer golden apricot
Orgasm – Peachy pink with golden shimmer
Torrid – Warm coral with golden shimmer
Dolce Vita – Matte dusty rose
Price: $30, available at NARS boutique, narscosmetics.com, Sephora and Sephora.com
—
TOCCA Voyage Home Fragrance Collection
A tour of the world in five opulent fragrances from Voyage – Tocca's new home fragrance collection. Inspired by five of the most rare and wondrous places around the globe – Bora Bora, Capri, Marrakesh, Montauk, and Valencia – Tocca has created an exclusive small batch of hand-poured candles, sumptuous hand soaps, and superbly crafted lotions. Tocca takes you there.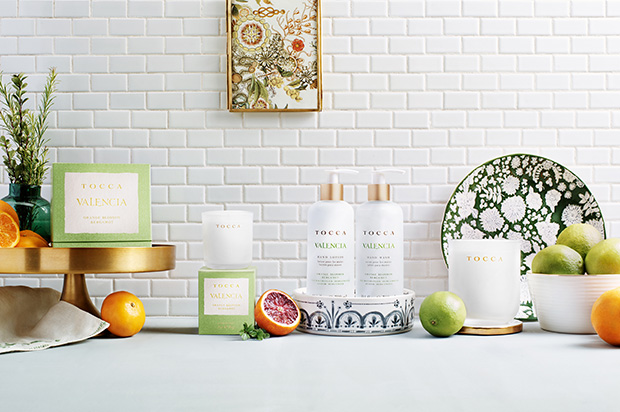 Valencia: A luxurious tribute to passion and pleasure, this fruity and floral fragrance brings Spain's vivacious spirit to life. Notes of jasmine, neroli, cedar wood, and vetiver mix with sweet orange blossom and juicy mandarin, conjuring relaxing sounds of flamenco music along with the feel of the warm Spanish sun.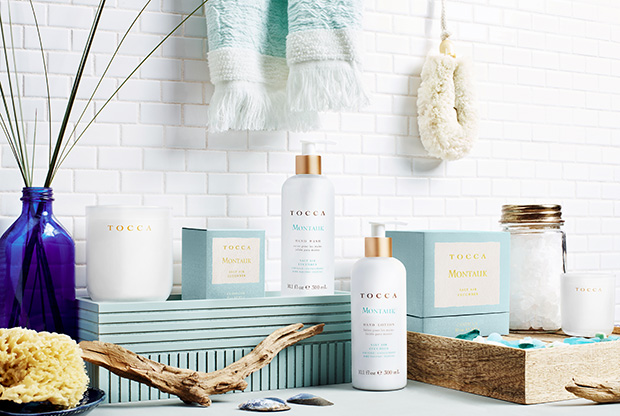 Montauk: Let the fresh, clean scent of salt air, wild mint, and crisp cucumber take you to the furthest reaches of the Hamptons, where the sound meets the sea and dewy greens decorate the dunes.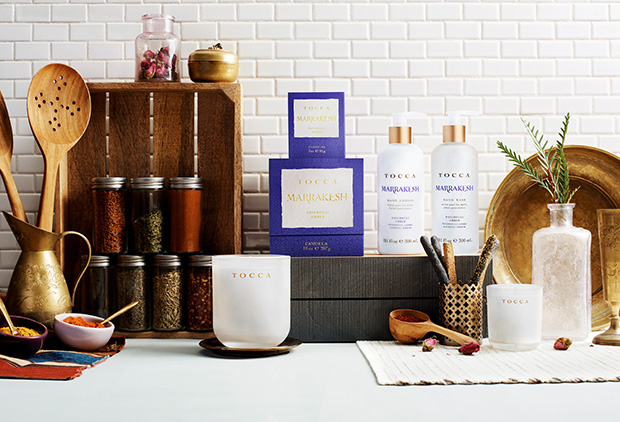 Marrakesh: This opulent, amber-infused scent is royal in feeling and enigmatic in design. Fresh green petitgrain and lush blackcurrant mix with rare pepperwood, warm patchouli, and Moroccan leather – evoking the city's imperial palaces and brightly colored bazaars.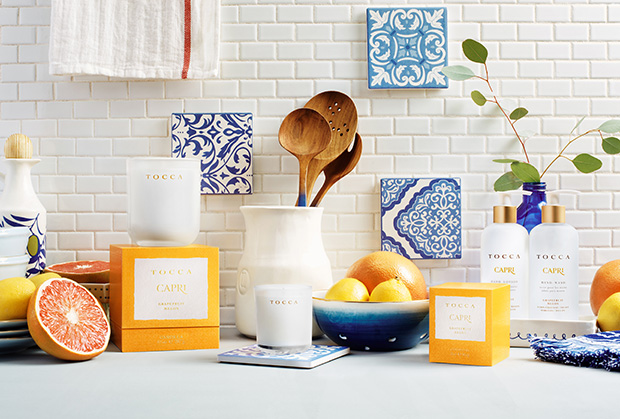 Capri: Crisp Mediterranean grapefruit, melon, and lemon – warmed by cypress wood, rare Italian amber, and a voluptuous trio of peach, bougainvillea, and jasmine – recall the magic and mystery of Capri's secluded coves and legendary Blue Grotto.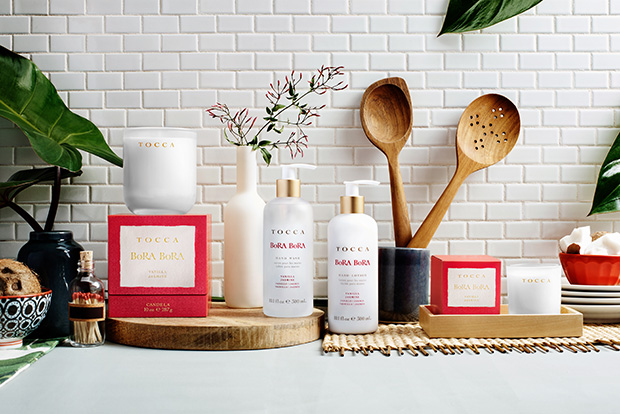 Bora Bora: Notes of jasmine, peony, floral bergamot, and white tea flower mix with velvety vanilla and soft island sandalwood to conjure memories of white sand beaches and lush, swaying palms.
Each fragrance includes a 10 oz. candle ($42), a 3 oz. candle ($20), a hand soap ($20) and a hand lotion ($22). Available at bluemercury.com.
—
ELEMIS 24/7 Super Skin Collection
The new skincare collection features the new Peptide Night Recovery Cream-Oil, a breakthrough new product that contains an ingredient never before used in skincare, plus, 99% of women agreed it made them look 5 years younger in just 28 days. This exclusive 3-piece collection includes the new Peptide Night Recovery Cream Oil accompanied by two Pro-Collagen heroes to give you around-the-clock-hydration and nourishment for extraordinary healthy-looking skin. Available for $99 at qvc.com.
Cleanse: Pro-Collagen Cleansing Balm
Day: Pro-Collagen Marine Cream (one is sold every 9 seconds in the world!)
Night: Peptide Night Recovery Cream-Oil (NEW!)
—
IT Cosmetics Memorial Day Essentials
It's no surprise I'm a big fan of IT Cosmetics so these convenient grab and go sizes of their bestsellers is major! Maximize the most beautiful you while minimizing space needed in your travel bag. From the pool to the beach and everywhere in between, IT has you covered!

Your Skin But Better™ CC+™ Cream with SPF 50+ Travel Size – $15
IT's Your Best-Selling, Award-Winning Beauty Miracle! Your favorite Your Skin But Better™ CC+™ Cream is now available in travel size to perfect and protect your skin on the go! Clinically shown to hydrate skin, smooth texture, and enhance skin brightness while camouflaging skin imperfections.
Bye Bye Under Eye™ Anti-Aging Concealer Travel Size – $10
Our best-selling waterproof concealer effectively conceals skin imperfections while improving the appearance of wrinkles with the help of skin-loving ingredients- hydrolyzed collagen, hyaluronic acid, vitamins and high performance pigment.
Brow Power™ Universal Eyebrow Pencil Mini – $12
The revolutionary, budge-proof formula adheres to skin for long-lasting results, while the universal transforming shade adjusts to all hair colors based on pressure applied. IT's the only eyebrow pencil you'll need to pack!
No-Tug™ Waterproof Anti-Aging Gel Eyeliner – $22
This creamy eyeliner pencil is formulated with anti-aging peptides, hydrolyzed collagen, silk, antioxidants and Vitamins A and E to diffuse the look of lines while nourishing the eyelids. Clinically shown to be waterproof even after 12 hours of wear, so it will stay on after a dip in the pool or the ocean!
Confidence in a Cream™ Travel Size – $16
Transforms your skin to reveal a healthier, younger-looking appearance while immersing your skin in moisture. The Anti-Aging Armour Rejuvenating Concentrate™ combines collagen hyaluronic acid to plump fine lines and wrinkles. A super ceramide complex smooths texture, enhances firmness, and reduces the look of pores and discoloration.
Heavenly Luxe™ Flat Top Buffing Foundation Brush #6 – $48
This densely packed flat-top brush applies all loose and pressed powders. Builds a beautiful coverage while blurring away any imperfections. The only tool you need this summer to obtain an airbrushed finish!
IT's Your Brush Love Mini – $12
Treats your brushes with love, at home or on the go! The fast-drying and easy to use one-step solution instantly cleanses and conditions your brushes to make them last longer and apply makeup more flawlessly.
Superhero™ Mascara – $24
This mascara is formulated with proprietary Elastic Stretch Technology that stretches the look of your lashes to appear wider and longer! It coats each lash in a volume-boosting, lengthening and ultra-conditioning super black pigment for your strongest, longest, and thickest lashes all weekend long!
Je Ne Sais Quoi™ Lip Treatment in Rose – $24
Clinically shown to awaken your lips with intense hydration for your perfect flush of pink! This lip-reviving treatment contains essential butters and oils, hyaluronic filling spheres and antioxidants to lock in moisture for your softest, most supple lips.
These IT travel essentials are currently available to purchase at itcosmetics.com and ulta.com.
—
FARSALI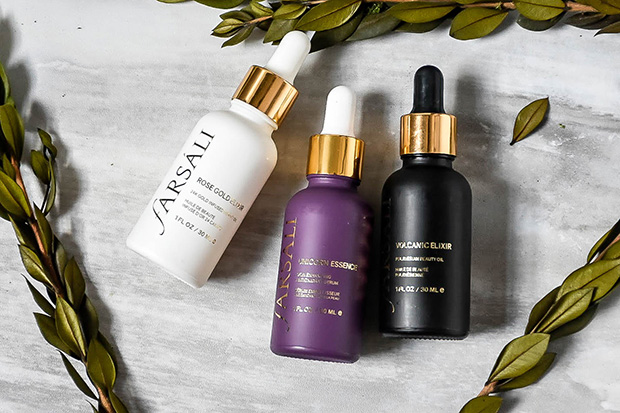 ROSE GOLD ELIXIR 30ML – $54, available farsali.com
Shake well before use. Apply to face and neck, morning and night for best results. Keep out of eyes. For external use only.
Use as a daily moisturizer to keep skin healthy and hydrated for a naturally radiant glow. The base of the elixir is Rosehip Seed Oil, which has been found to regenerate tissue, and reduce the appearance of fine lines, hyperpigmentation and stretch marks.
Use to hydrate lips before applying lipstick. Keeps lips hydrated, especially when using liquid/matte lipsticks, without affected the finish. Make sure to let the drops absorb into the lips before applying.
Mix with foundation! Use 1-3 drops to mix with your favorite foundation (we recommend matte, full coverage foundation) to keep skin hydrated and glowing. *TIP: Many apply directly to their beauty blender/foundation brush before blending in liquid/cream foundation.
Revive dried out cream products, like concealer, highlighter or brow pomade. Add 1-3 drops to bring your favorite dried out products back to life.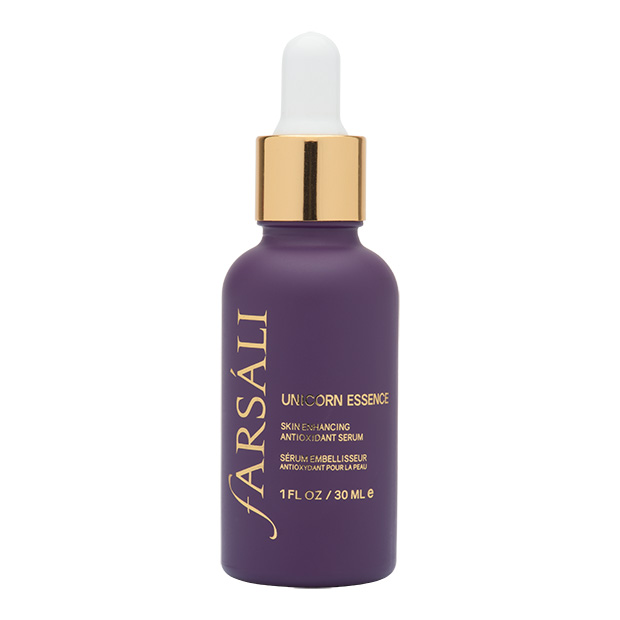 UNICORN ESSENCE 30ML – $54, available farsali.com
Apply to clean face before moisturizer. Can be used as a primer before makeup application. Keep out of eyes.
Contains four superfruit extracts, rich in antioxidants: acai berry, goji berry, elderberry and blueberry. These are known for their anti-aging and free radical fighting properties. Acai berries and blueberries are also packed with vitamin C, vital for overall skin health and tone.
Use as a daily serum! This oil free solution protects skin from free radical damage while preparing it for layering moisturizer and/or makeup application.
When used as skincare, apply to clean face before applying your day (Rose Gold Elixir) or nighttime (Volcanic Elixir) moisturizer.
Use as a makeup primer before applying foundation/makeup. Start by applying 2-3 drops to your face (we encourage this in teardrop format as seen here?) and pat in. This formula gives a smooth application while making your foundation last. Don't forget to apply in your under-eye area! This prevents concealer from creasing.
Use as an eyeshadow primer by applying a small amount to your lid. This will prevent shadow from creasing, make it last all day, and enhance the pigment in the shadow, making them appear more vibrant.
To make your highlight pop, apply to the top of your cheekbones and let it dry slightly. Then, layer highlight on top for an out-of-this-world glow.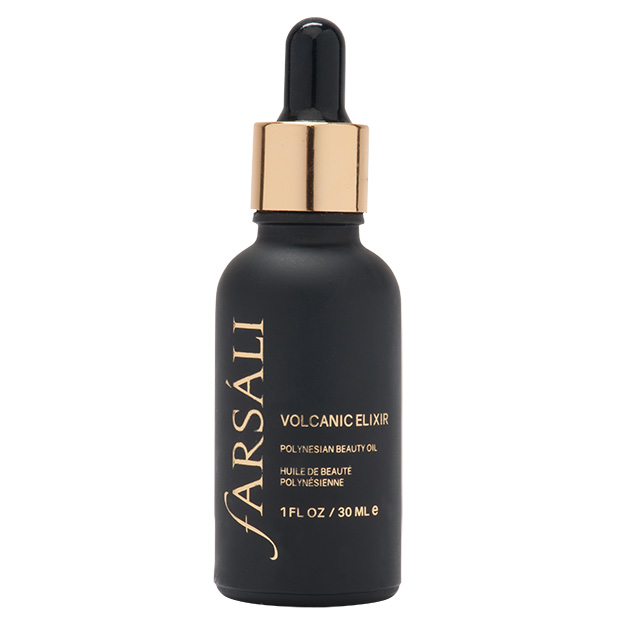 VOLCANIC ELIXIR 30ML – $37, available farsali.com
Ideal for all skin types. Great for acne-prone skin. Ideal for nighttime use.
Shake well before use. Apply to face and neck before going to bed for best results Keep out of eyes.
This precious oil is extracted from the nut kernels of the Tamanu fruit which flourishes in the south pacific islands of Polynesia, due to the volcanic atmosphere.
Volcanic Elixir can condition broken skin, repair sun and acne damaged skin and help regenerate skin tissue.
This elixir contains anti-inflammatory, antimicrobial, antibiotic and antioxidant properties.
Contains calophylloide, a lipid which is not found in any other oil, and is anti-inflammatory.
—
Too Cool For School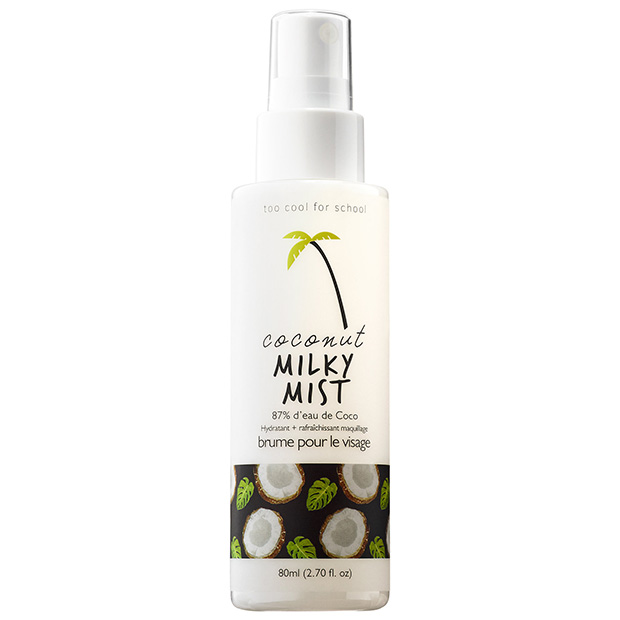 Coconut Milky Mist – $14, available at sephora.com
A hydrating facial mist made with 87 percent coconut water for dewy skin throughout the day.
Dinoplatz Dear Brachiosaurus Blotting Paper – $8, available at sephora.com
A pack of 50 oil-blotting papers with mulberry, charcoal, and green tea for matte and fresh looking skin.
The original Mulberry blotting paper is made from 100 percent Korean mulberry paper, a traditional handmade paper known as Hanji. It instantly removes oil and sebum without disturbing makeup.
The Charcoal blotting paper is made from Chinese yam paper, which is infused with detoxifying charcoal to tighten the look of pores.
The Green Tea blotting paper is made from Chinese yam paper that's enriched with soothing green tea leaves.
—
Boxy Girl Customizable Lucite Organizer
I love displaying my beauty products, especially if the packaging is nice, on my vanity but never can find the right organizer. The Boxy Girl line launched with one product, the original four-stack tray organizer, and now has expanded a series of 'BYOV' (Build your Own Vanity) stacks custom-designed to fit on top of the original Boxy Girl organizer. This is definitely an elegant way to display your beauty products and also organizes it.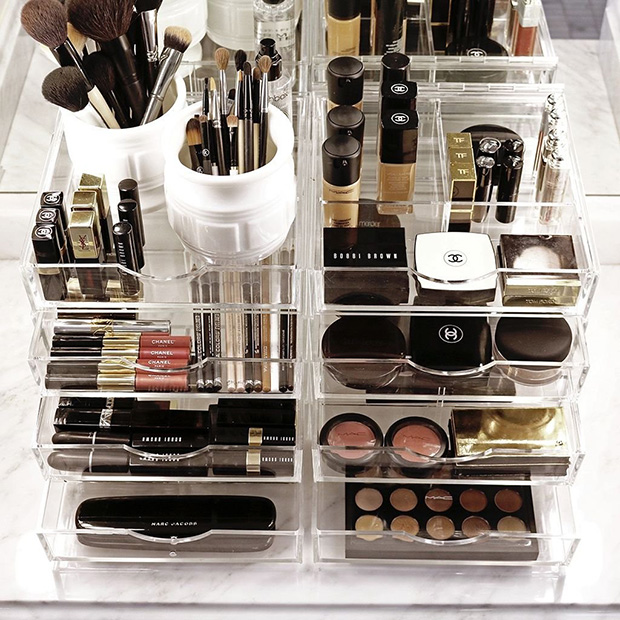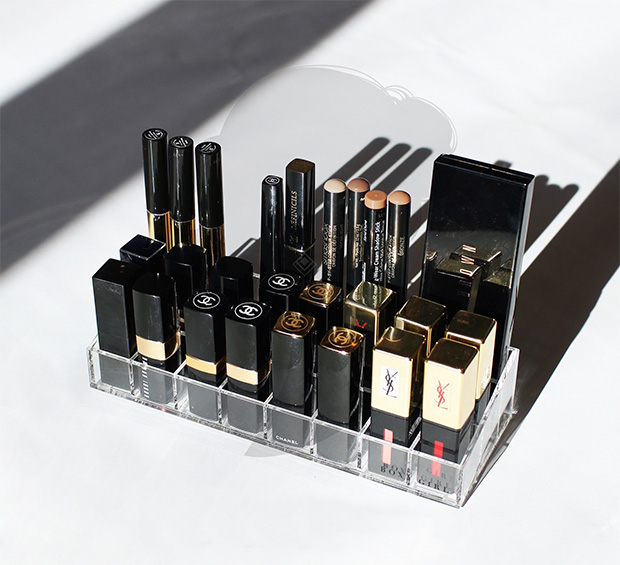 —
Murad InstaMatte Oil-Control Mask
This deep-cleansing, 3-minute mask is formulated to help immediately dissolve excess oil that can lead to breakouts. It helps treat and prevent breakouts while minimizing the appearance of pores. The result is a healthier-looking, matte complexion. It can also be used as a cleanser for daily oil-control.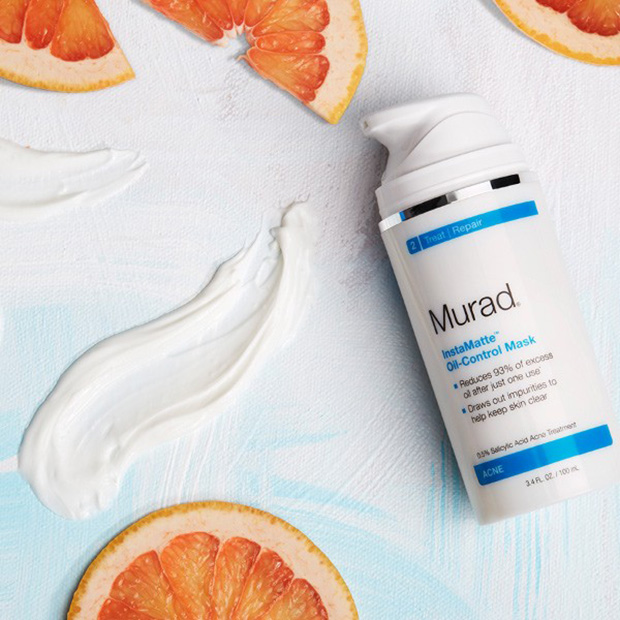 Murad InstaMatte Oil-Control Mask – $38, available at murad.com
—
Murad Rapid Relief Acne Spot Treatment
A fast-acting, invisible gel that reduces blemish size and redness in just four hours, Rapid Relief Acne Spot Treatment features maximum strength Salicylic Acid to clear pores, smooth skin and treat acne at the source by killing bacteria. Rapid Relief Acne Spot Treatment is formulated with a patented complex that features thyme and pine extracts to fight irritants while preserving skin's natural balance. Horse chestnut and oat extracts help to reduce redness and soothe the skin, for an even and clearer complexion.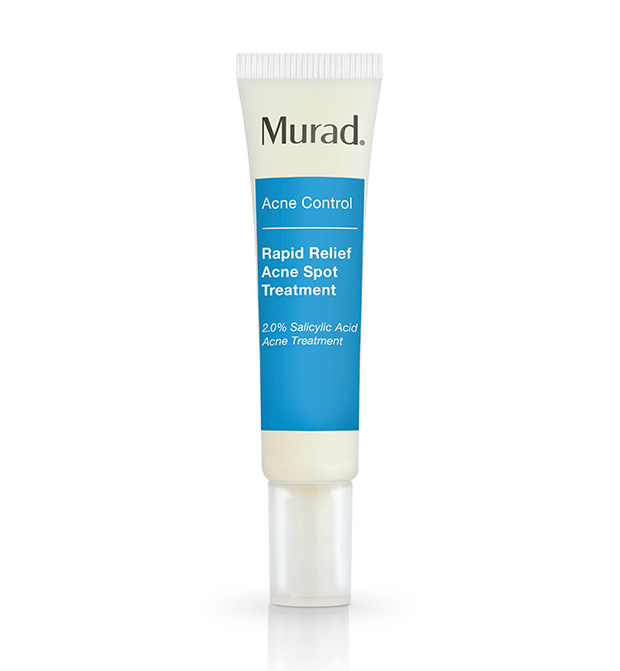 Murad Rapid Relief Acne Spot Treatment – $22, available at murad.com (June 2017)
—
No7 Stay Perfect Mascara
This mascara features unique tubular technology and a flexible-hold formula, creating long-lasting lash perfection for up to 24 hours. I'm always up for trying new mascara, it's one thing I need to apply daily!
No7 Stay Perfect Mascara – $9.99, available at ulta.com
—
No7 Beautiful Skin Micellar Cleansing Waters
This 3-in-1 cleansing solution that promotes fresh, clean and healthy skin. No matter if you have oily or dry skin, the new No7 Beautiful Skin Micellar Cleansing Waters contain micelles that will gently remove all makeup from the face, lips, and eyes (even the toughest waterproof mascara) and impurities from your skin. No need for separate toners or washes, no need to rinse.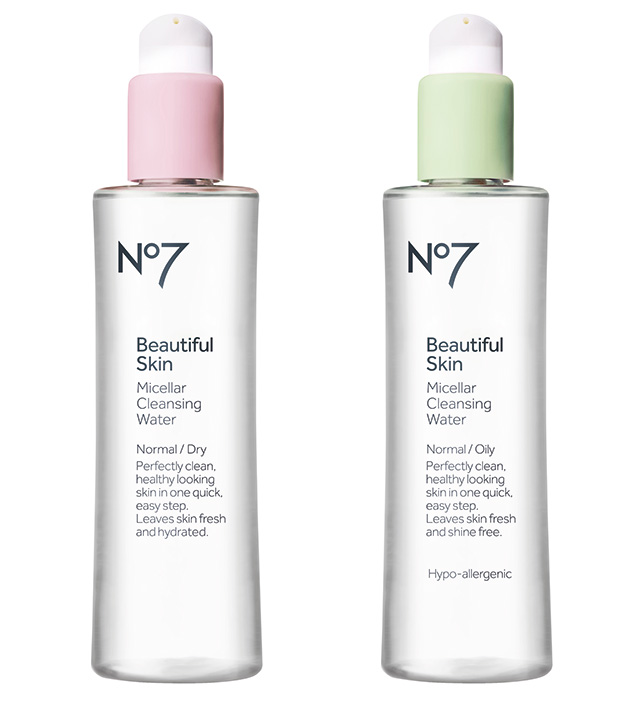 No7 Beautiful Skin Micellar Cleansing Water
—
Botanics Hydration Burst Collection
The brand just launched the Hydration Burst collection, which is formulated with Clary Sage known to boost skins clarity, calms sensitivity and locks in moisture to hydrate the skin for up to 24 hours. The collection includes a cleanser, day cream, micellar water and serum to cover all skincare needs!
Botanics Hydration Burst Micellar Cleanser: a gentle, no-rinse cleanser that removes traces of makeup, leaving skin feeling soft, plumped and hydrated rather than dry or tight. The alcohol-free formula is rich in clary sage extract, a plant which has the ability to store water in dry conditions, and comes from the Roman word "sclarea" meaning "clear". $8.99, available for purchase at ulta.com
Botanics Hydration Burst Dual Action Cleanser: This clever formula, rich in hydrating Clary Sage extract, transforms from a gel into a skin-comforting milk on contact with water, cleansing and soothing skin without leaving it feeling dry or tight. $8.99, available at target.com, ulta.com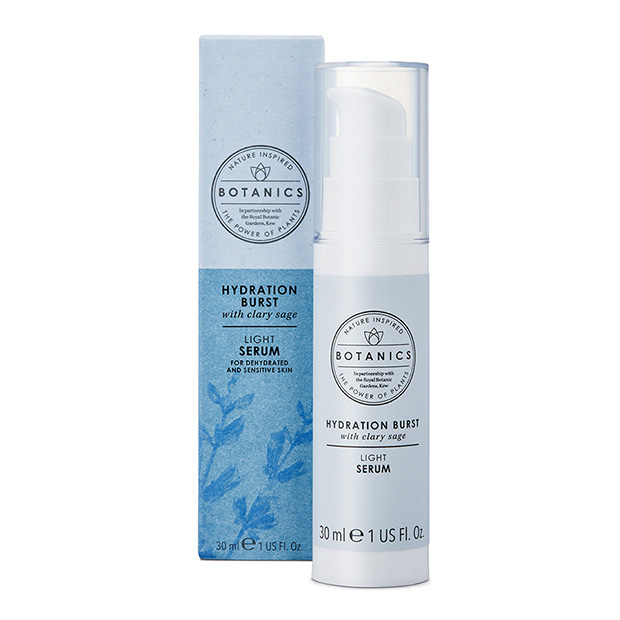 Botanics Hydration Burst Light Serum: Ideal for dehydrated skin, this non-greasy formula is infused with Clary Sage extract, with a blend of antioxidants. This serum helps to restore skin's natural barrier function, calm sensitivity and lock in moisture, to hydrate the skin for up to 24 hours. $15.99, available at target.com, ulta.com
Botanics Hydration Burst Hydrating Day Cream: This lightweight formula, with hydrating Clary Sage extract, boosts moisture and soothes sensitive skin. Dehydrated and thirsty skin is quenched, leaving it looking luminous, refreshed and softer. $15.99, available at target.com, ulta.com
—
Jurlique LIMITED EDITION Rosewater Balancing Mist Intense Deluxe Edition
This 2017 limited edition is inspired by nature inside and out as we partner with acclaimed Australian painter Belynda Henry, to celebrate our most iconic rosewater balancing mist. Their exclusive blends of pure Rose extracts hydrate, restores, and refresh your skin as you enliven your senses. The limited edition is different from our regular mist, it contains five potent Rose varietals to make it more hydrating and deeply conditioning as it balances, soothes, softens and brightens the skin.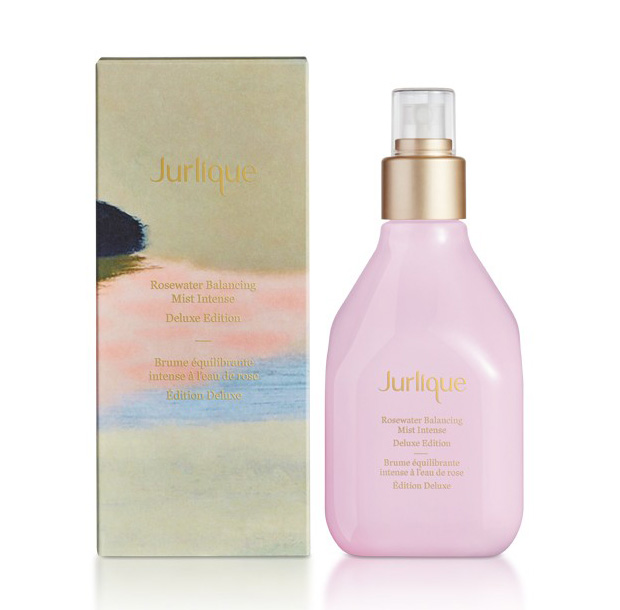 Jurlique Rosewater Balancing Mist Intense Deluxe Edition – $65, available at Jurlique.com
—
Shu Uemura Art of Hair debuts its latest innovation: Blow Dry Beautifiers — two new multi-benefit primers designed to help women "dare to go nude" with the ultimate at-home blow dry. Born from the popularity of cosmetic BB creams and the "nude effect" trend sweeping the globe, these blow-dry balms bring natural, flawless and effortless looking radiance to the hair category.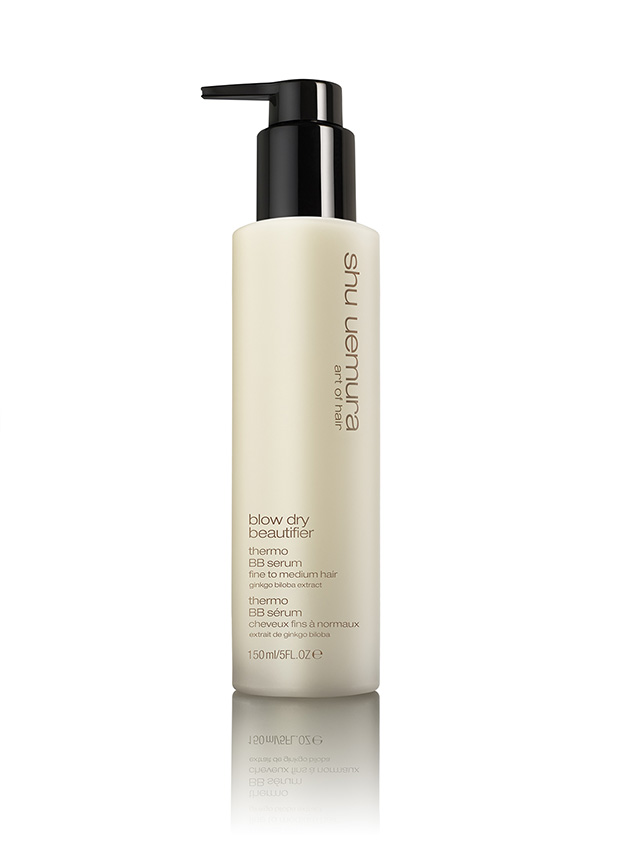 Blow Dry Beautifier thermo BB serum – $39, available at shuuemuraartofhair-usa.com
Ideal for fine to medium hair
Airy, aqueous particles penetrate instantly and invisibly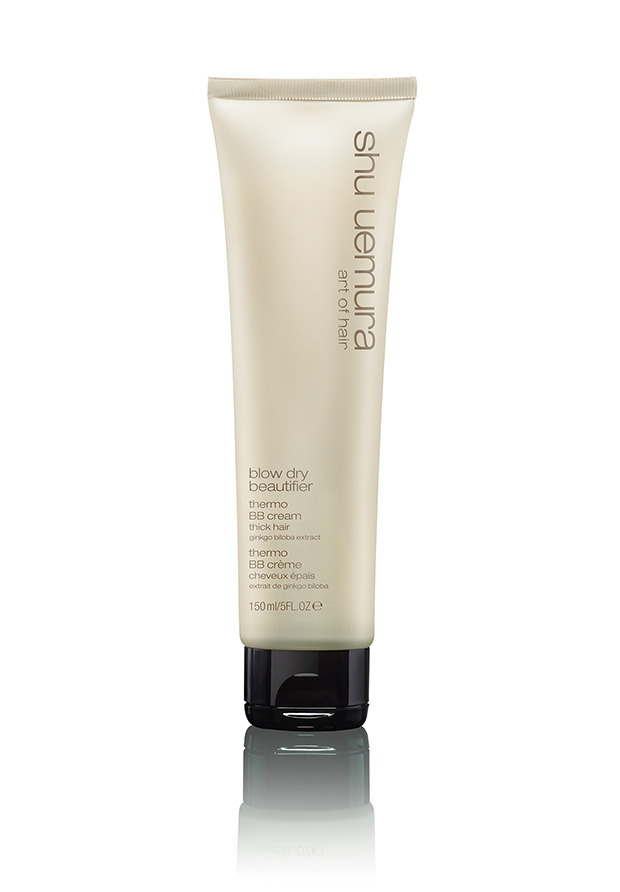 Blow Dry Beautifier thermo BB cream – $39, available at shuuemuraartofhair-usa.com
Ideal for thick hair
Creamy, unctuous formula that melts into damp hair
—
Flirt Cosmetics Molten Chic Eyeshadow Duos
Flirt Cosmetics introduces Molten Chic – four eyeshadow duos that pair complementary shades that each have a stunning metallic finish. They pair only the best of the best shades for endless possibilities, from bold and vibrant to subtle and shimmering.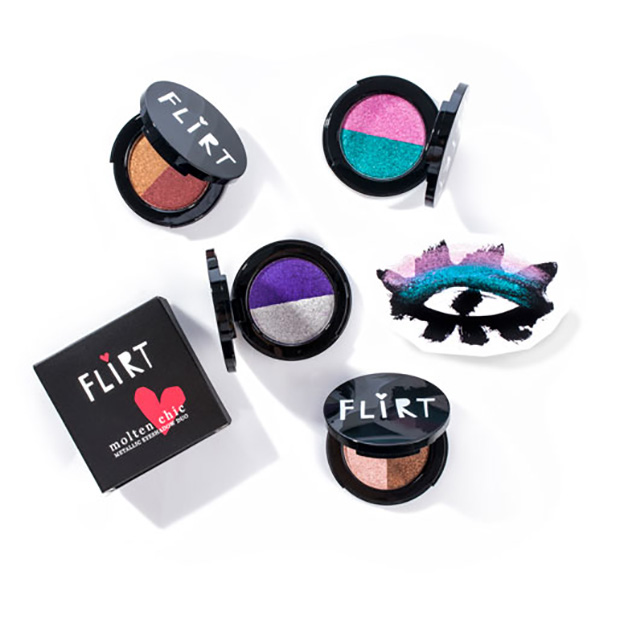 4 Compact Duos – $15, available in 4 Compact Duos at flirtcosmetics.com
This Ore That
This: Blaze of Copper/ That: Robust Rust
Truth Ore Dare
Truth: Golden Blush / Dare: Bold Bronze
Werk Ore Twerk
Werk: A Petal with Metal / Twerk: Steel Teal
Ride Ore Die
Ride: Silver Foil / Die: Ultra-Violet Pop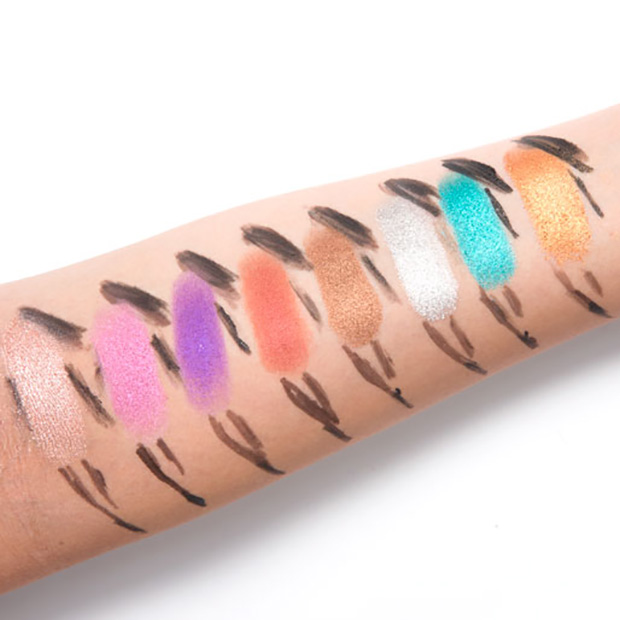 —
Save
Save
Save
Save
Save
Save
Save
Save
Save
Save
Save
Save
Save
Save
Save
Save
Save
Save
Categories: beauty