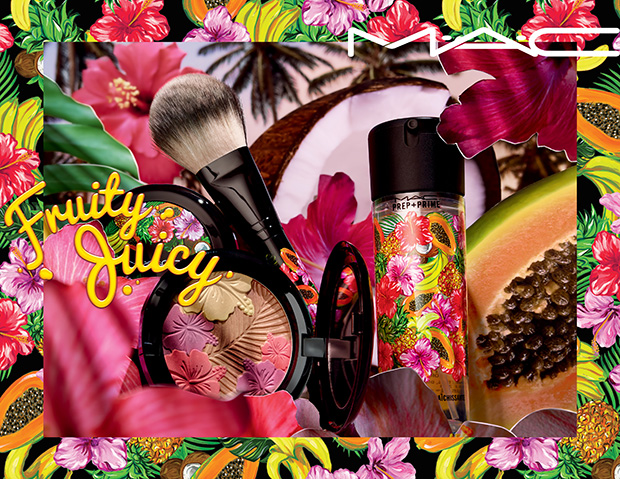 Summer is here and it's time to change up the makeup routine! MAC Cosmetics is launching a range of limited edition collections along with some permanent products as well to ease you into that summer glow! Excited to try all these new collections, see below for each launch.
MAC Fruity Juicy Collection
Sail away on a sweet scent-sation of frootilicious tropical colour. Go bananas for MAC Fruity Juicy, in vibrant lipsticks, or zest up your life with Cremesheen Glass and three new Eye Shadow x 6 Palettes. Sundream the days away with Bronzing Powders or Pearlmatte face Powder. Then chase those last rays with Lustre Drops while the evocative coconut scent of Prep + Prime Fix+ sets the mood for whatever the evening heat may bring. Available in-store and online May 18 through June 29, 2017.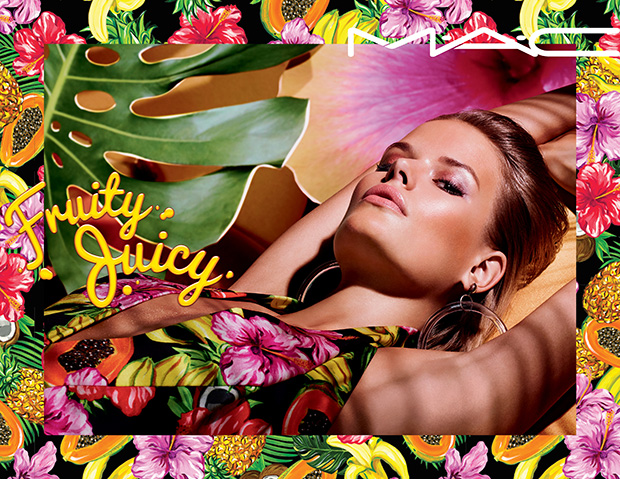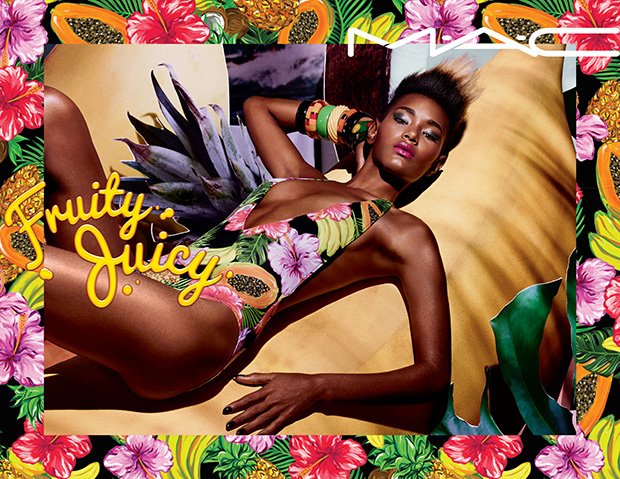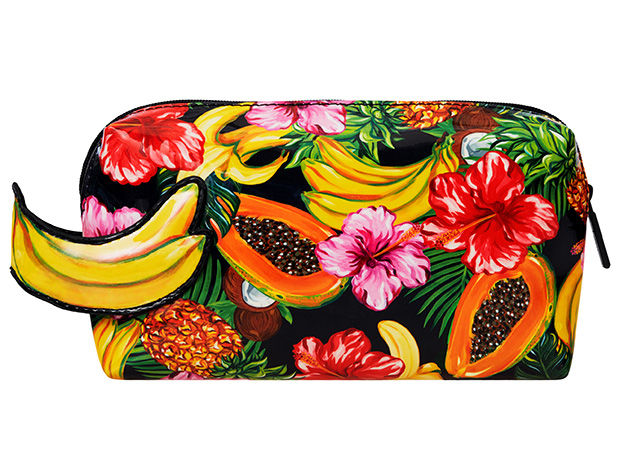 Makeup Bag $35.00 US/$42.00 CAD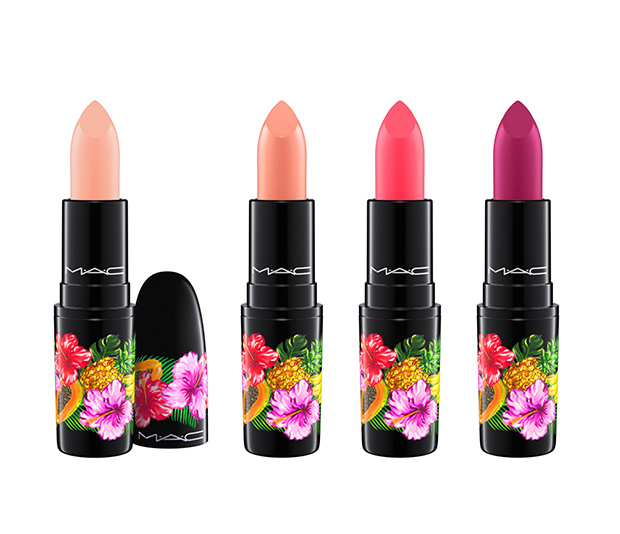 Lipstick $17.00 US/$21.00 CAD
Calm Heat mid-tone nude (matte)
Shy Girl creamy neutral coral beige (cremesheen)
Love At First Bite bright fuchsia (amplified)
Sí, Sí, Me! deep violet (satin)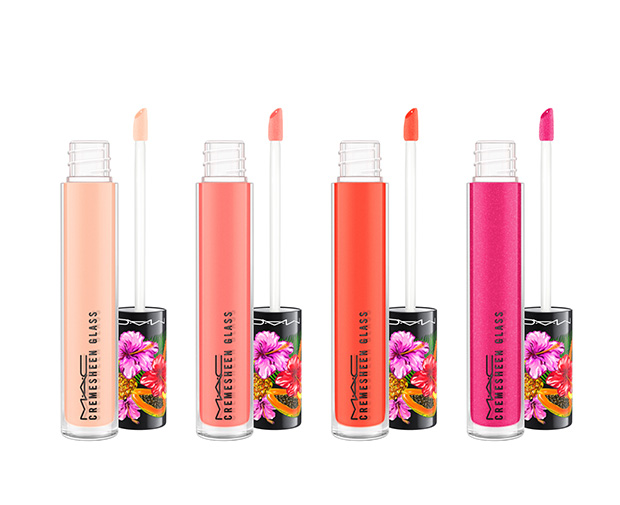 Cremecheen Glass $21.00 US/$24.0O CAD
Cha-Cha-Cha warm peachy pink
Shake, Shake, Shake! bright apricot orange
La Salsa soft purple
Summer Succulence cool beige
Pearlmatte Face Powder $33.00 US/$38.00 CAD
Oh My, Passion! shimmery tan / light soft yellow / bluish pink / bright coral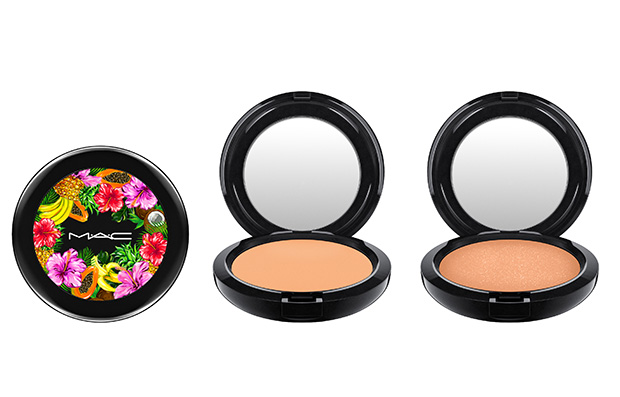 Bronzing Powder $27.00 US/$32.00
Refined Golden finely spun golden with soft pearl
Baiana Bronze medium-deep toned neutral matte bronze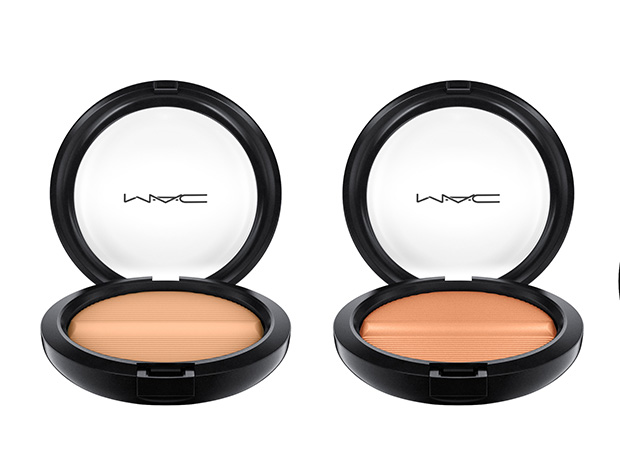 M·A·C Studio Sculpt Bronzing Powder $33.00 US/$38.00 CAD
Delicates neutral deep bronze with fine gold shimmer
Delphic coppery bronze with gold sparkles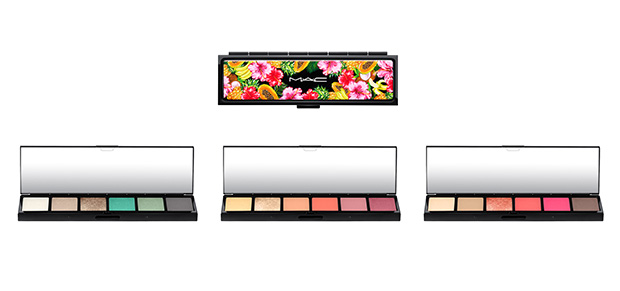 Fruit a la la/Eye Shadow x 6 $32.00 US/$42.00 CAD
Glamour Light warm beige (satin)
Soleil, So Lovely dirty grey nude (matte)
¡Arriba! frosty rose (frost)
Carnal Charm bright burnt orange red (matte)
Fuchsia Fury bright blue pink (satin)
Cocktail Black deep brown grey with pearl (satin)
Love in the Glades/Eye Shadow x 6 $32.00 US/$42.00 CAD
Greystroke tinted white grey (satin)
Cumulus mid-tone frosty grey (frost)
Bye Bye Bahamas soft chocolate with pearl (frost)
Palm Leaves soft grey green (satin)
Neoprene Green bright frosty emerald (veluxe pearl)
Russian Blue dark blackened blue grey (matte)
Oh My Banana/Eye Shadow x 6 $32.00 US/$42.00 CAD
Retrospeck beached blonde (lustre)
Big Kahuna true gold (frost)
Soft Brown soft golden peachy-brown (matte)
Electric Mandarin champagne orange (satin)
All's Rosy deep pink rose (matte)
Land of Delights mid-tone cranberry (satin)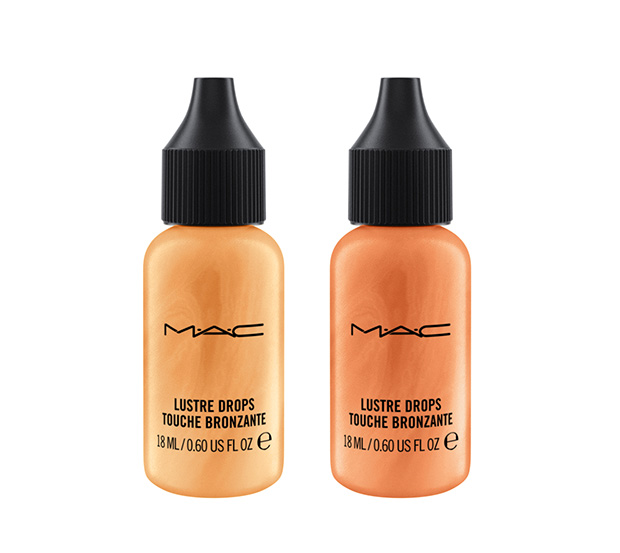 Lustre Drops $21.00 US/$25.00 CAD
Bronze Hero rich deep bronze
Sun Rush peachy bronze with gold pearl
Prep+Prime Fix+ $23.00 US/$27.00 CAD
Brush
125 Split Fibre Dense Face $35.00 US/$42.00 CAD
126 Split Fibre Large Face $42.00 US/$51.00 CAD
—
MAC Splash and Last Collection
Our breakthrough bestseller Pro Longwear Nourishing Waterproof Foundation features an enhanced waterproof formula that wears for an unprecedented 24 hours. For a sweat and humidity-resistant velvety matte finish, try M?A?C Pro Longwear Powder/Pressed, which promises zero shine for up to 12 hours in any climate. Available online and in-store in the permanent line.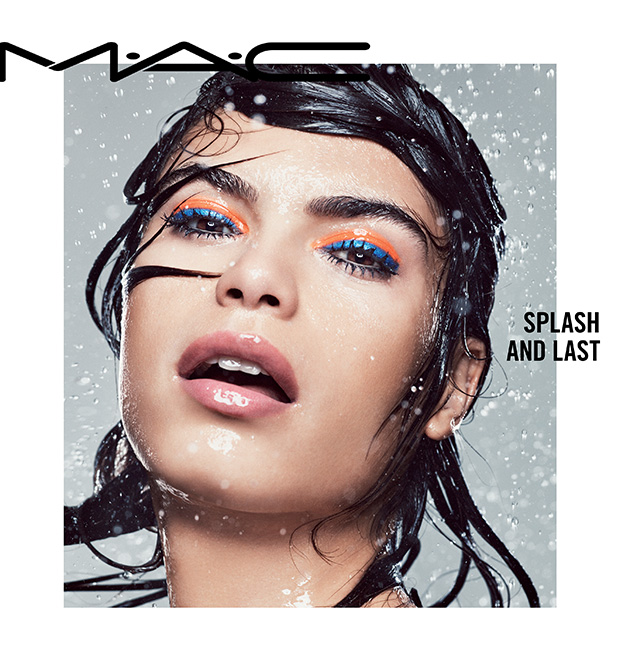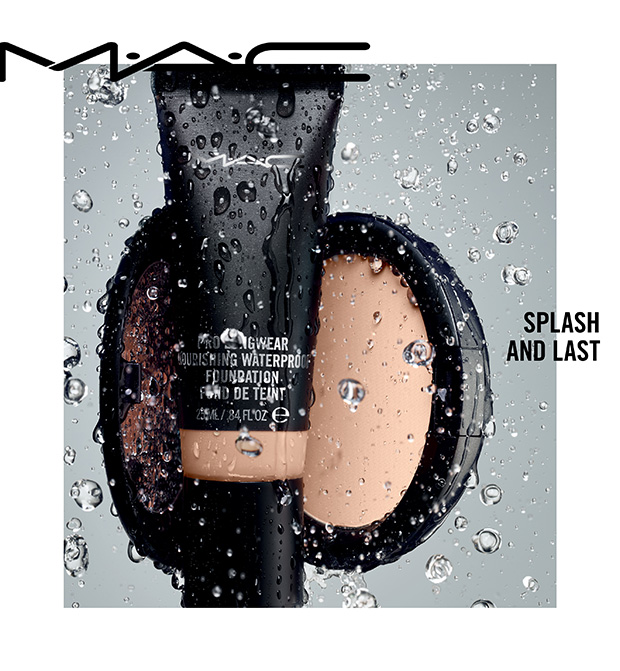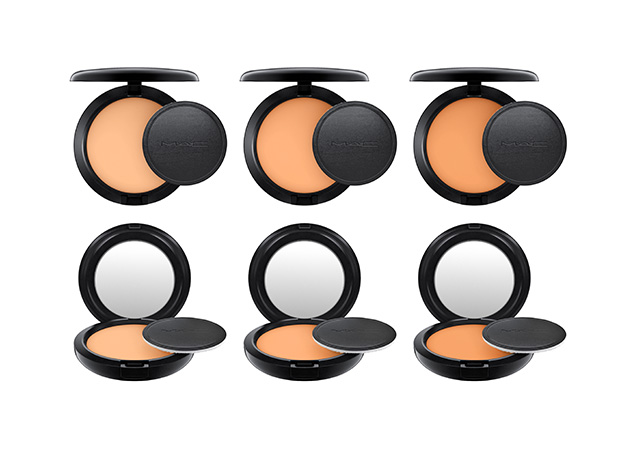 PRO LONGWEAR POWDER/PRESSED $27.00 US/$32.00 CAD
Medium Golden / Dark Golden / Dark Tan
PRO LONGWEAR NOURISHING WATERPROOF FOUNDATION $34.00 US/$40.00 CAD
N18 / NC37 / NC40 / NC44 / NC47 / NW13 / NW18 / NW22
BRUSH
193 Angled Foundation $35.00 US/$42.00 CAD
135 Large Flat Powder $42.00 US/$51.00 CAD
—
MAC Bold & Bad Lash Collection
Brazen. Bold. Bad, bad bad. Give all your lashes the attention they deserve with M?A?C Bold & Bad Lash. This radically subversive mascara is the ultimate rebel's tool. To create a 360-degree lash look from top to bottom. The dual-chamber package contains a brush for upper lashes, a brush for lower lashes and different formulas in each. The larger brush delivers instant volume to the top, while the smaller brush creates direct definition to the bottom. Start a lash revolution! Available in-store and online June 8, 2017 in the permanent line.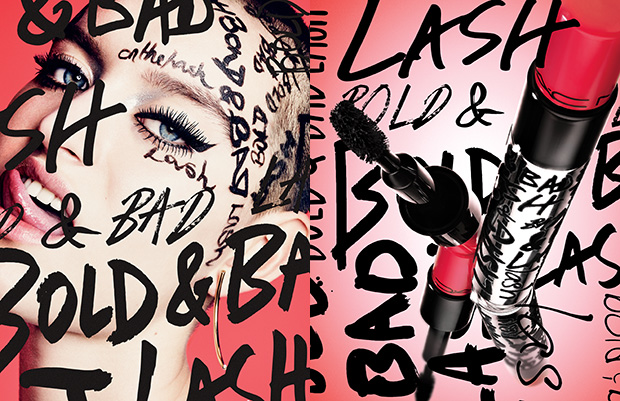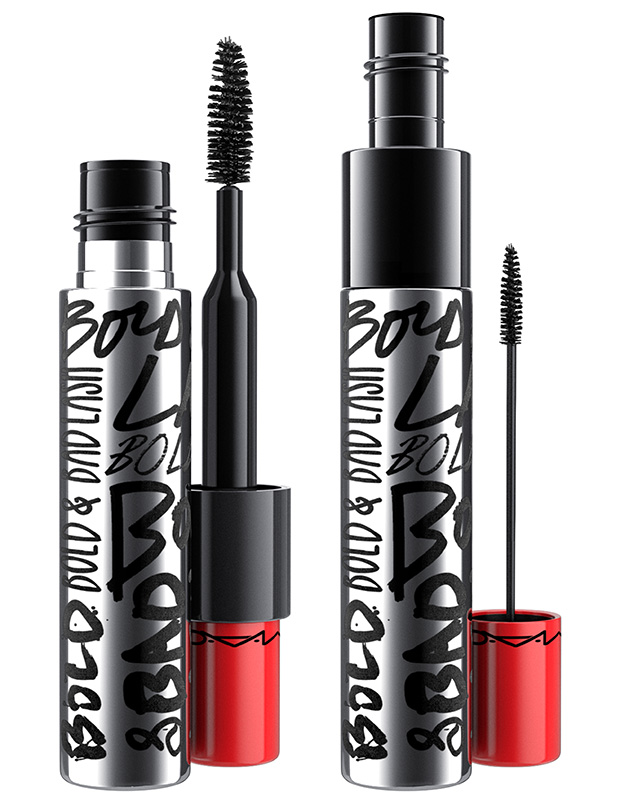 MAC BOLD & BAD LASH $23.00 US/$28.00 CAD
—
MAC x Steve J. & Yoni P. Collection
Game-changing Korean design duo Steve J. and Yoni P. strike a spunky balance between flirty frills and sporty thrills. Now, the couple introduces a M?A?C Cosmetics collection as cheeky and progressive as their fashion! Ecstatic pinks, smoky, warm neutrals and playful graphic packaging tap into the heart and soul of Seoul street style. Available in-store and online June 1 through July 13, 2017. (Stay tuned for the full collection images.)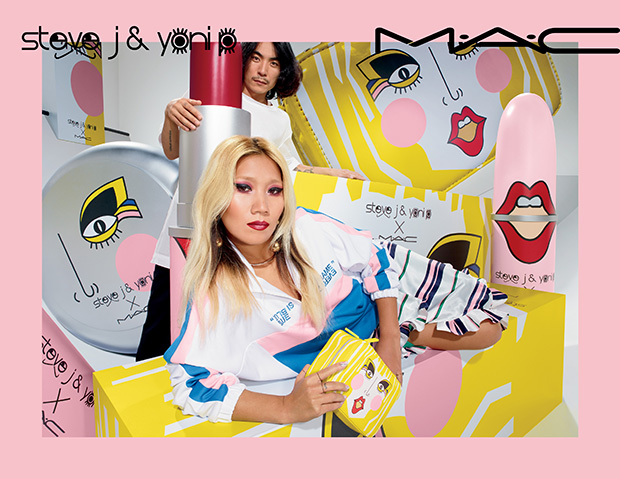 LIPSTICK $17.00 US/$21.00 CAD
Spotlight Me light peachy nude (amplified)
Yoni Crush bold orange-red (amplified)
Candy Yum-Yum neon pink (matte)
A Killing Smile bright pinkish red (matte)
ZOOM LASH $18.00 US/$21.00 CAD
MAC STUDIO EYE GLOSS $22.00 US/$26.00 CAD
Pearl Varnish white gloss with pearl
DAZZLESHADOW X 2 / MIDNIGHT FEVER $22.00 US/$26.00 CAD
Let's Boogie black with sparkles
Sparkling Moment black with purple and red sparkles
EYE SHADOW X 2 / TOUCH ME BABY
Soba gold brown with gold shimmer $22.00 US/$26.00 CAD
Keep on Twinkling light frosted pink
LIP & CHEEK PALETTE X 6 / YONI ATTRACTION $40.00 US/$48.00 CAD
Keep it Loose Casual Colour warm pink
Secret Admirer Casual Colour bright coral
Young at Heart Casual Colour bright pink
Weekend Getaway Casual Colour cool rose
Lazy Sunday Casual Colour baby pink
Show Orchid Lipstick very hot pink (amplified)
POWDER BLUSH $23.00 US/$27.00 CAD
Peony Petal bright blue-pink (satin)
Sugar or Syrup light yellow-pink (satin)
BRUSH
217 Blending $25.00 US/$30.00 CAD
159 Duo Fibre Blush $35.O0 US/$42.00 CAD
MAKEUP BAG / STEVE J. & YONI P. X M·A·C $35.00 US/$42.00 CAD
—
Photos courtesy of MAC Cosmetics
Save
Save
Save
Save
Save
Categories: beauty