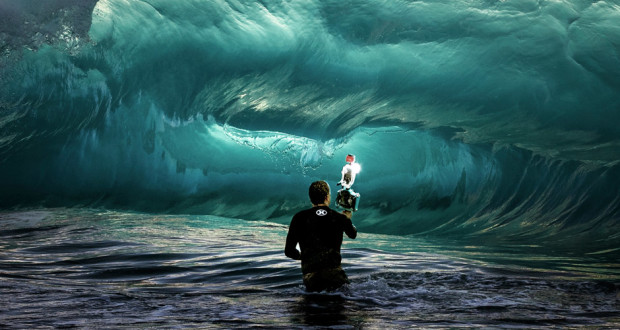 In Hurley's latest collaboration series, the brand honors the art of shorebreak photography with the launch the Clark Little Flash Pack. The new collection was inspired by award-winning Hawaii shorebreak wave photographer & artist Clark Little. The photographer puts himself in dangerous situations to capture some of the most unique water images ever seen. His work has gained worldwide recognition and has even earned a spot in the Smithsonian Museum.
Product offerings include the Phantom Clark Little Flash Boardshorts, bucket and snapback hats, graphic tees, and boardshorts for women adorned with nighttime flash photography by Clark Little. The Phantom Clark Little Flash Boardshorts are the focal product of the collection and also contain all the benefits of Phantom construction. The boardshorts feature bonded hems to prevent sand build-up and chafing, a laser cut, welded vertical zipper to prevent sand from enter the pockets, and a fly closure for easy sand and water drainage.
"Clark puts himself in harm's way on a daily basis and has proven to be one our best test pilots for new boardshort innovations," says Hurley Creative Director Ryan Hurley. "The Phantom Clark Little boardshort is a result of direct feedback from him — how can we make a short that can withstand the heaviest shorebreak in the world? We're honored to work with Clark and support this incredible shorebreak photography movement he's created."
The Clark Little Flash Pack is available now on nike.com as well as at select Hurley retailers nationwide. We are big fans of Clark Little and love his photography.
Photos courtesy of Hurley
Tags: clark littlehurley