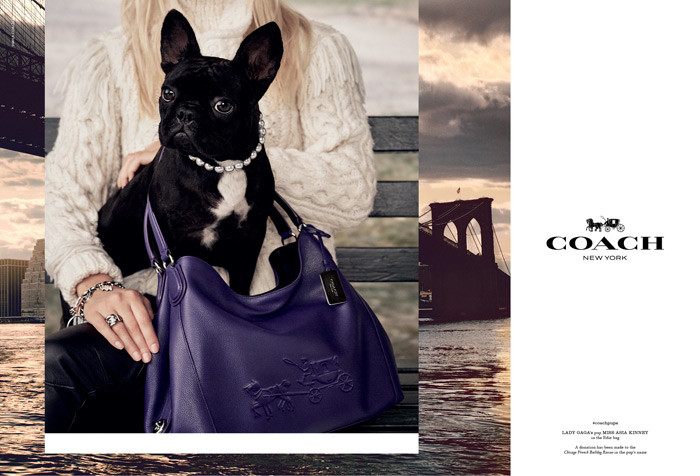 Coach's latest ad campaign titled "COACH PUPS," features canine stars in a series of portraits photographed by Steven Meisel and styled by Karl Templer. The campaign celebrates the dogs in our lives and stars Lady Gaga's four-legged companion Miss Asia Kinney modeling the Edie and the Rucksack bags from Coach's fall 2015 collection.
"I've never had so much fun on a shoot. The combination of Mr. Meisel and the pups was an extraordinary, surreal, special moment. We wanted to create playful images that make you smile. We were inspired by some images from the Coach archive, which featured Eddie—the dog that starred in the TV series Frasier—to create something joyful, with humor and character. That's a spirit that's uniquely at the heart of Coach." – Stuart Vevers, Coach Creative Director
The new initiative will also introduce the social campaign #coachpups, including a range of online activities for dog lovers, opportunities for Instameets, special talks, and the debut of the Coach Snapchat account.
The COACH PUPS campaign will appear in print, online and on outdoor media globally starting this month. Shop her favorites on coach.com.
Photo courtesy of Coach
$424.99 BUY IT NOW 0hr 34mins

$159.99 0 bids 0hr 34mins

$475.19 BUY IT NOW 0hr 48mins

$280.0 BUY IT NOW 0hr 49mins

$276.0 BUY IT NOW 0hr 50mins

$125.0 BUY IT NOW 0hr 52mins

$275.0 BUY IT NOW 1hr 12mins

$95.0 BUY IT NOW 1hr 24mins
disclaimer
Categories: celebrities fashion handbags