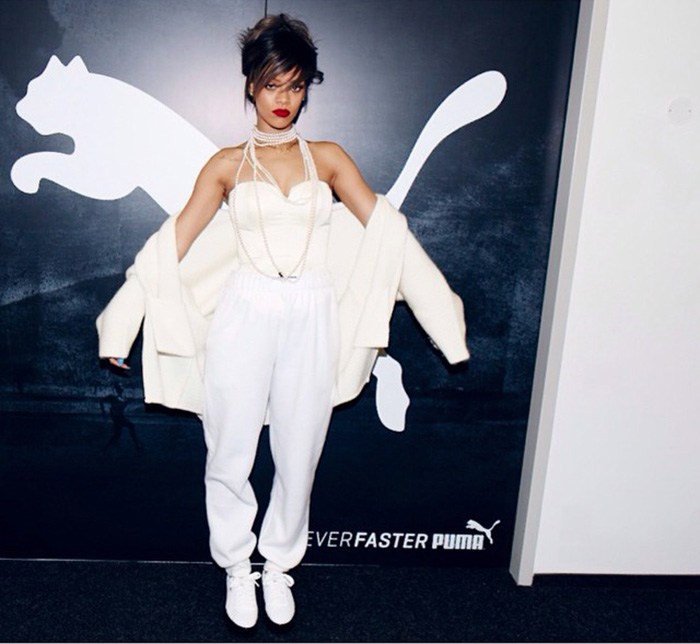 This morning, before checking email, I was scrolling through my feed on Instagram and saw Rihanna posting a bunch of photos with hashtag #PUMA, I was speculating. Then emails came in with the news of  PUMA announcing their partnership with Rihanna with a special announcement party in Germany! This is pretty epic!
PUMA and Rihanna entered into a new multi-year partnership, kicking off in January 2015.  Rihanna will become PUMA's global ambassador for Women's Training and serve as the PUMA Women's Creative Director!
Speaking about the new partnership with PUMA, Rihanna said: "It's great to find a brand that celebrates strength and individuality. I couldn't think of a more perfect partner to collaborate with as a creative director. I'm excited for you to see what Puma and I come up with."
Through this partnership, Rihanna will be the face of PUMA's Women's Training category and will also assume the role of PUMA's Creative Director for the category. And of course she will be the face of the the brand's campaign, Forever Faster, featured along with many of PUMA's world-class athletes such as Usain Bolt and Sergio Aguero. I simply can't wait, this is so amazing! As a fan of Rihanna and PUMA, I am so excited. Are you excited?
More info and a photo of Rihanna signing on the dotted lines after the jump…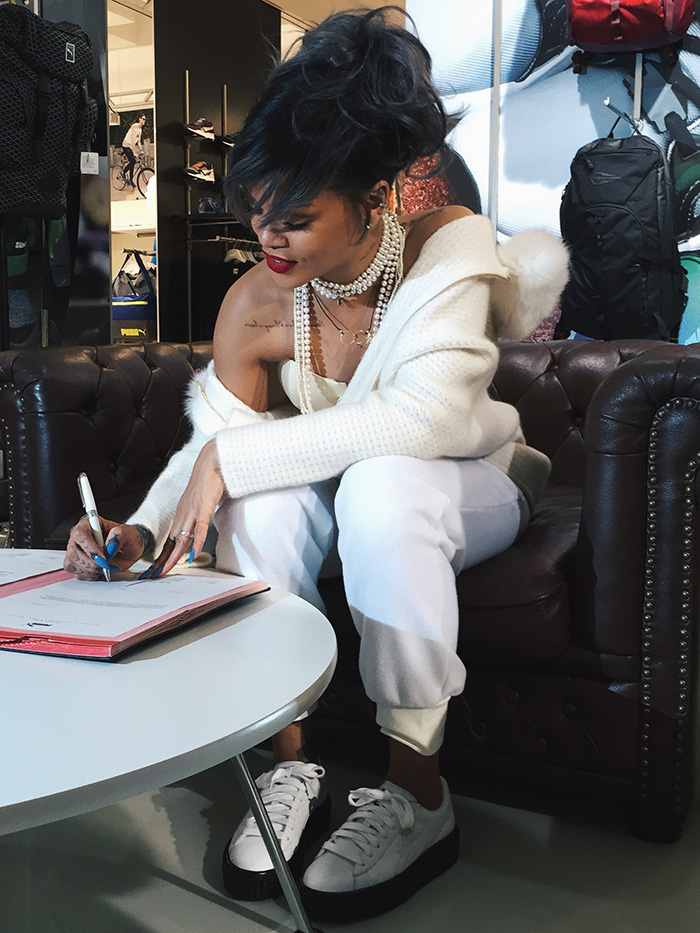 Fans can anticipate PUMA and Rihanna taking a fresh, forward thinking and non-traditional approach to sports, fitness and lifestyle – fusing Rihanna's personality, love of sports, spirit and style into the growing footwear and apparel segment. No stranger to breaking the mold with beauty, fashion and lifestyle trends, Rihanna, with PUMA's support, will bring her personal touch and creativity to the athletic world.
Photos via Rihanna's IG and courtesy of PUMA
Categories: celebrities fashion kicks