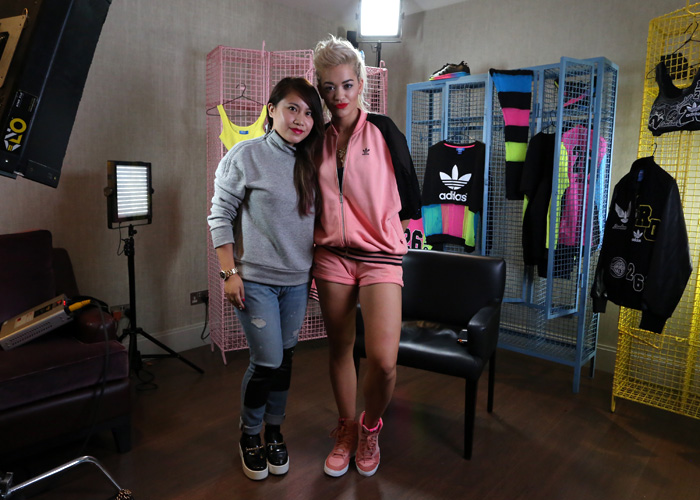 For those that follow me on Instagram, you already know that I was in London last week for Rita Ora's collaboration launch with adidas Originals. I had the opportunity to meet and interview Rita and talk style with her. She was super sweet and fun to chat with, I also think we like a lot of the same styles, especially the love for sneakers and mixing & matching pieces.
Rita was wearing an outfit from her Pastel Pack (second launch), I love the Supergirl TT Jacket -the sheer sleeves with wings imprint is amazing! It was fun getting to know her and learn more about her collaboration with adidas Originals, I personally really like the collections. If you do too, you can shop it on adidas.com/ritaora and adidas Originals stores.
Wendy: What kind of girl do you envision wearing your designs with adidas?
Rita: A very comfortable, independent female who's not afraid and is fearless and feels unstoppable.
Read the full interview after the jump…
Wendy: How would you describe your personal style?
Rita: It's actually a bit all over the place. I'd like to say it's very spontaneous. I like to find a one-off piece. I'm not that bothered on the name or the label. I've been blessed with some incredible designers since I've started singing, but growing up, I was raised in the market, so everything I did was handmade and all that. I like mixing it up a bit, so I'm a very mixed up person.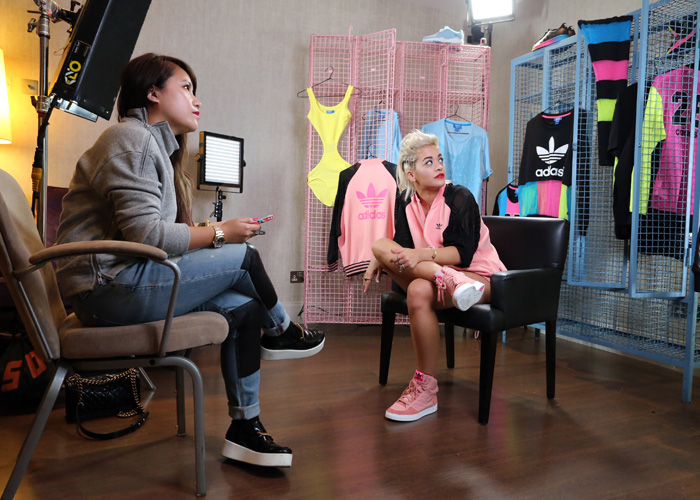 Wendy: What was your inspiration for each of the collection with adidas?
Rita: Actually, I like doing it in packs, so I've explained. In packs, what I mean is, I wanted to filter the collection out through the year. The Black Pack is already out in the stores, even in New York and all over the place, which is awesome because my friend sent me a picture of her wearing it.
This [Colour Block Pack] was inspired by where I've been around the world. It's a more affordable Colour Pack, which is exclusive for JD Sports in London and in the US all packs are available at adidas Originals stores and on adidas.com/ritaora. This is all about the motion, sexiness, that one can be in very playful and colorful and loud like me. This [Pastel Pack] was the more romantic collection and I wanted to do a contrast within our collection. I wanted something a bit more easy to the eye; very simple, very light, very kind of easy, you know. Then after these, you have the Rose Pack and you have the Spray Pack. They all come out in about November.
Wendy: How involved were you in the design process?
Rita: Very involved. I wanted to know every little detail. I went to Germany and I looked at all the fabrics and all the molds and everything that's been done. I did a lot of research; I wanted this to be an opportunity where I can maybe show the world that this relationship could last a very long time. I love designing, so that's what I try to do.
Wendy: What are some influences in your everyday life that keeps the ideas fresh?
Rita: People, you know. I love people watching. I go out, I go to dinners, I go to coffee shops and I'm that weird person that stares at people. I like to look and imagine what they're talking about. Lifestyle is so inspiring and everyday people are really so inspiring.
Rita's outfit: Rita Ora x adidas Originals Supergirl TT | HW Shorts | Bankshot Rita 2.0 W Sneaker
Wendy: Great. Are you ready for New York Fashion Week?
Rita: Yeah, can't wait. I fly in on the 8th, yeah. I look forward to it.
—-
My outfit: H&M Studio Fall 2014 Melange Sweatshirt | Artisan De Luxe Jeans | Celine Slip-Ons
Photography: Yu-Ming Wu
$60.0 BUY IT NOW 0hr 6mins

$99.99 BUY IT NOW 1hr 22mins

$35.0 BUY IT NOW 3hr 28mins

$85.0 BUY IT NOW 3hr 34mins

$49.99 BUY IT NOW 4hr 25mins

$29.95 BUY IT NOW 4hr 37mins

$34.18 BUY IT NOW 6hr 6mins

$69.0 BUY IT NOW 9hr 9mins
disclaimer
Categories: celebrities fashion outfits streetwear travel