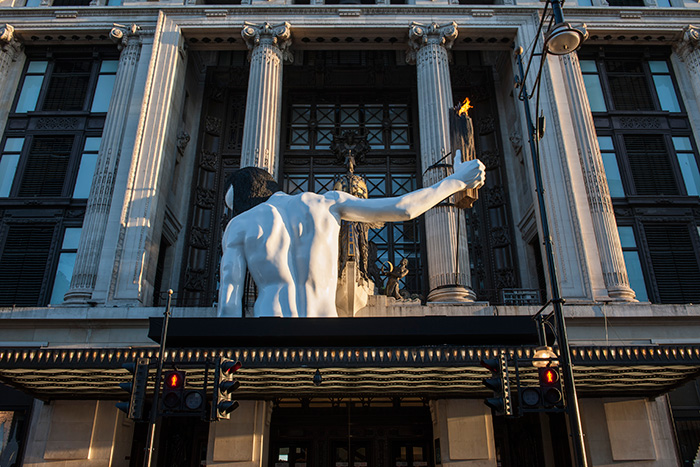 Selfridges and Rick Owens mark 20 years since the birth of the designer's label with the unveiling of the designer's new collection, The World of Rick Owens. Leaving no stone left unturned, the designer has created a spectacle to show off his new collection at the Selfridges flagship store on Oxford Street.
Constructing a concept store on the ground floor, a series of conceptual installations in Selfridges' four key windows and a specially-commissioned 25-foot Rick Owens torso statue situated directly on top of the marquee, there is nothing more awe-inspiring.
"The world of Rick Owens is the biggest single designer project Selfridges has ever initiated… We are extremely excited to be bringing Rick Owens, who so effortlessly avoids the mainstream, to the very forefront of the Selfridges' fashion proposition." -Sebastian Manes, Selfridges Buying Director.
The World of Rick Owens opens at Selfridges in London starting September 1st to the end of October 2014. Be sure to stop by Selfridges to check it out if you're in town!
More info and photos after the jump…
The Torso
The 25-foot, 1.5 ton arresting center piece to the collaboration was created by Doug Jennings, a long-time collaborator of Rick Owens. The sculpture was constructed over a span of 12 weeks with a crew of 20 members to transport and assemble the torso, head, arm and torch. The torso holds a flame-burning torch, that will be alight 12 hours a day, for a total of 552 hours for the duration of the project, and punctuated by accelerated bursts of flame as the Queen of Time chimes on the quarter hour. The statue's hair is made from 24 kilometers of coated black fabric strips. Jennings has also created many provocative wax sculptures of the designer for each of his stores worldwide.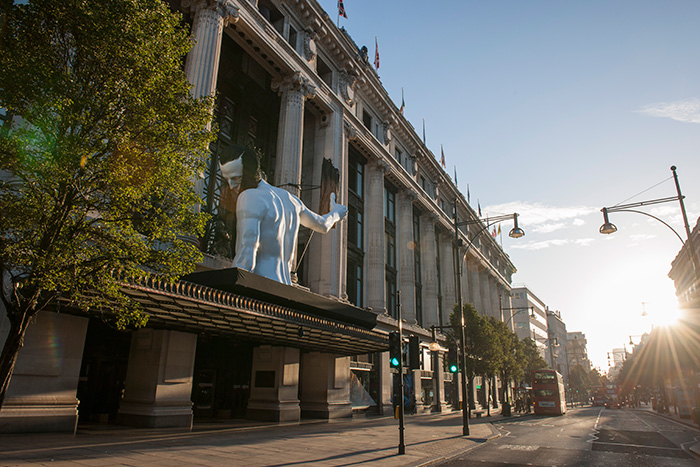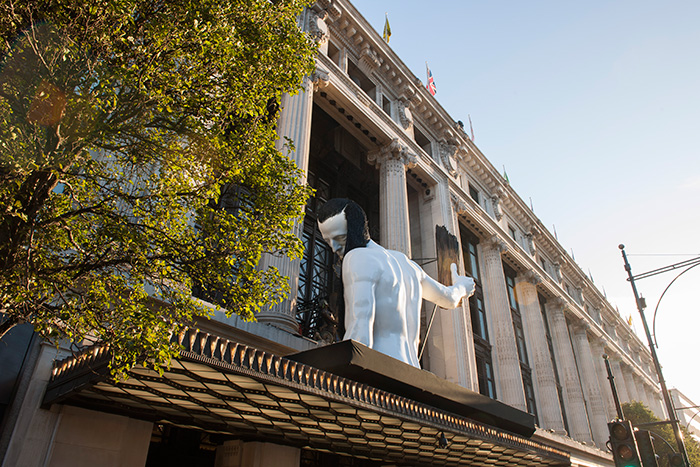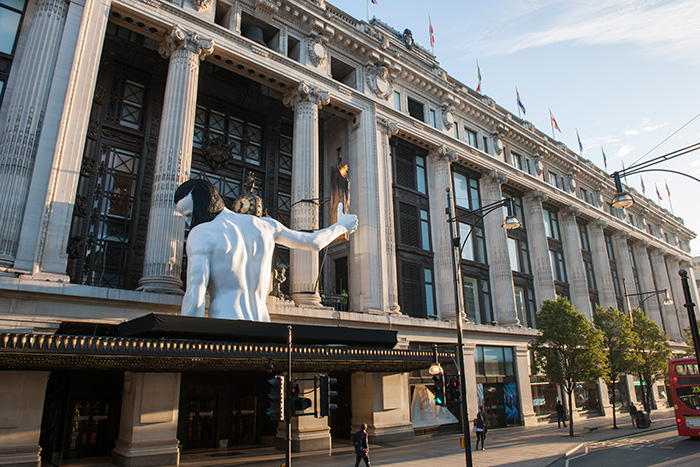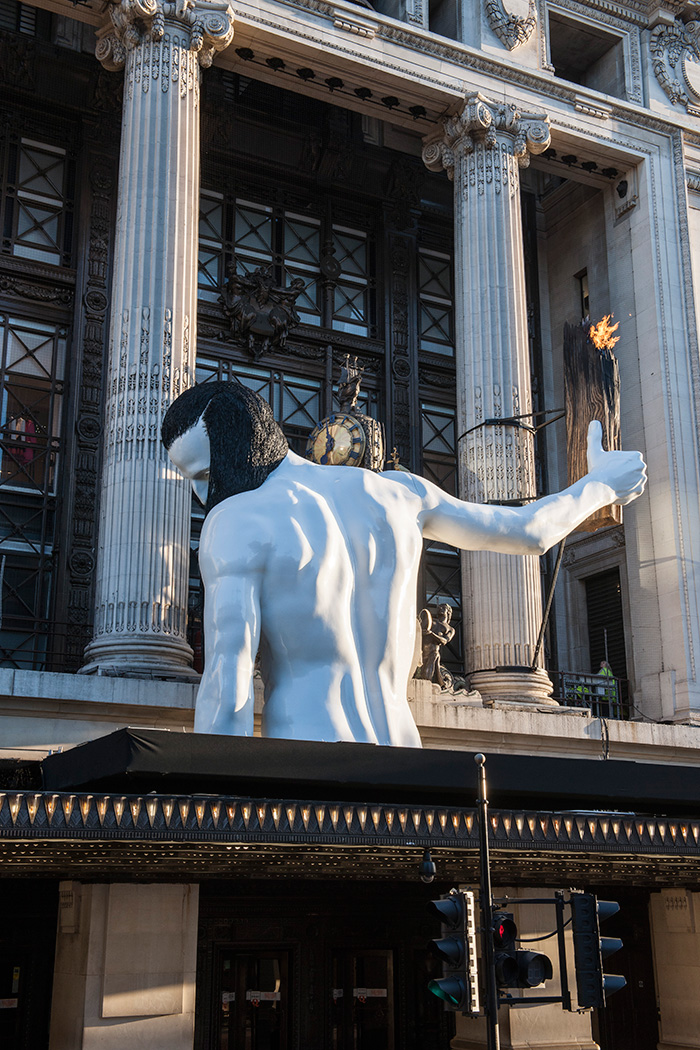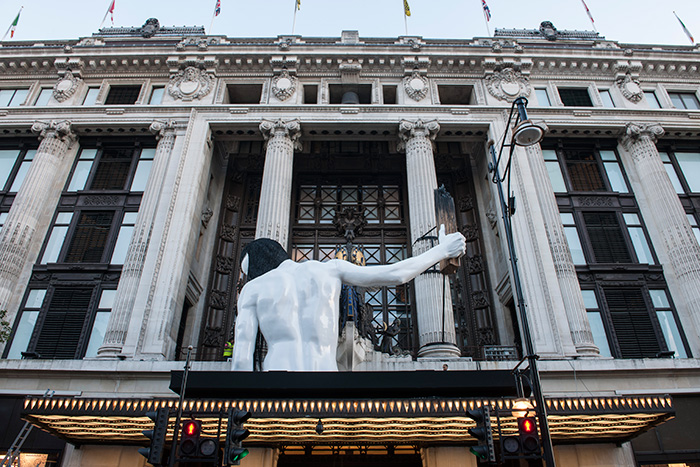 —-
The Windows
Rick Owens and Selfridges will unveil the most complex series of windows the store has ever undertaken. Each will be 'magical and logical' and evoke inspiration from Owens' favorite opera, Salomé. Each of these windows exhibits a white lunar surface, a digitally etched visualization of the finale aria of the opera, created by Los Angeles architect Patrick Tighe. Above the lunarscapes, LED matrix strips will scroll excerpts from the Salomé Libretto, describing the beauty of the moon.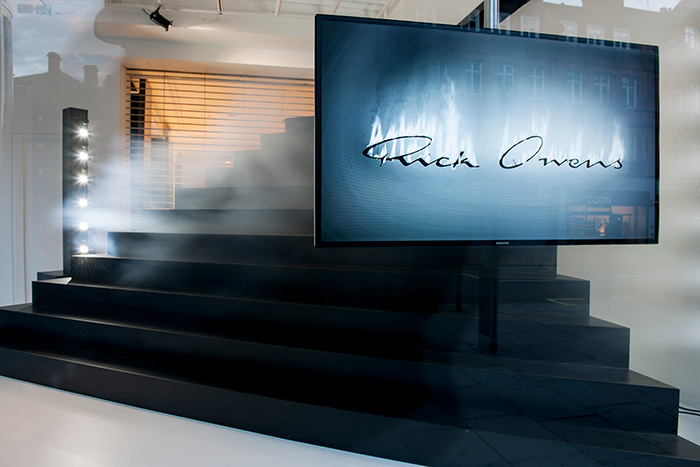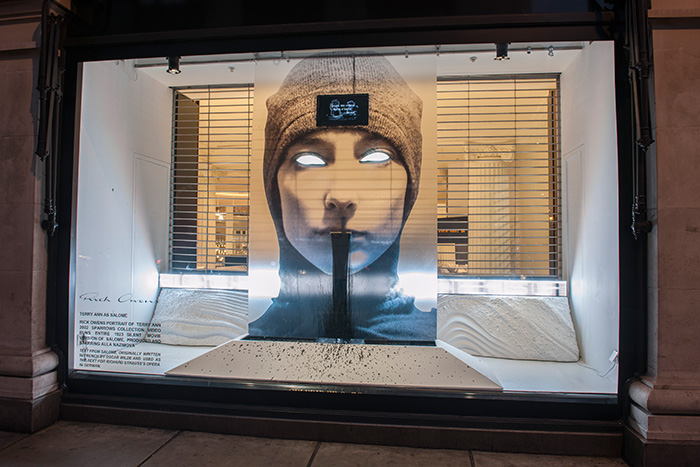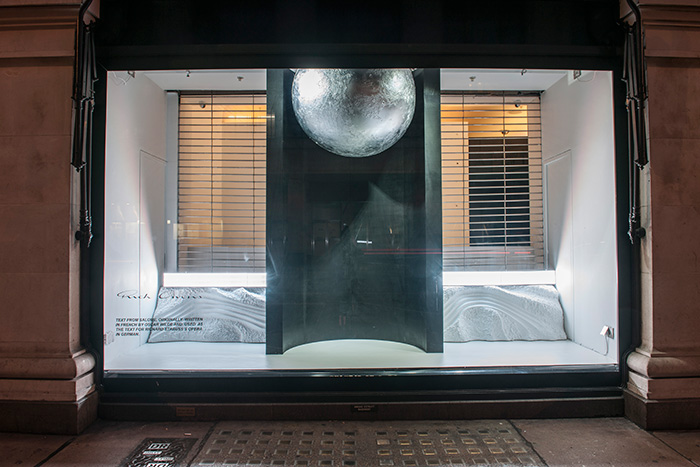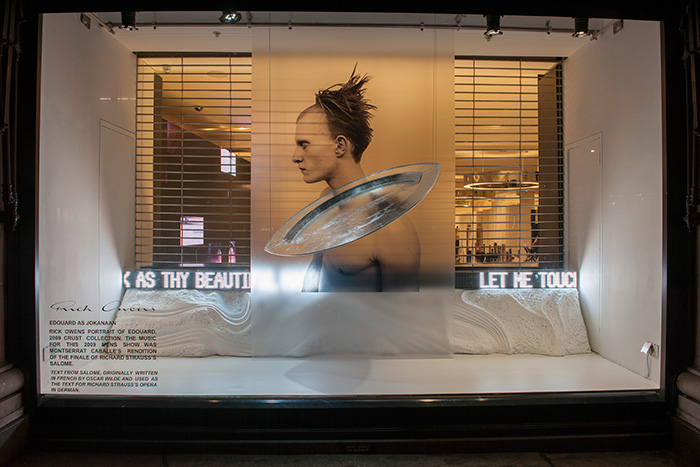 Categories: fashion kicks shopping
Tags: rick owensSelfridges