Barneys New York teams up with world renown writer/director/producer, Baz Luhrmann and designer Catherine Martin to present: BAZ DAZZELED this holiday season. Uniting the iconic visual language of Baz Luhrmann's award winning film work and Barneys' legendary holiday initiatives, the team works together under creative director, Dennis Freedman to present a magical holiday world with a modern twist.
"Barneys New York has a long history of unexpected and imaginative holiday programs, and working with Baz and Catherine continues this tradition," said Mark Lee, Barneys New York CEO. "It is thrilling to see their incredible creative vision blend with the Barneys New York spirit for this unique collaboration."
Baz and Catherine take you into their magical world through their original and exclusive BAZZ DAZZELED Holiday. Filled with fantastical characters, woodland creatures, ice skaters, snow owls and candy canes, their artwork also includes their motto "A Life Lived in Fear is life Half Lived." The mythical artwork, ranging from classic to absurd, will be brought to life in the Madison Avenue Flagship windows, throughout the store, on special Barneys New York shopping bags, gift cards and in-store displays during the 6-week initiative.
More info and photos after the jump…
"From the earliest days of our love affair with the city of New York, we have always marveled at the way Barneys blends retail, theatre, art and narrative with irreverence and wit while nevertheless remaining accessible to its audience," said Baz Luhrmann and Catherine Martin. "We embrace the opportunity of reveling in the holiday spirit by collaborating with Barneys, taking traditional holiday iconography and turning it on its head. This collaboration is, for us, ultimately a celebratory opportunity to deepen our relationship with our adopted city of New York."
Focusing on luxury holiday décor and gifts, Barneys New York has worked to create a variety of exclusive (XO), limited-edition products inspired by the collection. Items such as ornaments, stockings, children's costumes and toys, table-top accessories, throw and other giftable items will be available at Chelsea Passage on the 9th floor of Barneys New York Madison Avenue flagship location, select Barneys New York locations nationwide and at Barneys.com.
Bringing the holiday season to life, while also honoring this special collaboration, Barneys New York will donate 25% of sales from all BAZ DAZZLED Holiday products to Room to Read, a global organization that seeks to transform the lives of millions of children in developing countries by focusing on literacy and gender equality in education. What a great way to get this holiday season rolling.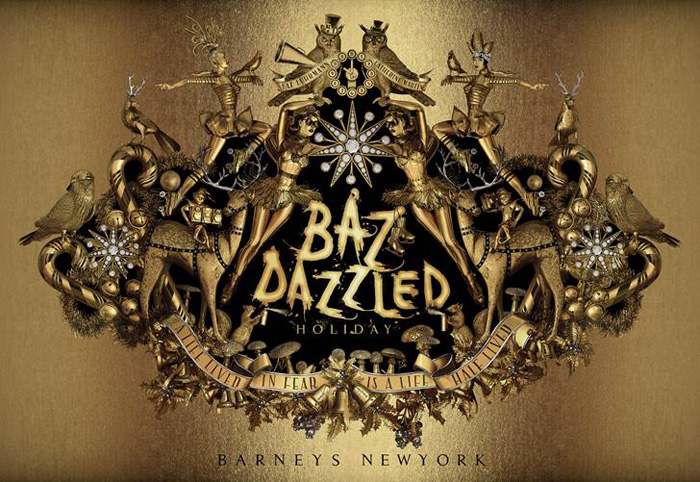 Photos courtesy of Barneys New York
$69.99 BUY IT NOW 0hr 6mins

$98.0 BUY IT NOW 0hr 19mins

$17.99 BUY IT NOW 0hr 25mins

$246.39 BUY IT NOW 0hr 31mins

$98.0 BUY IT NOW 0hr 43mins

$280.0 BUY IT NOW 0hr 44mins

$285.0 BUY IT NOW 0hr 46mins

$450.0 BUY IT NOW 1hr 22mins
disclaimer
Tags: barneys new york