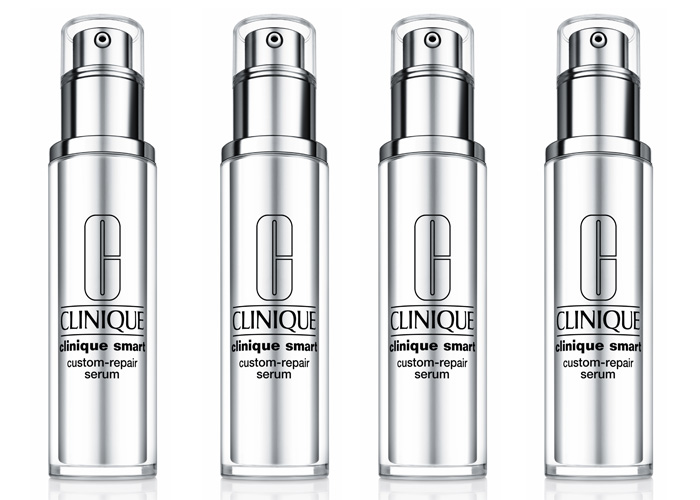 Back in April I was invited to a secret launch event for Clinique's latest innovation, I'm happy to finally tell you guys about it! First let me just say as a fan of Clinique's Even Better Clinical Dark Spot Corrector, I'm really excited for the new serum. The new Clinique Smart Custom-Repair Serum "delivers targeted repair that visibly addresses skin's changing needs."
One of my main skin concerns is dryness, my skin drinks up the moisturizer or serum quickly, and this is all year round. On top of the serum's custom-repair technology that delivers targeted repair for your skin's unique needs, skin's moisture levels are maintained with Hyaluronic Acid, Barley Extract, Wheat Germ Extract and Cucumber Extract so that skin is well hydrated, supple and plump throughout the day. So I'm quite happy with the results of this serum so far, definitely a great pick for summer.
Available on clinique.com for $59.50 / 30ml and $89.00 / 50ml. Have you tried?
More info about the product after the jump…
Delivers targeted repair as needed, where needed and clinical tests have proven its performance. After a 12 week study, results showed visible improvement in treating uneven skin tone, dark spots, dullness, lines and wrinkles and firming. A true breakthrough, this smart serum is formulated with several technologies that work together to deliver targeted repair.
Clinique Smart Custom-Repair Serum is formulated with a complex of soothing ingredients to calm skin, enabling a high concentration of actives to provide targeted repair according to your skin's needs without irritation.
Targets uneven skin tone, dark spots or skin dullness with ingredients such as Dianella Ensifolia, Morus Nigra Root Extract, Glucosamine and Salicylic Acid. Along with antioxidants like Vitamin C and Ergothioneine.
Targets lines, wrinkles and firms skin with a blend of collagen boosting peptides and ingredients such as Acetyl Hexapeptide-8 and Palmitoyl Oligopeptide and Whey Protein and Siegesbeckia Orientalis.
Photo courtesy of Clinique
Categories: beauty
Tags: clinique