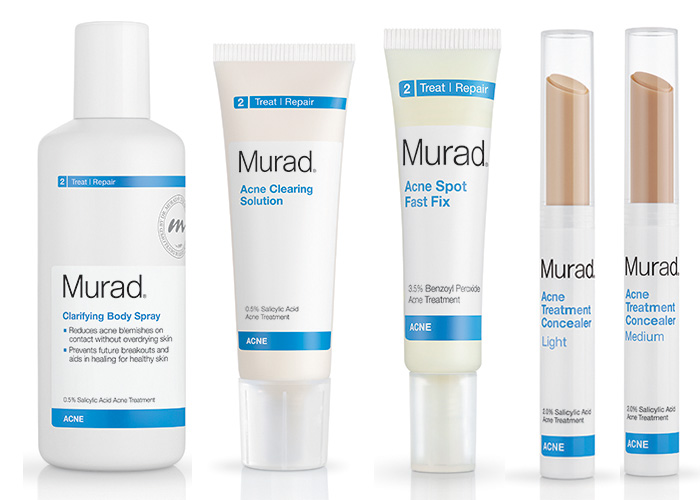 Did you know that June is the National Acne Awareness Month? It is to raise awareness around the emotional impact that acne scarring can have on an individual's self-esteem and confidence. I think the entire summer season should be acne awareness, don't you think? Here are some products for Murad, Bioré and jane iredale that are great to prevent, fight and treat against acne to give you clean, clear, and beautiful skin. Have you tried any? If not, what do you use?
More info after the jump…
Let's face it, all acne is not created equal – there are those who suffer from red, inflamed blemishes all-over, those who simply get the occasional pimple and those of us who even get bacne (yuck!). Check out some of Murad's solutions for all acne-related skin concerns:
Spot Treatment: Murad's NEW Acne Spot Fast Fix is powerful, but gentle. Unlike other products with Benzoyl Peroxide, this uses a unique delivery system called Hydrophase to prevent the irritation commonly associated with BPO. This quick and effective treatment has shown to reduce pimple severity in as little as 1 day*!
Everyday Treatment, Prevention and Maintenance: Murad's NEW Acne Clearing Solution, uses a powerful combination of ingredients, including Salicylic Acid, to treat and prevent breakouts and also fast-tracks the healing process by minimizing dryness, redness and peeling. 95% of users saw clearer skin in 72 hours* after using this gentle, yet effective full-face treatment.
Cover-up: Acne Treatment Concealer not only provides long-lasting coverage, but also treats it in the process by infusing skin with acne-fighting Salicylic Acid.
Bacne: Clarifying Body Spray to come to the rescue! Utilizing Retinol and Salicylic Acid, Clarifying Body Spray treats body breakouts on contact. Plus, its 360 degree spray function makes reaching your back easier than ever!
—-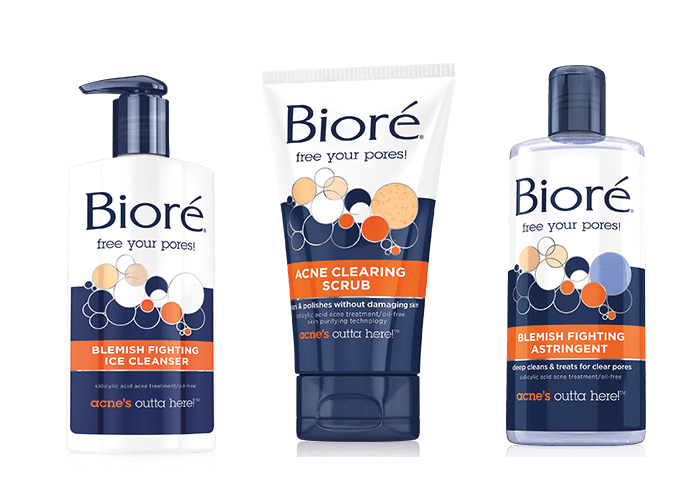 Prevent with Bioré Blemish Fighting Ice Cleanser – A salicylic acid acne treatment that invigorates and cools as it removes over 99% of dirt and oil that can cause blemishes. An oil free cleanser that helps defend against blemishes before they start. This refreshing liquid cleanser targets and removes dirt and oil that can cause blemishes, leaving you with clear skin.
Treat with Bioré Blemish Fighting Astringent – A salicylic acid acne treatment that deep cleans, tones, and treats blemishes for clear pores. Go beyond cleaning and actually treat blemishes with this powerful astringent. Salicylic acid is the key to this power-packed toner that penetrates pores to help treat blemishes and reduce breakouts, making acne one less thing to stress about.
Fight Acne with Bioré Acne Clearing Scrub – Targets deep-down dirt and oil for a clearer, healthier complexion in only 2 days. This mandarin mint scented scrub contains Skin Purifying Technology – an exclusive formula not only treats blemishes, over time it helps prevent new ones from forming by clearing away impurities. It's gentle enough to use every day too!
—-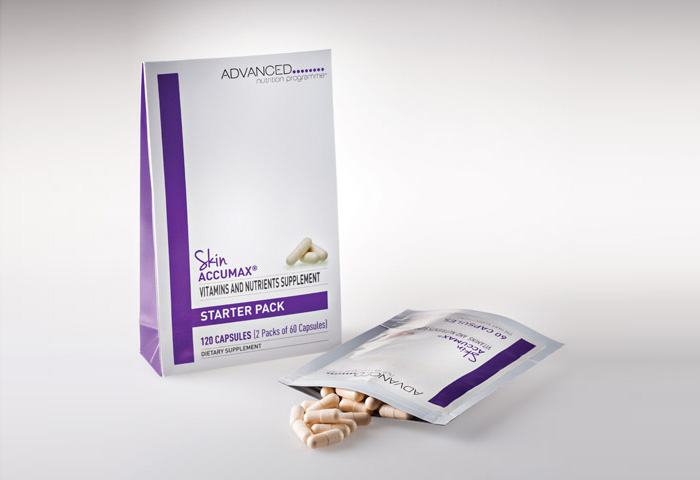 There's a reason for the old adage, you are what you eat. Nutrition's role is critical in the overall health of the body and is most visibly reflected in the appearance of the skin. After hearing from thousands of people seeking natural treatments for problem skin and adult acne, jane iredale is introducing Skin Accumax, the new all natural skin care supplement designed to improve skin health from the inside out.
The natural formulation of Skin Accumax effectively complements and enhances one's topical skin care regimen.  The unique formula combines Vitamins A and C with a phytonutrient found in broccoli, Brussels sprouts, cabbage and kale to feed the skin and treat all types of adult acne (16 and older), from hormonal flare-ups to T-Zone pimples to bacne.
Skin Accumax is already a success in Europe, and jane iredale will be the exclusive U.S. market distributor. This comes at a good time, as the AAD confirms 54 percent of women over the age of 25 currently have acne, making it the most common skin disorder in the U.S. and one of the most significant factors in our level of confidence.
Categories: beauty
Tags: Bioréjane iredalemurad