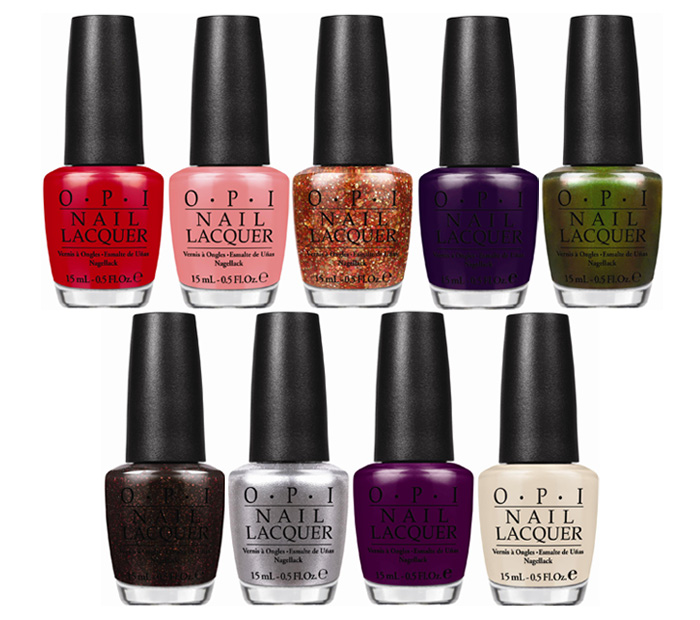 OPI has teamed up with The Coca-Cola Company to launch nine limited edition nail lacquers inspired by some of the most recognized soft drinks from the brand. Coca-Cola by OPI features colors and hues representing everything from classic red for Coca-Cola to metallic silver for Diet Coke, dark red and black for Coke Zero, black cherry for Cherry Coke, cream and warm pink for Vanilla Coke, shimmering citrus green for Sprite and glitter-packed orange and deep purple for Fanta Orange and Fanta Grape. So fun, can't wait to try them all.
"I have always believed that wearing nail lacquer can change your look – and your outlook," remarks Suzi Weiss-Fischmann, OPI Co-Founder & Executive VP. "Both OPI and Coca-Cola truly deliver happiness in a bottle to consumers looking for an iconic product of the highest quality. The nine shades in this collection represent not only bestselling Coca-Cola Company products, but also the styles of the women who enjoy them – from classic and glamorous to hip and trendy!"
There is also a Coca-Cola 10 Pack of Style set featuring eight shades (Coca-Cola Red, You're So Vain-illa, Sorry I'm Fizzy Today, Get Cherried Away, My Signature is "DC," Today I Accomplished Zero, Green on the Runway and A Grape Affair) in mini bottles along with a mini OPI Top Coat and a mini OPI Original Nail Envy.
Coca-Cola by OPI will be available in both nail lacquer and GelColor formulas beginning June 2014. Nail lacquer shades retail for $9.00 ($10.95 CAN)  and the 10 Pack of Style mini pack will retail for $24.95 ($29.95 CAN). GelColor is an in-salon, professional service only.
More info about the shades after the jump…
Coca-Cola by OPI includes:
Coca-Cola Red (inspired by Coca-Cola) – Classic red – always in style, always perfect.
You're So Vain-illa (inspired by Vanilla Coke) – I bet you think this creamy nude is all about you.
Sorry I'm Fizzy Today (inspired by Vanilla Coke) – Do Not Disturb…I'm enjoying this creamy, smooth pink.
Get Cherried Away (inspired by Cherry Coke) – Seriously, this black cherry is over-the-top gorgeous!
My Signature is "DC" (inspired by Diet Coke) – My initial impression? This shimmery silver is just "write!"
Today I Accomplished Zero (inspired by Coke Zero) – Dramatic black with effervescent red sparkle is a total must-do.
Green on the Runway (inspired by Sprite) – This uncut-lime green makes a real fashion statement.
A Grape Affair (inspired by Fanta Grape) – Make a big to-do in this deepest, darkest purple.
Orange You Fantastic! (inspired by Fanta Orange) – Glitter to the max in this juicy orange explosion!
Photos courtesy of OPI
Categories: beauty