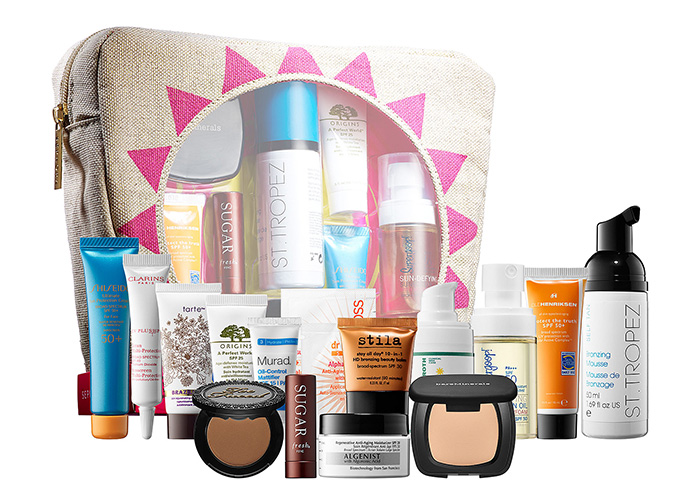 As the weather gets warmer, we'll be wearing less and less, and soon (some places already) we'll be able to hit the beach and get sun-kissed sun. But be aware of the sun's harmful rays and protect your skin, skin cancer is the most common type of cancer found in the United States, but it is also one of the most preventable. Sephora unveiled its eight edition of the Sun Safety Kit to get you skin glowing and bronzed up.
Sephora's 2014 Sun Safety Kit features their favorite collection of SPF essentials and sunless tanning products in special travel-friendly sizes, with $20 of the $32 purchase price benefiting The Skin Cancer Foundation. This year's selection includes past favorites, as well as a few new deluxe-size additions for your sun protection arsenal. The kit comes with a lightweight canvas travel bag, ensuring you're always ready to go with safe summer skin.
The Sephora Sun Safety Kit retails for $32 ($177 value) and will be available beginning in June 2014 while supplies last in all Sephora U.S. stores and sephora.com.
Find out what's in the kit after the jump…
Sephora's 2014 Sun Safety Kit includes:
* For proper sun protection, use with a broad spectrum (UVA/UVB) sunscreen with an SPF 15 or higher
Photo courtesy of Sephora
$10.0 BUY IT NOW 17hr 59mins

$6.99 BUY IT NOW 14hr 23mins

$5.75 BUY IT NOW 14hr 21mins

$5.99 BUY IT NOW 14hr 21mins

$5.99 BUY IT NOW 14hr 21mins

$5.99 BUY IT NOW 14hr 21mins

$5.99 BUY IT NOW 14hr 21mins

$5.99 BUY IT NOW 14hr 21mins
disclaimer
Tags: sephora