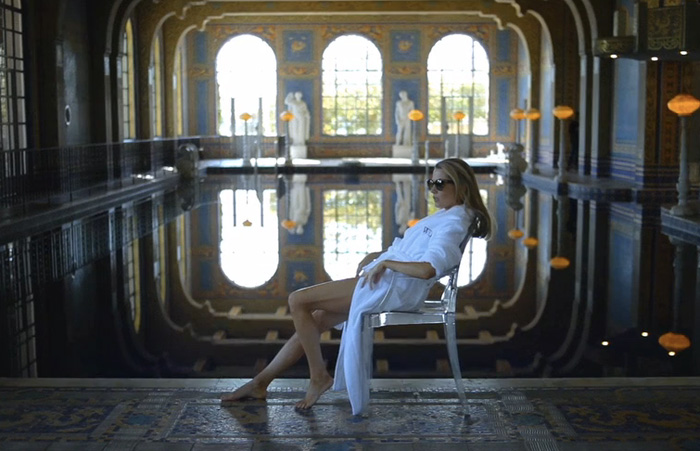 Oliver Peoples releases its 2014 campaign short film today featuring Amanda Randolph Hearst in their latest eyewear collection. The backdrop is simply breathtaking, the shoot took place at the Hearst Castle, the beloved former estate of media mogul and visionary art collector William Randolph Hearst. Wyatt Troll directed the film and captured Hearst in an intimate view of the Hearst Castle through the eyes of its creator's descendent.
The 2014 eyewear collection was inspired by the creative culture of art and entertainment in California. Style icons and landmark architecture of both the past and present influenced the designs, fusing vintage detailing with contemporary elements. The result is a collection of refined and timeless eyewear that is personified throughout the campaign film.
Check out the video after the jump…
The film takes the viewer on a day's journey through several areas of the sprawling estate. Some of the scenery highlights easily-recognizable and eminent landmarks, such as the Neptune and Roman pools, whereas other shots reveal coveted, rarely visited spaces of the Castle, including the private Celestial Suite that is not included on public tours. From behind the lens, Wyatt is able to capture the insurmountable vision of William Randolph Hearst and his masterpiece, making the passion, history and exquisiteness of the estate palpable for the viewer.
Simply amazing, would love to visit the Hearst Castle the next time I'm in Cali!
$289.99 BUY IT NOW 0hr 2mins

$239.0 BUY IT NOW 0hr 5mins

$239.0 BUY IT NOW 0hr 8mins

$239.0 BUY IT NOW 0hr 10mins

$27.58 BUY IT NOW 0hr 25mins

$105.0 0 bids 0hr 27mins

$199.0 BUY IT NOW 0hr 28mins

$186.99 BUY IT NOW 0hr 38mins
disclaimer
Categories: celebrities fashion sunglasses